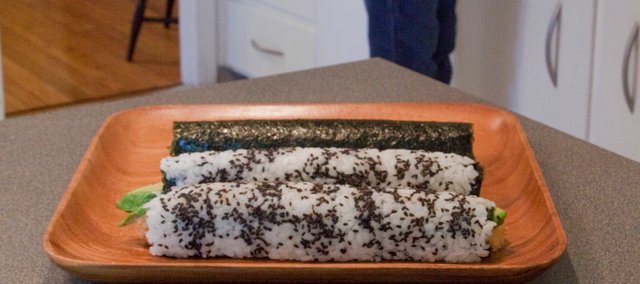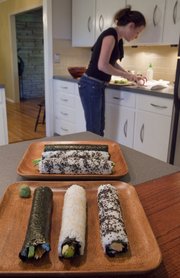 Sushi Recipes
Perfect Sushi Rice
3 tablespoons rice vinegar
1 teaspoon salt
1-1/2 tablespoons sugar
1-1/2 cups sushi rice
1-1/2 cups water
Combine vinegar, salt and sugar in a small bowl, set aside. Wash rice in cold water three times, drain, and transfer to a medium pot. Add water, let stand 20 minutes. Cook over medium heat until water is mostly absorbed, then reduce heat to low, cover pot and cook 15 more minutes. Set aside, covered, to rest 5 minutes. Turn rice out into a large, flat-bottomed, non-metallic bowl, break it up and add vinegar mixture. Turn and stir, using a cutting motion so as not to break the rice grains, until well combined. As you cut, fan the rice with a handheld or electric fan to cool it. When the rice is shiny-looking and has reached room temperature it is ready to use. Cover with a damp towel and use the same day, do not refrigerate. Mixture makes about 4 cups of cooked rice.
— Recipe from Nancy Stark, www.chefshopstark.com.
California Roll
1 recipe sushi rice
2 tablespoons mayonnaise, preferably Japanese "Kewpie" brand
1-2 tablespoons chile-garlic sauce
4-5 half-sheets toasted nori
3 tablespoons combined toasted black and white sesame seeds
3/4 cup jumbo lump crabmeat, squeezed dry
1/4 English cucumber, cut into long julienne
1/2 firm avocado, cut into 8 slices
Soy sauce, pickled ginger and wasabi, to serve
Combine mayonnaise and chile sauce. Combine 2 tablespoons vinegar and 1 cup water in a bowl for your hands. Lay a nori sheet on your sushi rolling mat. Put about 1 cup rice on the nori sheet and spread evenly to cover, using dampened hands. Sprinkle with sesame. Lift up the rice-covered nori sheet and turn the sheet over so that the rice is on the bottom and the nori is on top. Spread about a tablespoon of the spicy mayo in a line at the bottom of the sheet and lay on about 2-3 cucumber sticks, a thick line of crab and 2 avocado slices. Roll up tightly, using a sushi rolling mat if you have one, then tighten roll a second time. Cut each roll into 8-10 slices. Serve with soy sauce, wasabi and pickled ginger. Makes about 4 rolls, yielding 32 pieces.
— Recipe from Nancy Stark, www.chefshopstark.com.
Seared Sesame Tuna Roll
1 recipe sushi rice
1 tablespoon sesame oil
2 tablespoons sesame seeds
1/4 pound sushi-grade tuna, preferably Magura or Ahi
2 tablespoons vegetable oil
4-5 three quarter-sheets toasted nori
Spicy sprouts, preferably radish
Soy sauce, pickled ginger and wasabi, to serve
Cut the tuna while very cold or still partially frozen, into two long blocks, approximately 4 inches by 1 inch. Coat the fish wish the sesame oil and roll it in the sesame seeds. Heat the vegetable oil in a non-stick skillet and cook tuna for 1-2 minutes on all sides. The sesame seeds should be golden brown but not burned and the fish will just be seared by still pink inside. Allow to cool, then slice each piece lengthwise into four long strips. Combine a splash of rice vinegar and some water in a bowl for your hands. Place one nori sheet, shiny side down, on your rolling mat. Put about 1 cup rice on the nori sheet and spread evenly to cover, using dampened hands. Leave a bit of nori uncovered at the top of the sheet. Place 2 seared tuna sticks at the bottom of the rice, top with some sprouts and roll it up tightly using a sushi rolling mat to assist you, then tighten roll a second time. Cut each roll into 8 to 10 slices. Serve with soy sauce, wasabi and pickled ginger. Makes about 4 rolls yielding 32 pieces.
— Recipe from Nancy Stark, www.chefshopstark.com.
Sushi is everywhere — in grocery stores, cafeterias, even non-Asian restaurants.
So, why isn't it in your home?
It's a process that's precise and a bit time-consuming, but fun and much more affordable than buying rolls one bento box at a time. Plus, making it yourself is satisfying says Lawrence's Terra Brunton.
Brunton taught herself how to make her own sushi by breezing through video tutorials she found online. Once she learned the basics she just began to practice, practice, practice.
"The first time I did it, it was horrible," she says, laughing. "But they're delicious. When you get your technique right and you get your good ingredients, the rolls are just are good, if not better than the rolls that you buy."
The frequent home cook says she wanted to learn because she loves to cook and loves sushi, and once she got started, she fell in love with the intricate preparation and execution.
"I enjoy the cooking process — it's very methodical," says the Lawrence resident, who makes rolls about once a month. "You have to lay everything out. It's like a perfect equation."
The equation includes the addition of converts to whom she's warmed to the raw rolls just by making them herself either at home or for a party. They include her friends and her children, who will now finally eat rolls made with everyday tuna salad.
"I have a girlfriend who has never understood sushi and doesn't like it," says Brunton, who invited her friend to a sushi party. "I made a bunch of wonderful rolls and she got it, you know? She finally understood the experience and was beside herself because it was so delicious."
Delicious, and not as hard as you think it will be. All it takes is preparation, quality ingredients and practice.
How to roll your own
Choose the right seaweed. Sushi is traditionally rolled up in nori, a type of seaweed that is pressed into sheets. A packet of nori sheets won't set you back very much at all and will make a ton of rolls, but make sure you get the right type says Kansas City chef Nancy Stark, who just taught a sushi class at The Merc, 901 S. Iowa. She suggests avoiding untoasted nori and going for the toasted (and more popular) version. The raw version may not have the right flavor, and toasting it at home can be a difficult dance of holding each sheet in tongs over a flame.
Don't skimp on quality of ingredients. Obviously, working with raw fish means you want the best possible fish. Quality is essential so that you don't get sick. In fact, if working with raw fish, even sushi-grade fish, makes you nervous, Stark suggests working with cooked fish — crab, eel, seared tuna.
"I advocate for the home cook to stay with either cooked fish or vegetables," Stark says. "Just because it's just too easy (to get sick)."
In addition to the fish, your other ingredients should also be of the highest quality. Pick firm-but-ripe avocados, fresh cucumbers, crisp carrots and make sure they're not bruised or damaged. With such a simple preparation, quality is key.
Get the perfect rice. No matter what you choose to fill your sushi with, if your rice isn't right, you're going to have a problem. If it's too dry, nothing will stick, if it's too wet, it'll turn to mush.
Eventually, you might be able to identify what's right by touch says Michaela Sakumura, who grew up in Lawrence making sushi with her family.
"You have to have the right stickiness, but not too sticky," says Sakumura, who suggests that newbies look into the sushi rice kits that are available to learn about the moisture level. "It's a certain touch. It's hard to explain, you just know when it's right, it's like a pie crust — when the dough is the right amount of wetness."
Have little helpers. Sakumura picked up on tons of tips and tricks from her family. She says that there are bunches of little techniques that can make your sushi look more professional and make your life easier at the same time. Meanwhile, Brunton and Stark are self-taught and say that once they learned certain tricks, their sushi was elevated to the next level.
Buy a bamboo mat. They help make your rolls neater and they're cheap — just $2 or $3. They're not a necessity, but they sure do help. Stark says if you don't have one, you can try a doubled up length of aluminum foil as your "mat."
Keep a bowl of water nearby. Use it to keep your fingers, knife and utensils moist. The moisture will keep things moving and prevent the sticky rice from getting everywhere.
Check out videos. Even if you've made it before, check out YouTube videos for different techniques. Brunton taught herself how to make sushi by watching videos and Sakumura says that even though she grew up making sushi, she still checks the Web to brush up or learn something new.
Store your rolls correctly. If Brunton has a sushi-making night, she'll do a few rolls at once and then store the leftovers wrapped, uncut, in cling wrap in the fridge. This keeps them moist and the rolls tight. Then, when she wants to take them for lunch, she'll take them out, slice them and go.
Don't beat yourself up if it's not perfect. Sushi is all about practice and precision. It takes time to make the clean, pretty rolls that you see at full-on sushi restaurants or even in most grocery stores. Sakamura says not to let your rolls' looks discourage you — they'll probably taste wonderful.
"The first time I did it without my family, it was a disaster. I tried to have a sushi party with just a few friends," she says. "Mine turned out OK, but I don't think I was good at teaching it yet ... It turned into people making sushi tacos using a seaweed taco shell and just stuffing everything in the middle. Everyone just made mashed-up balls.
"I'm sure it still tasted good, it just wasn't visually appealing."