Tuesday, November 1, 2011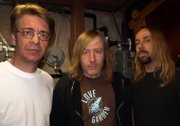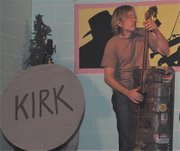 On a sunny day in early autumn 24 years ago, Wayne Gottstine grabbed a Pentax 35 mm camera and climbed into his '69 Ford Econoline van. The van, white and rusty, lurched from the parking lot of Cowley County College in Ark City and eventually slid onto US-77 N toward Winfield. Gottstine was 19 at the time, and he was headed to the Walnut Valley Festival. Photo editor for his student magazine, Gottstine had been assigned to cover the event, which Winfield residents call "bluegrass" and Lawrence locals call "Winfield." Having never been, Gottstine didn't know what to expect.
"I went out into the Pecan Grove that night after all the shows were over and played guitar with people I didn't know until six o' clock in the morning," Gottstine says. "I had a great time, and came back the next day and did it all over again."
The Winfield festival has a seductive quality that is hard to articulate but easy to recognize. There is the smell of campfire, of smoked meat, of damp soil and fresh rain. There is the sound of banjos strumming, the thwack and thrum of every string instrument you can name. There is the spontaneity and the camaraderie and even the sense of family that permeates the campgrounds.
There are babies slung over the shoulders of young mothers. There are children in tie-dyed shirts roaming unattended, flinging frisbees at one another and rolling by on bicycles, rushing past the string of RVs and the chain of tightly clustered tents that line the fairgrounds. There are street performers who sing loudly throughout the night. There are crowds of people, sometimes drunk, who stroll and stumble from campsite to campsite. And there is the music itself, which is everywhere.
For many people, this scene is alluring and addictive. It can convince campers to come annually, inspiring them to rearrange rituals so that Winfield becomes as routine and as expected as Christmas. That's what happened to Gottstine, who has missed only two or three years within the past 24.
And it is Gottstine's Winfield tradition that helped one of Lawrence's most well-known bands take shape. Split Lip Rayfield, a bluegrass trio known for its aggressive play and unique sound, has its early roots planted in Winfield's Pecan Grove.
On a cool and rainy night 16 years ago, Gottstine tramped to Stage 5 to watch a midnight performance of a band called Floyd the Barber. On stage was Eric Mardis strumming guitar. During the first song Mardis' E string snapped. Gottstine cringed on his behalf. No one had a replacement string. But Mardis played on.
"He fought through it and sounded killer," says Gottstine. "Then we had a big long jam afterwards."
They played until dawn. And while Gottstine had been impressed with Mardis' playing, Mardis had been just as impressed with Gottstine. He had seen him play Stage 5 with a band called Scroat Belly. Smitten, he felt he had found his new favorite band.
Scroat Belly is considered the Grandfather of Split Lip Rayfield. It was comprised of three core members: Kirk Rundstrom, Eric Mardis and Jeff Eaton.
During the early years everyone would camp near each other in the Pecan Grove, which is the rowdiest and most popular place to camp. Naturally they played together.
"It was always incestuous: all of the bands would end up playing together at once in these big road jams," says Mardis. "I remember ... we went camping right next to Kirk and just worked up a bunch of tunes incessantly and incestuously between the bands. It was very mix-and-match back then because the bands were all fledglings, and everyone was still kind of figuring it all out."
A few months after their first jams in the Pecan Grove, Rundstrom gathered everyone to talk and play music outside of Winfield.
"It was all solidified a couple months later when we saw (everyone) again out of Winfield context, which is weird when you see Winfield people but not at Winfield, but in the real world," says Mardis.
Eventually Rundstrom recruited Mardis, two members of Scroat Belly left, and Split Lip Rayfield was formed. And for the first half of their career they played Stage 5 annually.
In the early years, each member kept his guitar or banjo around his neck, ready to play at anytime. If it was cold they would play near a fire. If it was warm they would play in the streets. And the crowds would gather.
"We make a big party happen every time we break it out," Mardis says.
Split Lip Rayfield is often credited with crafting what's called the Stage 5 sound. It's a claim they humbly deny, calling attention to earlier acts like White Trash Express and Randy Crouch. Though they duck praise, SLR is a major presence at Winfield, one of the most anticipated and celebrated bands at the festival. Fans constantly stagger up to them, asking them to play.
Having played the festival for nearly 15 years, the band has many Winfield memories. Many of them are crazy — the early years when they were polishing their sound and partying through the night. But the later years contain some very emotional moments, too: the last year Rundstrom, who died of esophageal cancer in 2007, played with the band on Stage 5 still resonates deeply. It seemed like it would be the last Winfield show for the entire band.
But then two years later they stepped back onto Stage 5. And that was a memorable year, too. Playing without Kirk on Stage 5? It didn't seem right in some ways, but in others, it seemed he was still somehow present.
"People like to remember him and I hope that it always stays like that," says Mardis. "It's not a ghost that anyone's trying to hide from."
At this last Winfield, a couple hundred people clotted as close to Stage 5 as possible, their breaths warm on the necks of the people in front of them. They catcalled and cheered and sometimes called out Kirk's name. One fan at the front periodically waved a sign with "KIRK" written on it in black marker.
It's been more than 15 years and Split Lip Rayfield still draws one of the biggest crowds in Winfield. And their origins may be in Winfield, but their reach is not limited to that. There is a documentary on the band and Rundstrom's illness and death due out in November. It is called "Never Make it Home." Footage for it began before Rundstrom's cancer diagnosis.
Recently, the band launched a fall tour that includes roughly 20 locations. "It will be good to jump back into the van and wreak some havoc again," says Gottstine.