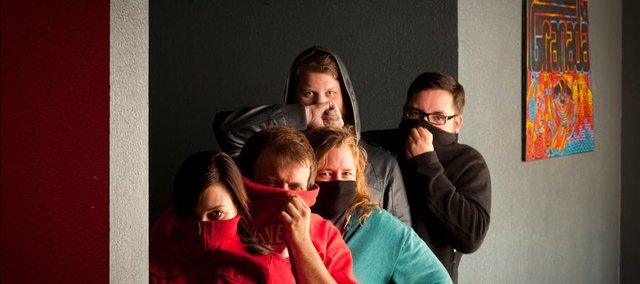 Wednesday, November 2, 2011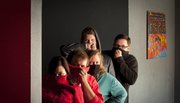 Past Event
Friday, November 11, 2011, 9 p.m.
Granada, 1020 Mass., Lawrence
18+ / $15 - $20
Eleven Productions' favorite shows from the last 10 years
Top Shows of Eleven Productions:
The final Get Up Kids show, July 2, 2005 - Uptown Theater
"(On) one of the last songs Matt Pryor invited us all up to sing on stage. As someone who prefers to work behind the scenes, it's always incredibly surreal to walk on ... stage once there are 2,000 people in front of you screaming and singing along to your every word. I went for it, I sang, along with a slew of other friends and family. Two of my very good friends then decided, even though I told them not to, to stage dive into the crowd. Watching my two good friends sail across the sea of people while singing on stage was a moment I will never forget in my life."
-Jacki Becker.
The Shins two-day show, February 12-13, 2007 - Liberty Hall
"Both shows were sold out and they were old friends so we were excited to have them around. Midway though the first day of load in, it began to snow, heavy and fast. We were in the middle of a classic February Kansas blizzard. Well that sure doesn't diminish Team Eleven and the Shins from having fun. We all piled into my minivan (known as Bling Bling) and headed over the river in the blizzard to go hang out and chill at the now deceased Gaslight Tavern. DJ Konsept was spinning soul and we threw down and danced until the bar closed. Driving back over the Kansas river in a foot of snow with like 10 people in the van, doing donuts getting them back to their hotel was priceless."
-Jacki Becker
Everytime I Die – Multiple times, but specifically, Aug 9, 2007 - Granada
"It was hot, we are talking thick deadly 110-degree heat in Kansas hot. Everytime I Die love to play Lawrence and even though it was hot they brought the party. The guys pretty much played in either underwear or jeans, there was a river of liquid on stage, along with bodies sailing across the stage and into the crowd. It was like the ocean had hit the Granada. I sweated so much I broke my phone."
-Jacki Becker.
Gojira and Children of Bodom, Dec. 12, 2006 - Granada
"I was the runner again and with both bands being from overseas, Gojira from France and Children of Bodom from Finland. There was a bit of a language barrier. I spent a lot of time with one member of Gojira that day helping with translation and ended up becoming pen pals and friends that will last a lifetime."
-Amber Lord.
Marijuana Death Squad, Nov. 8, 2010 - Replay Lounge
"There wasn't nearly enough people at Replay to see this. This band was amazing, two rad drummers and four dudes screaming and mashing various electronic samplers/sequencers. It was a brutal, noisy and really ... groovy all at once. I hope they put out a record or come back on tour or both."
-Sean Wilson.
Bronx/Trash Talk/Mansion, April 10, 2009 - the Riot Room, Kansas City, Mo.
"Mansion played our second show that night, it sold out, the whole Eleven crew was there, (and) it was just an overall crazy and fun night."
-Kyle Sheline.
Jacki Becker could rattle off a lengthy list of bands she has enjoyed working with over the past 10 years — Murder by Death, Minus the Bear, Death Cab for Cutie, Every Time I Die — on and on the list would grow.
But Becker, owner of Eleven Productions, says that list would invariably be truncated because she has enjoyed working with too many musicians to name.
"After 10 years we have been lucky that the majority of the bands we work with, we love working with," says Becker.
And Becker will work with a batch of her favorite bands again on Nov. 11. for an event that commemorates Eleven Productions' first decade of existence.
Murder by Death is among more than three dozen bands that will play at a plethora of venues scattered around town.
When Becker realized her studio would turn 10 this year, the idea for an anniversary party began to bloom. Then it occurred to her that, it being 2011, November would contain a trifecta of elevens: 11.11.11. And so, in homage to "This is Spinal Tap" and what her production company represents, she decided to turn it up to 11 and organize a town-wide music fest that features six venues and a trove of local, regional and national musicians who will play at different times throughout the night. An advance wristband, sold at the Granada, 1020 Mass., grants access to all shows for $15 ($20 day of show). And tickets for individual shows can be bought at separate venues for a range of prices (from free at Love Garden Sounds, 822 Mass., to $12 at the Bottleneck, 737 N.H.).
Eleven Productions is a booking agency stationed in Lawrence but with reach in Iowa, Missouri and Nebraska. The company brings in indie and big-name bands to downtown venues like the Bottleneck, Liberty Hall, The Replay and Jackpot Music Hall. In its 10-year history, it has pulled a string of nationally known acts into Lawrence: among them Arcade Fire, Modest Mouse, The White Stripes, The Killers, The Decemberists and David Sedaris before other venues caught on. Promoters at Eleven pride themselves in finding undiscovered groups then watching their musical careers blossom into something bigger.
History of Eleven
The seeds of Eleven Productions were planted more than a decade ago. Back then House of Blues Entertainment had petitioned Becker to promote and coordinate shows in private venues located in the Midwest. After a brief stint, House of Blues decided not to expand in Kansas City. But Becker didn't want to leave the music scene. There were too many good things happening. So she started her own company.
Becker originally moved to Lawrence in 1998 to attend Kansas University. She majored in creative writing and political science. Then one semester the program director of KJHK told her she had a nice voice and asked her to be a DJ. Since then she has worked in the music industry in some capacity. She has been a promotor, a DJ and a music critic.
Becker is a music junkie. She frequents estate sales, and attends Record Store Day (the nationwide sale on the third Saturday of every April). She goes to the annual Audio-Reader benefit sale yearly and hops on the web to sniff out new music. She listens to music on her iPod, her iPhone, her stereo, her boom box and her turntables (she owns five).
"I have a pretty brutal music addiction," Becker says. "I need it. I hear it constantly. My house and office is filled with vinyl, (and) I always love going to record stores across the country to scour the world to find vinyl."
Team Eleven
Eleven Productions is composed of six employees. Collectively they are known as Team Eleven.
"Team eleven is a group of people working hard, who have a deep love of music, many who play music, who support music and make sure both the fans and the bands are having the best time ever that day they are on the stage or watching them perform on stage," says Becker.
Each member of Team Eleven is addicted to music in his (or her) own right. Each also brings a set of key skills to the company. There's Kyle Sheline, the band pleaser, the one who can somehow soothe someone who is in a murderous rage swifter and more effectively than a round of yoga or a pot of green tea combined.
There's Drew Hall, who spearheads sound production, and Sean Wilson, who executes Internet and street marketing. Then there's Drew James, the artist, the one who sketches and designs all of Studio Eleven's posters, flyers and handbills. And finally there's Amber Lord who crafts and pores over contracts, drafts progress reports and helps with sales. And under each member's job title is the label "miscellaneous." Without hesitation each will jump from one job to another whenever necessary.
Lord started working for Eleven Productions in 2005. She still remembers her first day. Mogwai was playing at the Granada and Lord was a runner for the band. She set up the green room and fetched food and drinks for band members, namely good English tea as the band is from Glasgow, Scotland.
"They were already one of my favorite bands that only make it out to the states every once in awhile," says Becker "I was able to interact with them and meet them as individuals and not just a band." 
Later on Lord helped Becker renovate a venue in Iowa City. And afterward Becker asked her to become a more permanent employee.

"I have been with the company ever since then and it has been nothing but a blast working in this field," says Lord. "Jacki is a boss that always puts others before her. She is constantly doing things for us and planning group outings to keep us all in sync."
Becker likes working with students who love music. She says it's one of the major strengths of Eleven Productions. Another strength? Strong local support.
"We are able to do what we do because of the strength of clubs in the area, the constant media support and the fans who inevitably seem to always be willing to throw out a few dollars to see bands in vans and busses stop in Kansas instead of just driving down I-70 to the next big city," says Becker.
More like this story on Lawrence.com