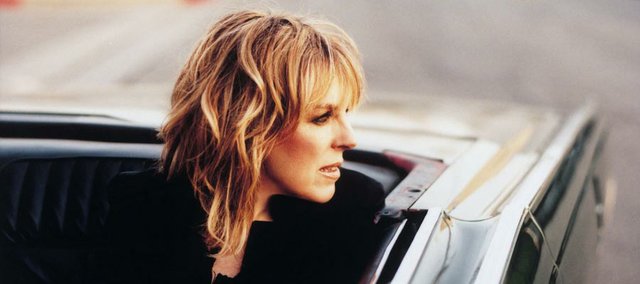 Thursday, November 3, 2011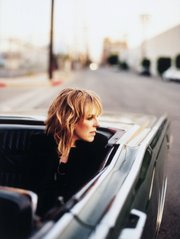 Past Event
Friday, November 11, 2011, 7 p.m.
Liberty Hall Cinema, 644 Massachussets Street, Lawrence
All ages / $27.50 - $33.50
Lucinda Williams the songwriter is not overtly political. But, on a tour bus parked in Allentown, Pa., a couple weeks before she will make a stop at Liberty Hall, 644 Mass., Lucinda Williams the woman talks politics.
She is proud to relate that an Occupy Wall Street offshoot marched on the Wisconsin state capitol while belting her song "Joy," a blues-rock stomp that triumphantly declares, "You took my joy/ I want it back." It's an apt anthem for a protest group pissed off and hungry for change.
"I was really honored and proud," she says over the phone. "So now when I sing 'Joy' I dedicate it to the Occupy Wall Street movement."
Williams, whose on-the-road lifestyle affords a special vantage of the sociopolitical landscape, is disturbed yet entertained by the GOP presidential-nominee candidates, befuddled by low-income workers who support Republican tax strategies and enlivened by current sparks of unrest among the masses.
"I think this is an exciting display of healthy, patriotic dissent. I haven't seen anything like this since the protests during the Vietnam War days," she says of the group that counts one faction in Lawrence's South Park. "It makes me feel very hopeful."
As a teenager in the 1960s, the spiky-haired lioness of alt-country cut her teeth on Bob Dylan, and today she admires the anthem-writing abilities of friend Steve Earle ("He just pops 'em out"). But, over the course of a career spanning 30 years, 10 studio albums, 14 Grammy nominations (with three wins) and at least two U.S.-led wars, she's never been one to write protest songs.
"Every time I'd try to write one, it would always sound kind of corny," she says with a throaty laugh. "It would come out like, 'Okaaay, brothers and sisters, everybody hold hands' or something."
Her latest album, "Blessed," includes one topical number, "Soldier's Song." Like much of her catalogue, the song took several years to coalesce from jotted rhyme to recorded track. But the song, which juxtaposes story arcs of a fallen combat warrior and his or her partner raising their child back home, is rare for its inherent commentary on current events.
"It's kind of my anti-war song, I guess," says Williams, who last month received a lifetime achievement award for songwriting from the Americana Music Association and once was named America's best songwriter by Time magazine..
The concept for the song — parallel universes — can be traced to Glen Campbell's "By the Time I Get to Phoenix" and her own famous-poet father Miller Williams' piece "Love Poem" ("We sit at the breakfast table reading the morning paper/ My wife's making coffee/ It's 3 a.m. in Jakarta").
Befitting one whose professor dad chummed around with the likes of Flannery O'Connor, Lucinda Williams is a writer's musician. Her lyrics play with point of view, dipping heavily into the second person or, as in "Soldier's Song," embodying an archetype or composite character via first person. They compose long lists, rootsy in their concrete nouns and bluesy in their repetition — "Changed the Locks," from 1988's self-titled album and made famous by Tom Petty, amounts to six variations on the same sentence and has no bridge, an unorthodox structure that caused one recording exec to pass in the 1980s. And they realize complex characters through perfect details, as with the good man whose childhood abuse rears its head in his own cruelty "Sweet Side" ("I've seen you in the kitchen cookin' me supper/ I listened to you bitchin' and I watched you suffer") from 2003's "World Without Tears."
Most of her songs are nonfiction, memoirs or biographies of sorts, rooted not in the cliché, prevailing paradigm of contemporary songwriting — the peaks and valleys of romantic love — but in the sensory and emotional realities of daily life: the sound of a car, the image of a loved one, the smell of a place, the feral gestures of sex. And they're all relayed in lean, clear terms, embodying what she once told a magazine was the best writing advice she ever got: "Above all, the listener should be able to understand the poem or the song, not be forced to unravel a self-indulgent puzzle. Offer your art up to the whole world, not just an elite few."
That advice came from her dad, who has been called the Hank Williams of American poetry. In fact, Miller Williams shared a drink with the country legend just weeks prior to Hank's death and Lucinda's subsequent birth. One critic said, "while (Miller Williams') poetry is taught at Princeton and Harvard, it's read and understood by squirrel hunters and taxi drivers."
This family tradition of egalitarianism runs deep. Miller Williams' father was a Christian minister who co-founded the Southern Tenant Farmers Union, championed women's rights and wore a black arm band for the Vietnam War Moratorium. Miller's college roommate in the '50s, "Roots" author Alex Haley's brother George, is Lucinda's godfather.
"It's in my blood," says Williams, who has tussled with Ticketmaster and a week before the last presidential election released a digital EP of four protest songs, three of which were covers.
While not given to didactic political lyrics in her own writing, Williams cites the title track of her new album as a song that "makes a statement about things." "Blessed" offers a list of characters who contribute to a collective spiritual or cultural shift by transcending pain and acting selflessly ("We were blessed by the battered woman/ Who didn't seek revenge").
We're all on the same team, the song says — an entirely political perspective in the right context. But none of the lyrics states as much. Williams is true to the old writing adage, "Show, don't tell."
"All of these people have lives, have stories," Williams says.
An immigrant selling roses outside an L.A. restaurant inspired one of the lines from "Blessed." On a sidewalk where most folks ignored the woman, Williams bought some blue flowers and asked about her home and family. They made a real connection, the living-legend musician and the Turkish street peddler.
Much has been written of her father's influence. But Williams' mother, Lucille, a pianist whose 2004 death inspired the bittersweet country masterpiece "Fancy Funeral" and the "huge, big writing thing" that produced her daughter's last three albums, shaped a songwriter ultimately more interested in people than in ideologies.
"I'm the kind of person, even as a child, I would be sitting next to an old woman in the train station and open up a conversation," the singer recalls. "My mother was like that. My mother would talk to anyone, everybody."
Not long after meeting the lady of the roses, Williams spotted her again outside the same restaurant.
"I saw her out there, and she saw me and smiled. She just beamed. It touched my heart," Williams says, when something else dawns on her about "Blessed": "That's what that song is about. Everybody makes an impression on everybody."
More like this story on Lawrence.com