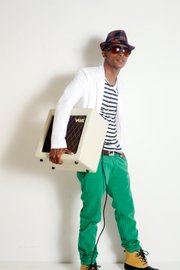 You may not have heard of Tabi Bonney, but you will. The MC's latest album, "The Summer Years" is a shot in the arm, a winning combination of party lyrics with infectious beats courtesy of producer Ski Beatz. Bonney, himself has already opened for the likes of Outkast, LL Cool J and Cam'ron and tonight he opens for MURS on the second leg of an extensive U.S. tour.
Trevan McGee: What made you want to tour with a live band?
Tabi Bonney: Well, Ski Beatz, he creates a lot of his newest stuff with a band. And for me, whenever I have a chance to perform with the band, I'm from D.C., where it's live music all the time. We were raised on go-go music. My father has his own band, so that's all I've ever really actually known. It's the ideal situation.
TM: Ski Beatz did all the production on "The Summer Years." How do you two work together? Is it collaborative? Do you guys each bring in stuff you've worked on separately?
TB: I've never been able to create, on the spot , in the studio and that's the only way Ski wanted to do it. He doesn't send out beats or anything like that. He just makes them right there on the spot. It was a great exercise for me and I'm glad I was able to come through and be able to do it.
He'll just start messing around with sounds and by the time he's already done, I would have either already started writing or just be finished. It was just an amazing creative process for me.
TM: You do video production. You have your own clothing line. And you got a master's from George Washington in biology. Where's that curiosity come from?
TB: I get bored with things extremely fast and it all goes back to me not having an addictive personality. I've never been one to obsess about either weed, alcohol or anything else. I'm always looking for something else to stimulate my mind.
I can't explain it. I'm just always searching for something else.
TM: Have you always been like that?
TB: Maybe. Me and my parents, we traveled a lot. Literally, we'd be back and forth between Africa and D.C. almost every year. And also to have them living in Europe for like two years, always being on the move, maybe it's that. Maybe it's being in so many different environments and cultures, it just kept us stimulated.
TM: How did traveling influence your creative process?
TB: It made me not be afraid to be myself. I think a lot of people who don't get to go to a bunch of different places, they cave into peer pressure and to thinking that you can only be a certain way or dress a certain way and you can only talk a certain way, for me, I think I'm not afraid to be myself and express myself truly.
Most people get to step out of their box. It's kind of closed-minded.
TM: What are some of the musicians out right now that inspire you?
TB: I'm a big fan of Lykke Li. Of course, Kanye West. I'm always searching for new music, when I'm not listening to beats that I'm writing to, I'm on Pandora, just exploring. There's nothing better than finding a new artist or a new realm and dimension where you're like, "Wow, I've never heard of this person and this is great."
I'm that guy who's always on the hunt to hear new artists and new sounds and to hear them take me into a different world.
TM: When do you write?
TB: I've been trying to write on the road because the day and age we live in, your output has to be at a big rate now. You can't just put out one thing a year, you have to constantly put out new music. I haven't been able to truly write on the road, it's usually once I get back, but I'm working on it and would love to create in any environment.
Usually I have to be home and settled. Either in the studio or my own house or car, just driving.
TM: Do you get an idea of a song or does it come fully formed?
TB: Usually, I write to the beat of a song. Whichever one grabs me, most of the time it's a beat that intimidates me or is perfect just the way it is with no lyrics, just the music in and of itself. That challenges me and I try to find the perfect match to it. I try to be that perfect match to it. Other rappers just try to kill the track. I just try to compliment it and accentuate it.
TM: What are some of the more positive trends you see in hip hop right now?
TB: I guess it's the effect that it has on the people, just how hip hop affects American culture in every facet. For the most part, black youth coming from a place of desperation to being able to make it and being able to make a small economy out of it. The best thing I could say that it's doing right now is creating entrepreneurs and millionaires. In the past that wasn't the case. It was a select few. And labels were feeding the artists, but not really.
TM: What are some of the negatives?
TB: The whole following, followers and cliquish aspect of it. You still really have to bang down the doors to get in. Me, I would never want to do an album with just who that hottest people are right as this moment in time.
It's so fake to me. It's so fake.
TM: Do you remember the first time you thought you wanted to make music?
TB: I remember when, it wasn't that I wanted to necessarily make it, but just be a part of it. It was when we came back from Africa one summer and I heard hip hop on the radio and I was small and it just did something to me. I was like, "What is this music?" I think it was Salt-n-Pepa on the radio. Either them or the Fresh Prince and DJ Jazzy Jeff. The music just spoke to me and I was like, "man, I really just want to be a part of this," but I didn't know how. I didn't know I was going to create it.
TM: When you're making music, do you still try to be a part of something?
TB: Most definitely. Otherwise, I wouldn't be doing it. I love what I do and God blessed us with the ability to create from the ideas we have in our head, to make them something tangible. We're the only creatures on this earth for the most part that can do that. It's just a blessing to me.
More like this story on Lawrence.com