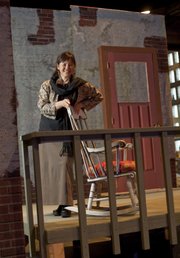 'All My Sons'
Performances run through Nov. 20.
Tickets: general admission, $18; seniors and Kansas University faculty/staff, $17; students, $10.
Purchase: University Theatre ticket
office or online, kutheatre.com/tickets.
Call 864-3982 for more information.
Drawing from both domestic issues in her native China and from events from around the world and throughout history, Lei Guo-Hua, guest director to Kansas University's theater department, will present Arthur Miller's classic, "All My Sons."
The play will premiere at 7:30 p.m. Nov. 14 at Crafton-Preyer Theater in Kansas University's Murphy Hall.
The play traditionally centers around two men's greedy, illegal and ultimately deadly business practices during World War II and the repercussions these actions have on family members.
The production has personal meaning to Lei, as Miller is one of her most cherished playwrights. After briefly meeting Miller in Beijing in 1983, Lei went on to become the Principal Director at the Shanghai Dramatic Art Center. She planned, in 2004, to invite Miller back to China for a production of "All My Sons," but the playwright passed away before the project could become reality. Since then, she has lost none of her respect for Miller's work.
"Ten years ago, I saw this play in San Francisco," Lei says. "I was in complete shock because I felt the story never felt like the past. It was just a story about human tragedy and human greed. It's still very strong with China. Lots of companies — lots of business people — they try to make money, but they don't care about people's lives."
Lei says Miller's plays speak not just to Western audiences but to the world. She says many of the issues he wrote about are still prevalent in today's society.
"A good play is not for one country, it belongs to the whole world. I still feel it's time for people to think about things other than money, money, money. They don't think — they've forgotten the warmth. That's why we chose this play. Also, this time, when I direct the play, I want to do it a different way. Of course, I'm from China. Chinese artists will read the play and feel it differently."
Lei combines some characters in this play, redesigns the basic set of the play in interesting ways, incorporates dancelike movement from the cast and adds a character to the play based off the theatrical principles laid down by German playwright Bertolt Brecht. Lei says she has aimed to create a timeless sense to the production — it could be happening now or 50 years ago.
"This time we decided to use (Brecht's) ideals, make it a very modern thought," she says. "The stage is totally different, it's almost like a wall with airplane parts. It's post-modern. I'm using his ideas because he always said we need theater, not only for entertainment, but it should send a message — to talk about what's right and what's wrong."
Assistant director to the production Scott Knowles says working with Lei has been a very demanding yet inspiring opportunity for him. He says the director has set a very high bar for this play, asking for the very best from everyone involved.
"The most interesting thing for me has been the use of different techniques to produce a traditional, realistic play. Guo-Hua has taken some different approaches to doing that. It was always a political play, but what she's doing is taking it further, making it more modern and contemporary."
Knowles says Lei uses incidents involving the private military organization Blackwater's supposed violence in Iraq, the 2008 Chinese milk scandal and an incident involving an Iranian leader fleeing the country with citizens' money to specifically show how tragedy stemming from greed is still a worldwide issue today.
Another interesting dynamic to this version of "All My Sons," Knowles says, is the rehearsal schedule. He says Lei has asked much more from her actors than a director of a standard university play, but also says the performers have responded well.
"It's been great to work with (the cast)," Knowles says. "She asked them to memorize lines before the first rehearsal. Basically, she asked them to come memorized, which is highly unusual for university theater. Usually, you get two to three weeks, and they pulled it off. They worked very, very hard."
KU senior Maggie Parker, who plays the role of Ann Deever in the production, says working with Lei has been challenging at turns, but has been rewarding. Parker says to get ready for the movement-oriented rehearsals, the cast warms up by playing basketball and conducting concentration exercises.
"It's been an interesting experience to be sure," Parker says. "I think we were all a little nervous that there would be a language barrier. It's been so easy to understand her, though. This rehearsal process is way different than I've ever experienced. We came in with everything memorized, which has actually been satisfying because it's hard to get work done with your nose in the script."
Parker says she's excited to finally perform "All My Sons" and to be a part of the production of such a seminal example of American theater.
"I've been thrilled about the entire process, this is one of those shows where, as an actress, it's on your résumé and it gets noticed. As far as the American drama canon, it's kind of a 'Romeo and Juliet'-type thing. I'm excited, but I'm absolutely terrified, as most actors are before it goes up. I'm really proud of this show — we've done great work as an ensemble. I think it's going to be great, and I'm ready to be there, get that feedback and enjoy what we've worked so hard on."