Wednesday, November 9, 2011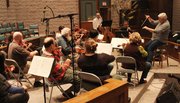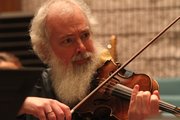 The Lawrence Chamber Orchestra opens its 40th season with a Veterans Day Concert: "The Strange Eyeless Heaven"
When: Friday, Nov. 11 at 7:30 pm
Where: Lawrence Free Methodist Church, 3001 Lawrence Ave.
Price: Tickets are $15 for adults, $10 for students and $5 for active and retired military personnel. Tickets may be purchased in advance by calling 785-691-7824. A reception will follow the concert. Contact Maria Butler, Lawrence Chamber Orchestra for more information: 785-842-9214.
It's no accident that the Lawrence Chamber Orchestra is opening its 40th season on 11.11.11, this year's Veteran's Day holiday. "The date was a hook," says music director, Steven McDonald, who planned a program to take the audience back a hundred years and to English music written between 1910 and 1920 and informed by World War I.
"It was a period of tremendous change, especially in England," says McDonald. "The very ordered life, the whole 'Upstairs, Downstairs' thing was over — gone forever.
"People had never seen the level of destruction that World War I brought, the machine guns and the poison gas. The war brought terrible carnage to Europe and it also changed ways of life and ways of thinking about life ... all these changes affected the art world tremendously," he says.
One composer whose work will be performed, and whose style changed as a result of the war is composer Sir Edward Elgar. "His later works have none of the pomp of the earlier pieces," says McDonald. "The war depressed him deeply.
"Friday's concert will be a musical snapshot of the period before, during, and after the World War, and we want to attract audience members who may think that a program of 'classical music' is not for them," he says.
"People might think that a concert on Armistice Day would be making a point, but it isn't. It's illustrating moods."
Friday's concert will also illustrate the level of professionalism that has taken over the Chamber Orchestra in recent years. "(McDonald) is the finest conductor we have ever had," says concertmaster Chris Harnden. "He is so knowledgeable about each piece of music and he makes it come alive. He educates the audience about what to listen for."
If anyone would know about the evolution of the Chamber Orchestra, it's Harnden, who began playing with the group when she was a student at Kansas University and is now starting her year 36 with the orchestra.
Today, you would be hard-pressed to find a student among the performers. "All the players are professional musicians," says McDonald who has led the group since 2007, and who is the director of orchestral studies at Ottawa University. "Occasionally we will get a Ph.D. student who will fill in, but that doesn't happen very often."
The orchestra has come a long way from its early days when founder, and former state legislator, Jessie Branson started it in the early 1970s. "Jessie had built a harpsichord and she would invite friends to come to her house to play the other parts," says Harnden. "She was just a person who loved music and the arts so much."
Another early member of the group, Louise Hanson, also recalls the struggles of the early days. "We used to have garage sales at our house to raise money," says Hanson. "We would sell instruments, music stands, sheets of music."
Hanson doesn't know how far funds from a garage sale would go in sustaining the orchestra today. "It's a more complex affair. There are more musicians and the costs are higher," she says.
Former board member Sue Hines remembers when the group was known as the Lawrence Chamber Players and was working to expand its mission. "We wanted to introduce music to a broader audience," says Hines. "We wanted kids to hear what a bassoon or an oboe sounds like so we would sponsor small groups or solo performances at the library and in various schools."
Education is still an important goal for the group, as demonstrated by their March concert at Lawrence High School which will feature the Lawrence Children's choir.
Hines can appreciate how difficult it is to sustain an arts group in today's world. "In the 1970s there wasn't as much competition. There is so much going on in Lawrence today. There can be two or three things going on at the same time."
Another obstacle confronting the group are budget cuts from state agencies. "With all of the cuts in the arts it's been difficult to keep it going," says Hines
Even with the challenges, there is little doubt that what keeps today's orchestra together is the same thing that brought them together originally — a love of music. "We are a group of musicians who love performing at a professional level," says Harnden. "We really enjoy each other as people and as musicians. We have a conductor who is extremely gifted, intelligent and in love with music. He is an exceptional teacher whose gifts are infectious, creating an exciting artistic unit."
It is a sentiment the musicians and others involved with the Lawrence Chamber Orchestra hope the audience will pick up on Friday night.
"We provide Lawrence with the great gift of music," says McDonald. "Everyone in the city should be proud of the level of professionalism that exists within this group and take ownership of it."