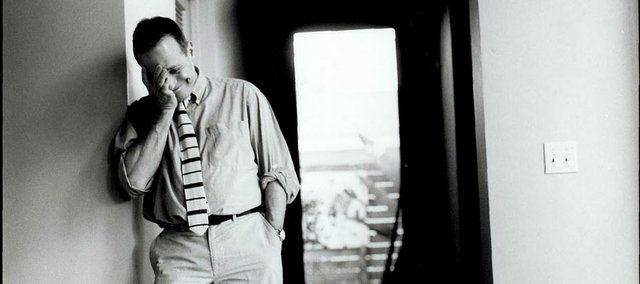 Thursday, November 10, 2011
When David Sedaris walked onto the Lied Center stage Wednesday night, it was to an audience that could conservatively described as eager. The 54-year-old author elicited laughter simply by saying hello as he steadied himself behind the podium and prepared for the next 90 minutes of observational humor. This night's show illuminated the signature elements of Sedaris' comedy — his wit, his cleverness and the line of earnest sentiment that runs through the best of his work. And although the author looked tired or a little too practiced at times, the show featured enough casual observation and earnest moments to make it memorable.
Sedaris shared "I Am Not Running For President," a playful piece of satire that played well with the audience, as it skewered the state of political theater, using the Republican primary candidates as a backdrop. The piece, which starts with the simple declaration stated above, quickly moves into extremism as Sedaris' fictional non-candidate promises to move labor unions to the areas of the country suffering from drought, strip them of their collective bargaining rights and water the fields with their tears. Appropriately, it ended with the line, "I am not running for president. Until I am."
From there, he moved on to a story about China, a piece the Chinese tourism board and any germaphobes in the audience probably weren't too happy about. As Sedaris offered a detailed description of some of the decidedly disgusting, by Western sensibilities, at least, actions he witnessed there. During this time, as he described people spitting in the streets and the overabundance of feces both animal and human in the streets, he seemed to revel in the audience's displeasure. It empowered him in a way, as his body language became more sure and words steadier.
This was also Sedaris' meanest material of the evening, as it lacked any of the sentimentality, or self-deprecation that inhabits his best work. And his gift for description, one of my favorite elements of his writing, was used more often than not to disgusting ends.
Some of the best moments of the night came from the spaces between Sedaris' scripted bits. Sedaris' quick asides on Brazil ("Plastic surgery must be cheap there.") and recommending Peter Hessler's "River Town" ("I would buy this before I bought anything that I wrote.").
An audience favorite of the evening came when he read brief entries from his diary while on tour, that quickly veered into scatological territory as Sedaris detoured into an extended bit about defecating into one's hand for one reason or another — a process he was quick to point out that he's never done, but knows an alarming number of people who have. While this portion of the performance got some of the night's biggest laughs, it also raised some disappointment from audience members overheard on the way out. But this says a lot about Sedaris and his form of comedy, not the act, mind you, but his ability to take something that is the definition of low-brow and turn it into an observational piece about the people he knows and the quirky thought processes that lead to quirky actions. Aside from his eye for details, his ability to place himself as an observational outsider forms his comedy, often to great effect.
If the night had any major shortcoming it was the abridged question-and-answer session at the end of the show. Sedaris ran long and audience members were only allowed to ask four questions, probably for the best considering the type of questions he got lobbed. There was an awkward moment as he struggled to answer, "What's your favorite thing about Lawrence?" Before settling on barber shops and being around college students. He later mentioned that all writers eventually arrive at self-truth, a response to a question about his process and how he arrived at the point in his writing when he didn't care what anyone thought.
Then he responded to the question of his greatest embarrassment with a story about peeing his pants in second grade and the persistent fear he has of defecating in his pants while stuck on an airplane. Those two questions and their responses pretty well summed up the night.
More like this story on Lawrence.com