Monday, November 14, 2011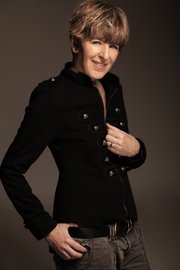 Recurring event
Lied Center, 1600 Stewart Drive, KU campus, Lawrence
All ages / $20
Sonia Rutstein, or SONiA, as she's known professionally has been playing with independent folk/pop group disappear fear for more than 20 years, many of those years alongside her sister, Cindy Frank or CiNDY. In 1996 Frank stopped perfuming regularly with her sister to focus on motherhood and her education, while SONiA continued to tour, write and perform her own material as well as covers as both a solo act and a part of disappear fear.
Now, the sisters have reunited under disappear fear and are touring in support of "Get Your Phil," a collection of 10 covers of Phil Ochs songs that will bring them by the Lied Center Pavillion, 1600 Stewart Drive, this Thursday. SONiA took time to talk about the album, the importance of Phil Ochs and performing with her sister again.
Trevan McGee: Tell me a bit about the new album.
SONiA Rutstein: I was planning on doing a CD of Phil Ochs songs at some point in my career and now seemed like a good time to do it. As a songwriter I'm kind of an independent singer/songwriter, I'm always writing songs. I'm going back to Phil Ochs, who was a big inspiration for me to, not only write the kind of songs that I write in terms of certain topics like particular news stories that strike my eye, but the Phil Ochs/Bob Dylan method that makes you say, "What!?!" And perhaps bring attention to an issue or give some more credit to an unsung hero becoming a sung hero.
There was all of that for Phil Ochs, but I had to find my own time to do it because I'm recording my own CDs. I mentioned it to Cindy (Frank) that I was going to go in and record a CD of Phil's music and she said, "Oh man, I would love to sing with you on that." So the timing was right. She had graduated. She was taking classes where she lives and I live in Baltimore. I found an engineer who seemed to be the perfect guy to be the engineer. He had actually met Phil a couple of times and Phil had shown him a couple chords from some songs, one of which I was doing, "Changes."
Cindy flew down from Seattle on Friday night and by Sunday night we had basically the CD. I had done some of the rhythm tracks before, but a lot of it just went down pretty live. It felt really good.
We had chosen all the songs beforehand to rehearse and get everything together. Cindy and I have been singing together now for most of our lives, so we got that down too.
TM: You dedicated your first album to Phil Ochs. Do you have a memory of the first time you heard a Phil Ochs song?
SR: Yes. I remember when I first heard his music ... I really liked the words of his music. I was familiar with the song "Changes" before I knew it was by Phil Ochs. It was a camp song, so it was just like, "Oooh, that's really pretty." I don't think I had heard of anything else. I know Joan Baez had recorded "There But For Fortune," but if I did hear that, it never came out strong for me.
It was really more reading his lyrics. His voice, I actually thought was a little weird when I first heard it. It's kind of nasaled and not very rock 'n' roll. I was listening more to the people of the day like Cat Stevens or James Taylor or Joni Mitchell — folky stuff. Simon and Garfunkel, which I loved. His voice wasn't really that and it certainly wasn't Bob Dylan either. Bob sort of had a kind nasal in the same way that Phil's was, but it was different. I didn't really understand his singing, but I really, really liked the melodies a lot. And I liked the songs as well. I think the next thing I heard was an album called "Chords of Fame," which was a double album. It was just him and occasionally another artist was playing and singing, but it was live and it was just guitars and vocals. It was amazing. I just loved it.
I guess the other thing that struck me about it was ... here's a guy who's making this amazingly great songs and I've never heard him on the radio. Ever. I remember thinking, "Wow, there'a whole other world out there where you can actually have a musical career and write great songs and they might not be big hits, but they can touch people deeply and that's how it really was for me. Phil's songs really touched me. I would just turn people on to him all of the time, I would play his songs in my car for people. Much later, after I recorded "Is There Anybody Here" on my first CD in 1994, later that year I heard of Sonny Ochs, who is Phil's surviving older sister. She loved the version, loved our voices and I ended up doing a series of shows with her, which are called "The Phil Ochs Song Nights."
She takes about about eight to 15 people on stage, singer/songwriters themselves, and they do one or two of Phil's songs and one or two of their own. It's kind of depending on his generation, but a new generation of songwriters too to create new arrangements and so on. That's happening again in the spring. I'm doing another Sonny Ochs tour then.
TM: What informed your song choices for this album?
SR: Some of them were just songs of his that are part of my definitive Phil Ochs connection such as "Is There Anybody Here," which I've recorded before and also "Outside a Small Circle of Friends," which I've never recorded. I've done it live lots of times. I've personally performed those with just me and my guitar or with Cindy.
Some of the other songs on the CD are just the mainstay songs from Phil Ochs nights. We open with "Power and Glory" and we frequently close the nights with "When I'm gone."
The biggest critique I've gotten on the CD has been, "Why did you do 'Pleasures Of The Harbor?'" "Why didn't you do 'The Highway Man?'" Well, because it wasn't going to be 97 songs long, you know? [laughs]
TM: There are meaner things to say than, "You didn't play enough songs."
SR: Yeah, yeah. What was the other one …. "Cops of The World," that's another one. where a few people said, "Why didn't you do 'Cops of The World'? It's so perfect for us right now."
TM: With this show coming up at the Lied Center, how much will be dedicated to the Phil Ochs album and how much will be music you and your sister have made from throughout your career?
SR: I wouldn't say I know the exact percentages, but I'll say it will be representative of both, which probably makes it around 50/50. And I also don't know how long we're performing for. I think our set is around 90 minutes, I'm guessing.
We should be able to get a chunk of everything, whether it's songs of the past and i'm sure we'll do a good representation of songs from the CD as well.
TM: Do you see any collaborations like this in the future? Would you do another collection of covers like this one?
SR: Well you know, it's funny you asked me about this because I was just driving home singing "Moon River." I love that song. [laughs]
Yes. It could happen. There are some great songs out there some songs that I just really love and shouldn't be that difficult to do this because most of the work is already done. Again, I would say a good third of the songs I already knew, if not by heart, nearly by heart.
It could happen. It think it would be all over the place because songs that I love, for instance "Moon River," or "Mona Lisas And Mad Hatters" by Elton John, I'm not sure they'd go well with each other on a CD.
My songwriting is, nicely said, a mix of many different genres and a little less nicely said, is all over the place. I've got reggae songs. I've got blues songs. I've got rock songs, I've got a couple of funny songs, country. It's not so different for me, but as a songwriter it keeps me awake and challenged. And I never would want to do a performance where things were unchallenging or be on automatic. I like keeping it fresh and to do that, it's sort of like, "What's around this corner? What rug and I lift up?"
TM: Do you know a difference in response between U.S. audiences and international audiences?
SR: Oddly enough, no. I was going to say they (international audiences) are quieter, but that's not even true. Really they just vary from club-to-club. If I'm playing a large festival in Europe it's the same kind of feeling as there is here. It's a good sound, there's people excited. It also depends on the time of day and if I'm the headliner or if I'm less known and playing earlier.
I think that when I'm performing a song, or when anyone is performing a song, there is a frequency that people are responding to and beyond the lyrics and the music and the other content, physical creation of it, there's something happening on another level and that transcends continents. It transcends thoughts and political opinions. It's something else.
More like this story on Lawrence.com