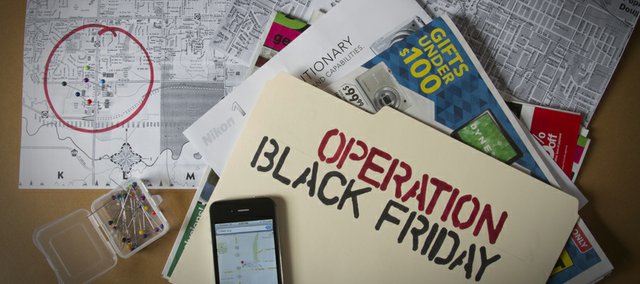 Thursday, November 17, 2011
Black Friday shopping hours
As of this time, many specific store hours weren't set for Black Friday. Check your Thanksgiving Day Lawrence Journal-World for hours and deals. In the meantime, try finding social media accounts for your favorite stores for insider information.
Your mission, should you choose to accept it: defeat Black Friday.
The unofficial national holiday of shopping has grown too big for its britches. It's so bloated that it's spilled over into Thanksgiving, with stores opening while the turkey's still warm and the pie's half eaten. No longer can a shopper just settle for arising at 0500 hours to scrimmage for TVs. No. Now shoppers can fuel up for a shopping spree lasting a full day or more.
Conquering 24 hours or more of shopping is no small feat. It takes planning, precision and a comprehensive understanding of the enemies behind the lines: fatigue, buyer's remorse and credit card bills. To help you achieve success and overtake your target(s), we've found you the perfect marching orders.
Objective: The outlets
For those who like the idea of shopping on Thanksgiving Day, a trip to the fringes of Kansas City may be well worth it. Just off I-70, The Legends Kansas City has stores opening as early as 8 p.m. Thanksgiving night with most stores open by 10 p.m.
Lisa Quier Wagner, a consultant to The Legends and the chair of the Outlet Marketing Alliance, says that if you're going to hit a big shopping center, check in with social media outlets like Facebook or Twitter. Often you can get an up-to-date list of store hours, specials and even win special shopping privileges (like getting to go in an hour early). Once you've got your social media ducks in a row, make a game plan so that you can get the best parking and shopping route for your buck.
"I think a great strategy is to visit the website, to download the map, and take a highlighter and start highlighting your favorite stores and then you can create your own little route," Quier Wagner says. "Look at the specials page and print that out, and then you'll know what your specials are, you'll know where you should park to be close to one starting point or another and then it's like planning your attack."
Objective: Big box stores
Julie Anderson of the Lawrence Journal-World's Shop Talk blog says that for the Walmarts and Targets of the world, having a plan is also key. She spends a good chunk of her Thanksgiving poring over the circulars with her two teenage sons and mother-in-law. They make an item list and figure out which stores they want to hit and in what order. This is especially important if you're hoping to score in a door-buster scenario. The last thing you want is to get up at 3 a.m., hit the wrong store first and then miss out on the best deal of the day.
"I think some of those door-busters are definitely (worth it). But, then, the only issue is, one year I went out, I think it was for the blog, and I had gone to Target for a TV that was really cheap, but then they had only 10 of them. If you're not one of those first 10 people, then you're kind of screwed," Anderson says. "So if you're willing to take the time and stand in line and deal with the crowds, (great) — sometimes the door-busters aren't worth it and I'd rather sleep in."
Because her boys are old enough, they will also divide and conquer. Anderson says that if you can deploy this method, it's well worth the success rate.
"I don't hear of many kids who like to go out on Black Friday, but my boys love it. I think for them the big things are electronics or movies and DVDs and that sort of stuff. If we say we're going to go out at 3 in the morning, they want to go," she says. "And if there's more than one thing we're going for in one store, we'll split up. And everybody kind of has something that they're going to go for and then we'll split up in the lobby. And then it gets fun."
Objective: Downtown
Want to hit up local retailers on Black Friday? If you do, expect a reprieve from the granny-shoving going on at door-buster central.
"Chances are very good you will not get elbowed down here as you try to get the latest hot thing," says Cathy Hamilton, director of Downtown Lawrence Inc. "I'm a big fan of outdoor shopping. ... I do think we've got all the little respites built in down here. You can go back outside, get a bolt of fresh air, you can go down the block, you can get a cup of coffee, you can stop for lunch — if you start real early, you can stop for breakfast."
The ebb and flow of shopping downtown is much different. The slow time will be the morning (check Facebook and Twitter pages for individual store opening times), when other shoppers are still in line at the big box stores. The crowds should pick up in the afternoon, when big-box and outlet shoppers decide to head down after lunch. That said, the true sweet spot for shoppers who don't want to share their aisles might just be around 5 p.m.
"It's Black Friday, it's Final Friday and it's Santa rescue night," Hamilton says, laughing. "My feeling would be, start shopping at 5 p.m. when everybody and their pig is on the corner of Ninth and Mass. waiting for Santa. Because I bet the stores will be empty ... while everybody's staring up at the roof of Weaver's waiting for the fire department to rescue poor Santa, you could be in shopping your wallet dry."
If you do go in the afternoon, Hamilton suggests parking on the lots off Massachusetts Street or in the parking garage at Ninth and New Hampshire streets. It's a bit of a walk, but if you do buy anything large, most of the retailers will let you pull up in the alleyways behind the storefronts to pick up your goods.
Objective: Saving money without spending your sanity
Just like Santa, make a list and check it twice. And by that, our experts mean stick with it, says Jenn Hethcoat, Anderson's Shop Talk blog cohort and coupon expert.
"Shop with a definite list. This is not the time to 'idea shop,'" Hethcoat says. "The purchases that end with 'But (enter family/friend/partner name here) would really like something like this!' will end up costing you money and will not be a bargain in the long run. Know what you are shopping for."
Hethcoat recommends bringing a list of items you've already bought and write down what you purchase along the way. Stocking stuffers can add up quickly, she says.
And for those who plan a marathon session of shopping, it's also important to make sure to take care of yourself while you're out for the best possible experience. Make sure to eat (and drink, if you're a coffee person) before you go and have snacks in the car or your purse to perk you up mid-trip. This strategy will also help you in your money-saving goals — the less money you spend on food, the more you have for presents — and you're less likely to make a costly diet mistake, too, while still paying for your turkey dinner.
Another tip? The buddy system. A wingman will make 3 a.m. seem a lot less painful. Plus, you can use the "divide and conquer" deployment technique with two people.
Objective: No regrets
Not only will having a list (and sticking to it) save you money but it might save you from yourself. Shopper's regret can be hard-hitting if you've bought something off-list and ended up without a true deal or with something that is ill-suited for you or a loved one.
Also, in their blind hope for you to buy, sometimes retailers make big Black Friday mistakes that you pay for later, Hethcoat says.
"The big-ticket items that are drastically reduced in price are not always the top of the line as they appear to be," Hethcoat says. "For instance: Last Black Friday there were stainless steel appliances on a magnificent deal at Home Depot. This 'sale' line was produced specifically for the Black Friday sale and ended up having lots of defects and issues that the company normally did not have."
And if your worries and regret-o-meter steered you away from things you wish you'd bought? There's always Cyber Monday.