Thursday, November 17, 2011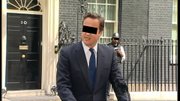 The newest music video directed and produced by Lawrence-based company Through A Glass Productions stars a lot of recent headline-grabbers. Charlie Sheen smokes a cigarette and pours his heart out to a webcam, Rick Perry gives a speech, Donald Trump runs from the press and Barack Obama waves to a crowd.
Or at least they look a lot like those people. It's hard to be sure with those little black boxes over everyone's eyes.
The song is called "Disintegration Man" and it's the newest tune from singer/songwriter/actress Rebecca Pidgeon, whose sixth studio album "Slingshot," is out this week.
Co-directors Jeremy Osbern and Chris Blunk, who have owned and operated Through A Glass for seven years, met Pidgeon at Livestrong Park this past August at the Farm Aid concert. The company was shooting a behind-the-scenes documentary about her time there and spent the day shooting and hanging out with Willie Nelson, Dave Matthews and Neil Young. Impressed with the final project, Through A Glass got the call for more work.
"Rebecca's management came to us with the basic idea they wanted to do, which was 'Who is Rebecca talking about in the song?'" says Blunk. "I took the idea and added the concept of using unknown individuals as well as celebrities and putting black bars over the eyes — in the style of people who wanted to remain anonymous on old news broadcasts. This tied together the disparate video clips and gave it a more playful tone."
Pidgeon's lyrics are playful as well, even though the song itself addresses the uncertainty of the times we live in. A blog on the Huffington Post said that the video perfectly captures America's "topical zeitgeist" right now.
Osbern is the in-house director of photography, but very little of the footage used in the video was original. There are some shots from in and around Lawrence, but Osbern tried to give those a "pulled-off-of-YouTube" vibe.
"It's kind of fun to watch through and try to pick out what's original content and what's found footage," Osbern says.
The only performance footage of Pidgeon herself in "Disintegration Man" comes from the video that the TAG crew shot at Farm Aid. The rest is public domain material.
"Using public domain footage was necessary for budget, time, and logistic reasons," says Blunk. "A good third of the work was scouring the web for usable clips. The proliferation of phone cams in public areas worked in our favor."
Partly because of the enormous amount of clips collected and the short amount of time each one needed to be shown before moving on, editing was a large part of the process. It's also the step where the video really came into focus, with cuts corresponding to the tempo and changes in the song. From a content perspective, it was important that anonymous men on the street got the same amount of screen time as someone like Michael Jackson — or was it MJ? It's just so hard to tell with those eyebars!
"We wanted to have enough clips that the video wouldn't drag or get focused on any one person," says Blunk. "The gag, of course, is that the black bar does nothing to hide your identity when you're a public figure."
Sometime after the first cut was delivered, the phone rang. Blunk was in Omaha working on a project, so Osbern took the call. It was Pidgeon and her husband, playwright and film director David Mamet. They liked the video and Mamet said TAG had "executed the concept perfectly." The man known for his expletive-laden dialogue then continued, "but we should go in and f* things up a bit."
Osbern added some specific people that Mamet recommended to the mix (including Spongebob Squarepants), sent off a final cut, and they were finished.
Through A Glass doesn't show any signs of slowing down. The company makes approximately a quarter of their revenue providing crews for out-of-town agencies who want to shoot in the area, but the rest of their projects are produced in-house.
Osbern, who was the Kansas City Director of Photography on the Bruce Willis vehicle "Red" and a lighting guy on "Up in the Air," starring George Clooney, says "We've been doing a lot of projects for broadcast television lately, including shooting shows for National Geographic, Discovery Channel, TLC and ESPN, as well as commercials and music videos. In house, we just produced two more short films that are about to hit the festival circuit. We've also worked on over 30 feature-length movies, and it looks like we might have some upcoming feature projects in the works as well."
The video for "Disintegration Man" is currently on YouTube and other digital platforms and has been submitted to various broadcast outlets as well.
More like this story on Lawrence.com