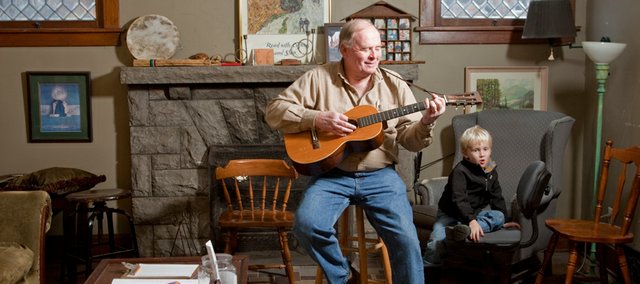 Wednesday, November 23, 2011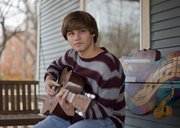 Past Event
Friday, December 2, 2011, 7:30 p.m.
Lawrence Arts Center, 940 New Hampshire St., Lawrence
All ages / Free - $10
Studies from the past decade have shown that learning to play an instrument can boost confidence, help develop critical thinking and problem solving, and teach young people other skills vital for success in the 21st-century workplace.
But the benefits of playing music aren't limited by age, and it's never too late to learn how to play an instrument.
And 69-year-old Linwood resident Gary Bennett is proof of that. Bennett started guitar lessons two years ago at Lawrence's Americana Music Academy and is performing for the second time at the nonprofit's annual Christmas concert Friday, Dec. 2, at the Lawrence Arts Center, 940 N.H.
Learning how to play guitar has given Bennett a new passion and introduced a whole new social network into his life. He has been taking guitar lessons from Diane Gillenwater, Americana Music Academy's executive director, and now he and his wife, Suzy, play at informal jams in and around Lawrence two to three times a week.
"The Americana has got some great instructors," Bennett says. "My wife was taking fiddle lessons from Diane, and I would attend different jam sessions with her at the academy and at people's houses. I kind of got to the point where instead of sitting around and watching and listening, I thought I'd try and participate."
That feeling of community is a commonality among many of Americana's students.
Zach Mandell, a 16-year-old junior at Free State High School, has been taking music lessons from the AMA since 2008, and he says the attitude of the academy's instructors isn't quite what he expected from such a seasoned group of professional and semi-professional musicians.
"I walked into the Americana thinking I might get — for a lack of a better term — some stuck-up music teachers," Mandell says. "But everyone is approachable, laid back, and very easy to talk to. My guitar teacher Thom [Alexander] has been playing twice as long as I've been alive!"
Mandell has always had an aptitude for music. He started learning the piano when he was 7, eventually moving on to the clarinet for two years, and after moving to Lawrence in 2008, decided to give the guitar a try. Something just clicked.
"Thom started me on rock guitar, then we worked on bluegrass and jazz, and eventually some theory, which has really helped," he says. One lesson from Alexander consisted entirely of listening to an album by progressive rock band Tool and dissecting it.
"My musical tastes have gotten a lot more discerning and I listen to music differently. He taught me how to analyze music and by analyzing it, enjoy it."
Mandell has branched out again and is now taking voice lessons from Ashley Davis, another of the Americana's instructors. When she's not teaching, Davis is a touring singer/songwriter whose music is deeply rooted in traditional Celtic myth and folklore.
For the Americana's holiday concert Dec. 2, Davis invited Mandell to duet with her on a tune by Irish singer/songwriter James Vincent McMorrow, and her student is thrilled at the opportunity.
"I guess I'm the first student she's asked to do that, so I'm pretty flattered," he says.
It is the fifth year in Lawrence for the students, instructors and other area musicians as they team up for "An Americana Christmas," but the concert, which is being held Dec. 3 in Topeka as well, has never been more important to the academy. The show is the Americana's annual all-ages fundraiser to provide scholarships for those who cannot afford music lessons.
"The AMA is important to Lawrence in so many ways," says Gillenwater, who has been teaching for 11 years. "It offers a safety net for kids who can't play in band or orchestra or who want to play guitar or banjos or other instruments not offered through the school districts. It's also ready to pick up the slack as public schools diminish music classes."
Ask Bennett why the Academy is important to him and there's no hesitation: When his wife decided to take up the fiddle again five years ago, it opened the couple up to meeting a new circle of friends. Lessons for adult students can also bring a big sense of accomplishment.
Unfortunately, the country's recent economic downturn has done more than affect the pocketbooks of those eager to learn an instrument. It has radically altered the political landscape as well.
"Brownback and his abolishment of the wonderful Kansas Arts Commission have hurt us this year," Gillenwater says. "That's why it is more important than ever to raise money for our organization, which is a nonprofit music school. We have lost about 25 percent of our operating/scholarship funds."
One thing that surprised Mandell when he moved to Lawrence from Wisconsin four years ago was the community's outward support for the arts. Mandell described what he sees as a cyclical music-support group with the Americana Music Academy squarely in the center.
"Local music teachers are teaching local kids and local adults who want to learn, who then become local musicians, who then add to the local music scene," he says, "and that's important."