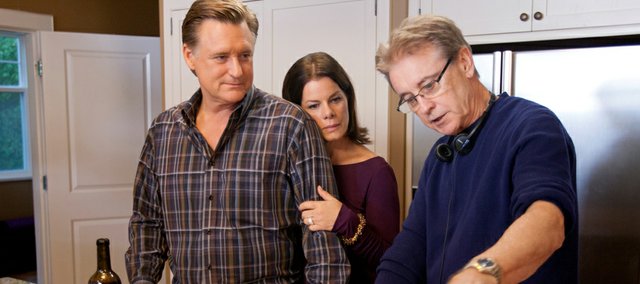 Friday, November 25, 2011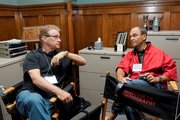 Innocent
What: A sequel to the film "Presumed Innocent," "Innocent" follows the characters 20 years after the events of the original.
Starring: Marcia Gay Harden, Bill Pullman, Alfred Molina and Richard Schiff
When: Nov. 29, 8 p.m. on TNT (check local listings for additional times and dates).
Mike Robe has been working in television as a writer, director and producer for more than 25 years, doing series, miniseries and made-for-TV movie work. He also serves on the professional advisory board for the department of film and media studies at Kansas University, offering his expertise to educators as they assemble a curriculum to better serve students in the changing media landscape.
Robe sat down with Trevan McGee to talk about his new adaptation of novelist Scot Turow's "Innoncent," which will make its debut Nov. 29 on TNT, the challenge of bringing a book to the screen and how working with great actors is the opposite of intimidating.
Trevan McGee: Tell us a bit about "Innocent."
MIke Robe: This is my third project with that author Scott Turow. We met several years ago when I, as a director and a producer, did his second book following his blockbuster "Presumed Innocent," which later turned into a feature starring Harrison Ford. His second book was called "The Burden of Proof" and I loved "Presumed Innocent" and when I read "The Burden of Proof" … we happened to be represented by the same agent in Hollywood or agency I should say and I brokered an invitation to Mr. Turow and I flew to Chicago to meet with him and talk to him about why I would love to do "The Burden of Proof" as a miniseries.
It did indeed turn into a miniseries, which I believe was on ABC. The central plot of that novel involved intrigue in a commodities exchange and if I remember my research right, there were only three in the United States. One was in Chicago, one was, I want to say it was Pittsburgh, and the third was in Kansas City and we needed to shoot in one of them because it was a set that we couldn't afford to build, it was too big.
Because I knew some people in this area, I was able to bring that miniseries to Kansas City and shoot in Kansas City. It starred Hector Elizando and Brian Dennehey and Victoria Principal.
That was the start of my relationship with Scott Turow. I got to know him very well. Five or six years ago I did a book he wrote called "Reversible Errors" as a miniseries for CBS with Tom Selleck and William H. Macy and Felicity Huffman and this is his third book that I've done. "Innocent" is a sequel to "Presumed Innocent" and it's what happened to these characters 20 years later.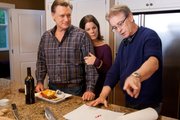 TM: What drew you to Turow's work?
MR: I love the way Turow paints characters. I think he's one of our finest American novelists and I wouldn't limit it to just courtroom drama. I think he's a brilliant writer. I am so amazed at his delineation in character — the depth at which he portrays both protagonists and antagonists alike, the complexity that no one ever wears a black hat, no one ever wears a white hat — they are rendered in shades of gray.
He's very honest in his depiction of characters. People behave the way that we do in the real word and yet he's tremendously knowledgeable in the legal arena and is as smart a writer as I've ever known when it comes to plotting mystery.
So, those are the things I love. He's also the smartest human being I've ever met. That's a pretty winning combination.
TM: The combination of those skills must make it a pretty tall order to adapt his work.
MR: It is intimidating. And one of the differences with this particular film is that in the past when I've done one of his books, it's been as a four-hour television project, which without commercials, comes out to about three hours of film. This has been done as a two-hour movie for TNT. It's their first foray into movies made for television in awhile and by the time you take out commercial time, you've got about 90 minutes to do this story and that was a real challenge.
A lot of the challenge was deciding what was germane and what could be excluded in the interest of presenting the best possible 90-minute drama. I had to decide … for example there's a relationship between two of the younger characters in the novel that has to take place off-screen because we just didn't have time.
It's a process of distillation. It's a process of rendering characters in tones that can be quickly assimilated by viewing on television. I don't have 450 pages to tell the story. I have 90 pages. Condensation is the biggest challenge.
TM: How did you prioritize elements of the story?
MR: It's a process of reading the novel 20 times. It's a process of contemplating structure. It's a process of recognizing what you can do on film and recognizing what works better in a novel and just leaving it in the novel.
A film is a different medium than the word on the page and interestingly , Scott Turow has always been the first to recognize that. He's always said to me, "Listen, I've written the novel. Film's a different thing. Go make the best film you can and don't worry," which is tremendously liberating. The net result has always made me more loyal to what he's written.
If you're doing a 400-page novel into a 90-page screenplay, you just can't go down some of the roads. It's better not to even bring it up. What you do bring up, you have to be sure that the destination is realized in a satisfying way, so you have to give enough attention to those branches of a tree.
TM: When you wrote the script did you envision any of the actors for a specific role?
MR: It's very interesting, Bill Pullman, who plays the protagonist Rusty Savage was one of the five actors I had in mind when I was writing. An actor named Richard Schiff plays Thomas Malto and he was my very first thought for the character. Marcia Gay Harden was always one of the first thoughts in my head and Alfred Molina was just a blessing who came along that we didn't quite anticipate. That character Sandy Stern, who is a recurring character in some of Scott Turow's work, was actually written (age) 72. But Fred was interested in playing the role and Fred's only in his late 50s, but he is just too great an actor to not do the role, so I was delighted to cast him. The role was actually played by Hector Elizondo in the ABC miniseries.
TM: Was it intimidating to work with a cast that talented?
MR: No, it wasn't because of the kind of actors that they are. They are so well steeped in the craft, they are so committed to what they do that it is in their DNA to embrace the director, not to quibble or be difficult. We all kind of talked about how we felt it was a charmed shoot. We all had a great time together and because of the way they work and because of the way I work, it wasn't intimidating at all.
To the contrary, it was kind of invigorating. These are real actors. I sometimes think actors come to Hollywood unable to decide whether they want to be actors or stars and the ones who decide they want to be stars can be more difficult. The ones who want to be actors may become stars, but they want to be actors and those people are always a joy to work with.
TM: Are they any roles on the set or during the production that you've been given a newfound appreciation for, after working within the industry?
MR: I think one role that I've gained a new appreciation for is that of the production designer. A lot people don't know what a production designer does. A production designer — they're sometimes called an art director, but an art director is actually someone who works for the production designer — is responsible for setting the look of all the sets, costumes, supervises the props, and in what is increasingly important, has to be a key player in visual effects.

I worked for the second time with a man named Eric Fraser, he's the production designer on this picture and they have to work 28 hours a day to get it all done and they have to have so many skills. They have to be artists, with an appreciation for color and composition and they have to be mechanics. They have to figure out where to source classic cars, desks, typewriters that you need in the picture and they have to be accountants and get you a brilliant look for your film on the money you've been given. It's rare to find all of those skills in one person.
The other position on the film that I've actually become even more appreciative of, oddly enough, is the role of the actor. It's easy when you go on a film to say, "Actors have the easiest job. Everybody else works every minute of every day and they just go to their trailer and do their thing. They have the easiest job."
I didn't appreciate the emotional toll that performance can take sometimes and the emotional concentration and focus. They've got to work just as hard as anybody else. They've got to work all day long and prepare emotionally for the upcoming scene. The best ones aren't just off having coffee in their trailer, they're preparing emotionally for the next setup. And also, they've got to go home and learn pages of dialog and all while keeping their focus and concentration and not be distracted by the myriad of details that can distract you on a film set.
TM: What made you want to get into film?
MR: I came to KU to be an actor. And started in the theatre program. I fell in love with film at a time when sort of the the new wave of filmmakers were coming up, Francois Truffaut, Fellini. And my eyes were opened to this world of what film could be compared to what I thought it was when I was growing up and watching movies at the Burford Theater in Arkansas City.
It turned my head. And I decided that much more than an actor, I wanted to be a filmmaker, the term that was kind of en vogue at the time. I left the journalism emphasis and got into Radio/TV program and I never looked back.
TM: How long have you been in the business?
MR: I moved to Hollywood in about 1972. I did a tour of duty in the Air Force, which started in reconnaissance and ended in the film division the Air Force had at that time, what they called the Audio/Video service. And I met some great young guys in the Audio/Video who wanted to do what I wanted to do.
One of them was Phil Alden Robinson, who went on to write and direct "Field of Dreams ." Thomas Ackerman is a world-class director of photography. He and I were in business together for our first six years in Hollywood while we tried to figure out how we could break into the big time.
We had a company and we made lots of documentaries, sales films — anything under the sun except feature films, which we was the kind of films we wanted to make.
In those days, films always cost a lot of money to make, no matter what kind of film you were making, so you had to have some money behind them like commercials or industrial films. Today, we would probably do what a lot of young filmmakers are doing. They're making shorts and some sponsored films too to prove what they can do.
I think it's such an exciting time for the business right now.The digital revolution has changed the way we look at everything. You can make a movie now for relatively no money. The hardware, the cameras, the editing systems are not expensive at all. You can make a pretty good looking film with consumer-grade equipment. It's not your daddy's definition of movies anymore.
I'm on the professional advisory board for the new department of film and media studies at KU and one of the things we're trying to do is advise on the curriculum to help educators here at KU who are trying to keep their hands around an exploding interest in film and digital arts.
Film and digital communications is the revolutionary art form of the 21st century.
TM: Do you have any advice for a student looking to get started?
MR: I think now, if your interest is in making films, I think now is just the time for you to do your thing. Make films. Don't worry about getting an agent. Don't worry about who you know — all of those things are important, it's true that it's always been a business of relationships — but if you want to be a screenwriter, write. And keep trying to expose your material to those who can take it to the next level. Make films.
There are some outstanding KU graduates here in Lawrence that are making films and they're very good.
You have the ability to practice your art now. It's not that hard to get a canvas and get the oils and do it. That's the way you get ahead.
More like this story on Lawrence.com