Sunday, November 27, 2011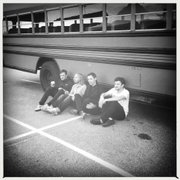 Past Event
Tuesday, November 29, 2011, 8 p.m.
Wonder Fair: Art Gallery, Shoppe and Studio, 803 1/2 Massachusetts St., Lawrence
All ages / $8
Amplifiers will replace artwork when Springfield, Mo., pop group Someone Still Loves You, Boris Yeltsin performs at Wonder Fair, 803 1/2 Mass., on Tuesday with support from Ghosty.
The Wonder Fair show will be the first on a tour in support of SSLYBY's new album, "Tape Club." A collection of 26 B-sides, demos and unreleased songs arranged in chronological order, "Tape Club" begins with songs recorded in their parents' homes and finishes with songs written recently.
Leading up to the show, we talked with singer and multi-instrumentalist Philip Dickey about playing in DIY spaces, career reflection and the struggles of writing stadium anthems.
Sean Rosner: As an established band, why did you choose to play at a small art space instead of a proper venue this time through Lawrence?
Philip Dickey: Our friend Paul DeGeorge owns Wonder Fair with his girlfriend Meredith (Moore). We've toured with Paul before; he's in a band called Harry and the Potters and we went on tour with him and I played drums with him in the past. We knew he was starting this art space and they were doing shows. I texted him and said we'd really like to play a show there.
Mostly we're playing in dark, dirty clubs, so when we do a space like this it seems more wholesome and more of a community thing than just playing at a bar. It's nice to switch it up.
SR: Your new album, "Tape Club," is a collection of B-sides, demos and unreleased songs. What lead to the decision to release these songs instead of all new material?
PD: One of the most basic reasons is because any time we recorded a 10- or 12-song album, all our friends would say, "Why wasn't this song on there? That was your best song and you didn't even put it on the album." We wanted to get those out because for some reason they were someone's favorite song.
SR: Being that the album is in chronological order, what's it like for you guys to listen to it from start to finish?
PD: It's kind of satisfying. In 10 years, it's kind of cool to have a documentation of it even though some of it's kind of embarrassing. But in a way I think it's kind of dangerous to look back too closely because then you're either like, "God, that really sucks." or the other way around, like, "That was really good. Now what I'm doing sucks."
SR: Anybody who's seen you play probably remembers seeing you all swap instruments and singing duties. There don't seem to be any designated roles within the group. Can you explain what your creative process is like as a band?
PD: There are three songwriters in our band. Depending on what instrument we're playing when we write the song, that determines what the arrangement's going to be. If John (Cardwell) writes a song, I usually play drums on it. If I write a song I usually play guitar on it, or sometimes I'll just tell John to sing it anyway just because I think he has a better voice than me.
I think it makes the show a little more interesting. There's always a moment when you switch and then everyone's like, "Oh, no, this could be the worst thing ever." It adds a tension.
SR: You wrote the song "Cardinal Rules" on "Tape Club" for your hometown baseball team, the Springfield Cardinals. Can you explain how that came about?
PD: I used to be a janitor for them. At first I was just doing toilets and mirrors, but by the end of the year I had a Walkie Talkie. It was pretty awesome. But before we would clean the bathrooms I would clean the stands and they would be playing music from the speakers and I was just like, "Damn, that would be so cool to write a song they could play here." At the time, we had just done our first album and it was pretty mellow stuff so I really wanted to try to write some type of stadium anthem.
But they're being kind of dicks about it; they won't play it anymore. People like that song and talk about it on Twitter and stuff and it got a really good review in the St. Louis Post-Dispatch, so I keep sending the tweets to the Cardnials' Twitter, but they've just been ignoring me. Maybe I'm being a jerk because I feel entitled, but on the other hand, no one's ever written a song about them before. It's the one song that they have written about them; it seems like it would be a good idea just to play it.