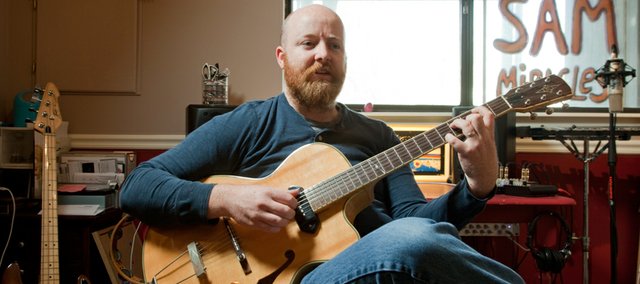 Wednesday, November 30, 2011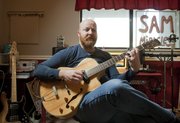 A Light Goes On
"A Light Goes On" is a a collaboration of music and art, available soon at www.alightgoeson.org. It is the brainchild of Lawrence musician Sam Billen and features music and art from Lawrence and around the world. Visitors to the website can download the whole project for free, or listen to individual songs and study the artwork, which includes not only still art, but music videos. To receive an alert when the album goes live, visit sambillen.com.
A Light Goes On Tracklist*
Tenniscoats - "Untitled"
Ghosty - "Holiday Hymn"
Brother Leather - "All Is Well"
Beau Jennings - "1913 Massacre"
Bryyn - "Snowing In Wyoming"
Christopher Tolle - "Turn On The Lights"
Dan Billen - "Sled Rides"
David Åhlén with Andreas Eklöf - "Det är en Ros Utsprungen"
Half-Handed Cloud - "Öh, It's Christmastime Again!"
Josh Atkinson - "Someone Came In The Night"
Katlyn Conroy and Austen Malone - "Baby it's Cold Outside"
Sam Billen - "A Light Went On"
Timbre - "O Come, O Come Emmanuel"
Chad Thomas Johnston - "Away in the Manger of your Dreams"
*Note: Tracklist subject to change before final release.
Homemade gifts have a way of spreading a unique, thought-filled joy, but no homemade gift is quite like the one Sam Billen is giving.
The Lawrence musician is giving friends, family and strangers alike something quite unusual: a combination album and art show, available to all on the Internet. The music and art project, called "A Light Goes On," features more than a dozen singers and paired with artists for a sort of art-on-art Christmas card to the world. It's the latest and most ambitious of the musical gifts Billen has put together over the years.
"Basically, I've been doing Christmas projects for the past four or five years," Billen says. "Last year, I did an album of original Christmas music with my friend Josh Atkinson. We raised money to press about 1,200 CDs and we ended up giving those CDs out for free and the people who donated money to have the CDs made, they all got CDs as well."
"A Light Goes On" has a similar model, but on a much larger scale. Billen and Atkinson both recorded music for the album, but so did a dozen of their friends. On top of that, Billen asked artists to take each of the songs and create a piece of artwork based on the music. The final product will be available not on CD, but online at the still-in-construction site alightgoeson.org (It will be up and running the first week in December). There, visitors can browse each individual collaboration or download the whole product. Additionally, those who donated to Billen's Kickstarter campaign, the artists and their friends will receive a 4-gigabyte flash drive containing the project. Each of the drives glows like the lights on a Christmas Tree.
"I actually asked people to do new songs," Billen says. "That was tough for me to ask because I know how busy everybody is. And I know that it takes a lot of effort to actually sit down and put together a new song, but I think with the Christmas projects that I've been involved in in the past, there have been a lot of other musicians out there that have shown a lot of support for it, and so I think that helped a lot. That people knew that this was kind of a yearly thing and that it's just a kind of fun, free giving of art. And so a lot of peopled ended up wanting to be involved because of that."
Artists and musicians from around the world are indeed on the project. Included is Bryn Martin, an artist who goes by Bryyn and lives in Switzerland. Martin said he was more than happy to contribute to the project after hearing from Billen, with whom he worked on a project called "Cellar Roots." He decided to write a song called "Snowing in Wyoming" inspired by his brother.
"It started out as a concept based on my younger brother who recently moved to Wyoming with his newlywed wife. He mailed me that it has snowed there back in early October around when Sam emailed me to be in the project," Martin says. "I wanted to make a song to make my brother smile with some secret messages for him in there that I thought he would appreciate. ... I can tell you that it is generally about how we can hit our gong and see the world as suffering, or we can hit our gong and believe that the world is listening and that we can make a change for good. My wife told me the song doesn't sound very Christmas-y ... sorry about that."
Lawrence artist and musician Chad Johnston did go with a Christmas theme — and did double duty by recording an instrumental take on a holiday classic, called "Away in a Manager of Dreams," and a corresponding art piece "The Answer is Tableau-ing in the Wind." Both have a dream-like quality and feature bits of Johnston's childhood.
"It depicts a post-modern nativity scene — one plucked from my dreams, no doubt," Johnston says of the artwork. "My parents had a nativity set when I was a child, and I used to play with the figurines from it as though they were action figures. I also had lots of Star Wars and He-Man figurines laying around the house."
It's that sort of nostalgia, joy and light, that Billen and the contributing artists are aiming for, says Atkinson, who worked with Billen on his project last year. This time around, Atkinson was making music from a half a world away as an English teacher in rural Japan, but he says there's no limit to the joy it gives him to make a musical bit of holiday cheer.
"I hope the project brings happiness to people," Atkinson says. "Sam and I often talk about our memories of Christmas or what the holiday means to us. I think that for both of us, it has been a warm time filled with family and friends. We hope to be able to share that happiness with others."
— Staff writer Sarah Henning can be reached at 832-7187.
More like this story on Lawrence.com