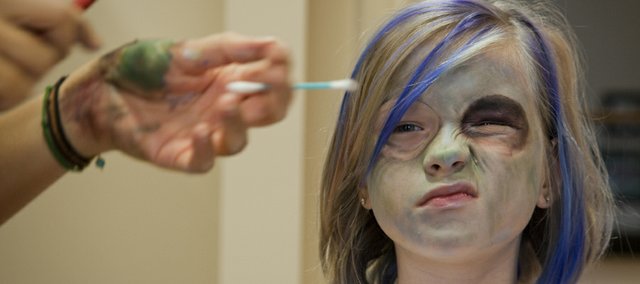 Saturday, October 1, 2011
White-out powder and fake blood. Check.
The perfect dead-guy shuffle and moan. Check.
Donation to the Lawrence Humane Society. Check.
Planning on playing zombie for a night on Oct. 6? Those are all the accoutrements needed to participate in the fifth annual Lawrence Zombie Walk. OK, well, you don't need the donation for the Lawrence Humane Society, but that wouldn't be the nicest move would it? Not even the living dead want to be deadbeats.
This year's walk, which begins at 6:30 p.m. Thursday at South Park and rambles up Massachusetts Street around 7 p.m., benefits the animal shelter. It's the first time the walk has been a charitable event, and something new organizer Harold Agnew thought would be a nice way to connect the walk with the community at large.
"This year, we've been collecting for the Humane Society," says Agnew, who also rounded up several event sponsors. "We're actually having a limited number of event shirts being printed up and since the sponsors gave enough to cover the expenses, all of the money from the event shirts will actually go to the Humane Society."
Want to join the ranks of the undead? Playing a zombie isn't too hard. All you need is the look, the moves and the motivation.
The look
Getting the look right isn't too difficult — or expensive. A lot can be done with dollar-bin items or ones you already have in your closet. Because, remember, zombies were just normal folks walking around before being overcome by a viral outbreak or the bite from an already-made member of the undead. And once infected, they didn't run home and change into their zombie clothes, they just became instantly interested in brains and flesh.
"I usually just go raid the Good Will and bloody up, dirty up some clothes," says Cole Hwa Davis, a longtime member of the walk. He also says he occasionally falls back on old outfits. "I have a business suit zombie, casual jeans zombie ... usually I like to have some kind of coat because it's usually pretty cold."
As for the makeup, Elahe Marjovi, a Kansas University grad student who teaches makeup in the School of the Arts, says you can do some pretty neat effects for little money at all. She says for about $3 you can buy liquid latex at a costume shop and use it to help give the skin a rotten texture. Though, she says you should test it first to make sure you don't have an allergy. It's also important to keep it away from eyes, hair and not to use it on children. Beyond that, you can dress things up by trying out any of the colors of the bruising spectrum on the skin — blues, purples, golden yellows and greens — create a real "dead" look.
"It's really not that difficult, because it's just all crazy," says Marjovi, who did the makeup for our photo shoot. "I don't think it's necessary to do latex. You can just play with the color of the skin."
Fake blood is another cheap purchase, but if you don't want to deal with the mess or the less-than-great taste, Marjovi says lipstick or food coloring also work well. Laurie Winkel, a theatre performance major at KU, also suggests an old film trick.
"Dyeing corn syrup red is a favorite method of horror filmmakers, thicken it with molasses," says Winkle, who adds playing a specific zombie character like, "Zombie Dumbledore" (the professor of "Harry Potter" fame) would be really fun.
Set any makeup with powder, baby powder or cornstarch before applying any fake blood — commercial or homemade — so that you'll set your handiwork without making the blood look matted, says Marjovi.
Agnew recommends that if it's your first time not to go overboard — you can always add more if you want to repeat the look for Halloween or do the same, upgraded zombie at next year's walk.
"Find some clothes that are comfortable, but maybe they have a stain or a rip or something like that so that they fit nicely, but you don't care what happens to them. Splatter some fake blood on it and make a note that if you put fake blood on it, give it sufficient time to dry," he says. "Some white makeup on the face, some black on the eyes, and maybe a little shading. Maybe rub a little bit of dirt on your clothing, also."
The moves
If you want to move like a zombie, mean it, says Hwa Davis.
"Commit to it. Because Mass St. is a really long walk," says Hwa Davis, who has done the walk all four times. "So, commit to it and find something that's comfortable to do. In the first 5 minutes of walking like a zombie, you're sore."
So, how does a zombie move? According to Matt Jacobson, Kansas University associate professor of film and video production, there are two schools of thought.
"The classic zombie, the one that you see in 'Night of the Living Dead,' is what they call 'The slow zombie.' That's the kind of zombie that overwhelms with sheer numbers and their relative unkillability," Jacobson says. "But lately, they've started doing what they call the 'fast zombie' movies. Movies like '28 Days Later' and 'I Am Legend' where death doesn't slow down the zombie masses, it speeds them up. They become almost manic in the way that they're able to move and outrun and outpace the survivors."
The motivation
If the a night of fun and a donation to the lovable waifs at the Lawrence Humane Society weren't reasons enough to gather your zombie gear, Jacobson offers a few thoughts on the benefits of being a zombie.
"As a zombie your life is pretty simple. You hang out. You look around for flesh to eat, for brains to eat. You don't even try not to get killed. Literally, it's life reduced down to it's basest levels. Where it's just about the struggle for survival," Jacobson says. "You don't have to worry about whether your interest rate is going up on your credit cards or whether you're going to be able to pay the mortgage, who you're going to vote for in the next election or what your Facebook status is because it's always constant, it's always the same: brains."
He says that this kind of life at its most basic scenario could account for zombies' recent popularity in our modern world of economic crisis, political back-stabbing and a never-ending succession of bills.
"There are some people out there, I'm sure, except for like the flesh rotting, would be really happy if their life was reduced to just that base level," Jacobson says. "Rather than all of the other concerns and worries and issues we have to deal with. It's a very simple life ... unlife. It's a very simple undeath."
Though, Jacobson says he's not all for going the way of Ed at the end of the cult classic "Shaun of the Dead" — living as a zombie chained up in a friend's shed, playing video games.
"That was the most absolutely frightening part of that movie," he says. "Because I would hope that my friends know me well enough that if it comes down to it, and I get infected as a zombie, please cut my head off. And maybe that's what we need to do, we need the opposite of a living will. An undead will. 'If the zombie apocalypse happens, please cut my head off. Do not attempt anything heroic. Do not keep me in a shed so that I can play video games with you.' That's horrific. No, no, I don't want that to happen. I think that's what we need, a living dead will."