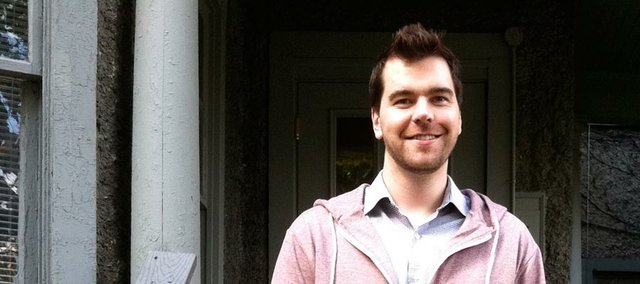 Thursday, October 6, 2011
Name: Scott MacPherson
Age: 26
Sign: Capricorn
Occupation: Law student
Hometown: Buffalo, N.Y.
Time in Lawrence: Just the weekend.
Relationship status: Single
What were you doing when scouted? Going to get coffee.
How would you describe your style? Eclectic, but mostly preppy.
What are your current favorite fashion trends? Leather and suede shoes and accessories, and zip-up hoodies and cardigans for fall.
What are your least favorite fashion trends? I don't like skinny jeans, probably because I can't wear them!
What would you like to see more of in Lawrence? In Lawrence and everywhere, I'd like to see more people dressing for their body type and personal interests.
What would you like to see less of in Lawrence? Athletic apparel
Do you have any fashion influences? Tom Ford for his 5 Rules of Fashion, which include ideas about politeness, passion, manners and style.
Do you have any piercings or tattoos? I used to have a nose piercing, but I don't anymore. I have one tattoo.
People say I look like ... My mama!
Tell us a secret: If I don't like someone's hands on a first date, they probably won't get a second.
More like this story on Lawrence.com