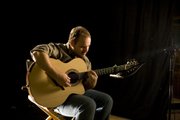 Past Event
Thursday, October 13, 2011, 8 p.m.
Lawrence Arts Center, 940 New Hampshire St., Lawrence
All ages / $26.50 - $27
To hear Topeka guitarist Andy McKee play does not adequately describe what the artist puts into his songs. As a fingerstyle player, McKee must juggle the melody, harmony and rhythm sections all on his own and all from a single instrument. As a result, McKee has to take advantage of both his entire body and his entire instrument in order to create lush soundscapes that fill his records.
It comes as no surprise then that YouTube played a large part in McKee's international prominence. "Drifting," a staple of his catalog, boasts more than 40 million views and several other songs claim views in the seven- and eight-figure range. This Thursday McKee and fellow guitarists Stephen Bennett and Antione Dufour are set to play at the Lawrence Arts Center, 940 N.H., on the third stop of their Guitar Masters tour that will take them through the Midwest before heading south and working its way through the Northeast. McKee sat down with Trevan McGee to talk about the tour, the birth of his son and the influence that event played on his songwriting.
Trevan McGee: You're back in Topeka, how's it feel to be home?
Andy McKee: It's nice, actually. I was doing quite a bit of touring during the first part of this year and then my first son was born this spring. I've been home for a good part of the summer now, so I'm just kind of chilling at home and being with him and my wife. It's been a nice break. I'm getting to see him grow up a bit in this first part.
TM: Will the birth of your first son have any affect on your music or playing?
AM: Yeah. Definitely. I've actually been working on quite a few ideas for new album, so I've got … I actually take my iPhone out when I'm touring and stuff and use the voice memo recorder to record new guitar ideas and stuff. So I've got a bunch of stuff on there that will get turned into songs at some point.
TM: What are some of your ideas?
AM: Well, there's a couple things that I've been working on that I'm probably going to put together to make a song to dedicate to him that are just sort of a mellow, sort of lullaby for him. I've got a few more sort of mellow tunes that I'm working on?
TM: Where do you normally draw artistic influences from?
AM: Sometimes it's family and friends, but I've actually got quite a few songs I've written about places I've been or like while I've been in certain places. I've got a song called "Shanghai" that I, of course, wrote when I was over in Shanghai, China. I've got one called "I Will See You Again," which I wrote for Colorado, so a lot of times it's places I've been or people that I've met. Also, sometimes I just get inspiration from people's music that I've heard and suddenly come up with certain ideas of my own.
TM: Who are some of the players that have influenced you as you've developed your style?
AM: Most of my major influences are modern acoustic guitar guys. Michael Hedges would definitely be a huge inspiration for me. Don Ross and Preston Reed and Bill Mclaughlin — those are my big acoustic guitar influences.
Before that I played a lot of electric guitar, so I've got a lot of influences for the electric guitar like Eric Johnson and Joe Satriani. Dimebag Darrel from Pantera. I was really into metal.
TM: Are you familiar with your tourmates' music?
AM: Absolutely. I've known Stephen Bennett and Antione Dufour both for quite a few years. I actually met Stephen Bennett actually down at Winfield at the Bluegrass festival down in Winfield, Kan. and he was playing harp guitar down there, which was the first time I got to see anyone play harp guitar music before.
The performance was really great and we became good friends and he actually sold me my first harp guitar. This was like 10 years ago, so we've known each other for quite a long time and he's one of the most melodic and tasteful guitar players I've ever known. And Antione Dufour, he's pretty much about the same age as me and we have a lot of the same influences, we're both what I guest you might call more modern acoustic guitar players. We like to use unusual techniques and strange guitar tunings not he guitar.
I met him at the Canadian Guitar Festival in 2005 and he's an amazing guitar player.
TM: When did you make the transition from rock guitar to this finger-style technique you employ now?
AM: When I was 16 a guitarist name Preston Reed, who I mentioned earlier, was doing a guitar workshop in Topeka for Washburn Guitars and he was using altered tunings on the guitar and doing percussive ideas on the guitar and tapping and all this stuff, so that was my first sort of exposure to the modern acoustic guitar, I guess you could say. I just immediately fell in love with it. The idea of trying to cover melody, harmony and rhythm all at once on one guitar in a way that I had never seen before.
You weren't jus strumming power chords or taking a guitar solo, you were trying to do all of those things at once with chords and melody and even some of these unusual percussive ideas of hitting the guitar body. And that was when I was 26. So pretty much from then I thought, "Wouldn't it be really cool to explore that and maybe try to write some music in that style." So I started to write solo acoustic guitar stuff when I was 19.
It's pretty much been since then that I focused on the acoustic guitar. I still play the electric guitar just for fun, but I don't write electric guitar music.
TM: During that workshop was that when it occurred to you that you wanted music to be your profession?
AM: I would say that I was already kind of thinking that before. i got my first guitar when I was 13 and it wasn't too long after that that I just really wanted to do something with the guitar or with music in my life. Either I was going to teach guitar for the rest of my days or maybe I could actually get a gig playing the guitar for a living. Fortunately that worked out, but I did teach guitar for about 10 years before I stopped that and started touring all the time.
TM: Do you have a distinct memory of when you knew music was what you wanted to do?
AM: I guess not a distinct one. It was just a feeling that maybe after the first few months after getting into the guitar it just felt like so much fun and I really enjoyed it and I really enjoyed being able to learn those songs and what the notes were and how they all connected and how to create chords and so on, but I would say after the first few months of playing guitar I had that feeling that I had to do something with it. But it wasn't a distinct moment like, "Ah I've got to do this."
TM: What's the biggest challenge of playing guitar the way you do now?
AM: Trying to cover all of the bases on one guitar and keep an interesting melodic idea going and have chords behind it and some sort of rhythmic pattern behind it as well. That's the challenge of it and over the course of trying to make that happen you can develop new techniques and ideas to make it all come together.
That's where percussive ideas or fretting the guitar with your right hand or doing harmonics by slapping the guitar neck with your right hand, things like that (come from.
Using these different tunings with the guitar definitely helps with that too because it facilitates certain chord shapes that wouldn't be possible on a standard guitar. All of these sort of things that look sort of unusual, it's all there to make it possible to make these full-sounding songs with melodic, harmonic and rhythmic ideas going on.
TM: The tour hasn't started yet, but can you give potential patrons an idea of what they can expect?
AM: Most of the shows are around 300- to 500-seat venues. I always like to engage the audience and since I'm always changing my guitar tunings in shows, you have to develop this ability to talk to the audience and engage them, otherwise you're just standing there tuning your guitar and it's pretty boring for everybody.
The format will be Antione and then Stephen and then me and then we're going to do some collaborative stuff at the end of the night when all three of us will play together and bring some new ideas to each of our songs.
I'm looking forward to the tour and looking forward to playing in Lawrence again. It's been quite awhile, I think over a year since I played in Lawrence, so it should be fun.