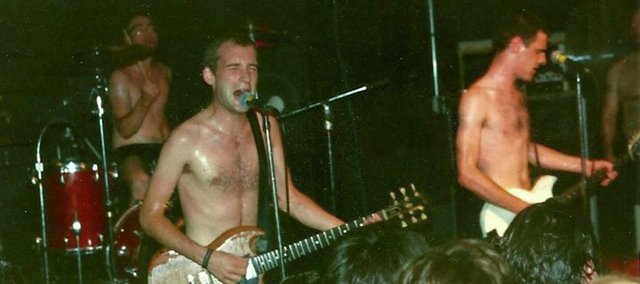 Wednesday, October 19, 2011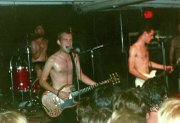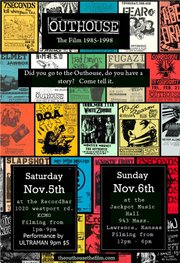 Share your story
If you have a story about The Outhouse when it was a music venue, you can share it with Norman and his crew at one of the following days and locations:
Where: The Record Bar, 1020 Westport Rd., Kansas City, Mo.
Date: Saturday, Nov. 5
Time: 1 p.m. to 9 p.m.
Featuring a performance by Ultraman at 9 p.m.
Where: The Jackpot Music Hall, 943 Mass.
When: Sunday, Nov. 6
Time: noon to 6 p.m.
Brad Norman grew up in Parkville, Mo. in the 1980s and listened to punk rock. He used to go shopping for records in Westport, where he'd see all kinds of fliers for live rock shows. Staying up late meant watching "Night Flight," an offbeat counterculture show on USA Network — a new cable outlet that usually ran old cartoons and talk shows, in the days before "Burn Notice" and the 27 iterations of "Law and Order." When he was 15, he saw a flyer for an underground band he'd seen on "Night Flight" and it brought him to a cinder-block building in the middle of a cornfield just outside of Lawrence.
The band was Washington D.C. hardcore pioneers Bad Brains and the venue was The Outhouse.
"The Outhouse saved me when I was in high school," Norman said. "I would get harassed all week, then go to the Outhouse on the weekends and go off. I owe those people who gave me a place to go where I fit in."
Now Norman has a chance to repay the legendary punk rock venue that changed his life. He's making a documentary about it called "The Outhouse: The Film 1985 – 1998."
After announcing the project online, Norman found that he wasn't the only one with fond memories about the DIY all-ages venue. People are posting fliers and photos from old shows on the movie's Facebook page, and live video from shows by Helmet, Sin City Disciples and Outhouse mainstays Ultraman are popping up on YouTube.
Jeff Fortier, who promoted shows at the club in the '90s, says one of the attractions to the building was the diversity of its acts, with everything from punk to ska to metal to garage to hardcore and noise bands. In their early days, multi-platinum bands like Nirvana, Green Day, Rancid, White Zombie, Tool and Pantera all played at The Outhouse.
"The financial decisions were never easy to make because it was always a leap of faith, but after someone outgrew the venue it would get pretty tough," Fortier says. "Thank God for all the metal and indie acts we booked like the Melvins, Helmet and The Jesus Lizard that supported the venue."
If you have a story to tell about how The Outhouse affected your life, Norman wants to know about it. On November 6, the film crew will be at The Jackpot Music Hall, 943 Mass., from noon to 6 p.m. conducting interviews for the movie. They will also be filming at The Record Bar in Kansas City the day before. Saturday night's filming will be capped with a performance by Ultraman.
"We really want any pictures or flyers people have. My hope is that we find some great moments during these interviews that we can use in the film. Just because people are famous doesn't make what they have to say is entertaining," Norman says. "Yeah, people want to hear from members of Fugazi and D.O.A., but the best Outhouse story might be some guy who has two kids and a wife."
In 1985, finding out about new bands wasn't as easy as clicking around on a social network or doing a Google search. During this time, a whole new breed of independent rock band said goodbye to normalcy and hopped in their vans to take their music on the road. Networks were formed through word of mouth and touring circuits were forged one show at a time. When bands reached the middle of the country, places to play were scant. Three miles east of Mass. on a dirt road 3/4 miles from the Douglas County line, The Outhouse was a place that bands remembered playing.
Several factors made it unique, not the least of which was that it was just outside of Lawrence jurisdiction — so the police pretty much left it alone.
"It was like nothing I had ever experienced," Norman says. "It was like all the strange freaky people in one place, and scary as hell when you're 15."
No matter which direction you came from, the last couple miles of the drive to the Outhouse were dark and filled with dust. It was hard to see anything, and easy to drive past if you weren't careful. Once you got there, you paid a couple bucks just to get in the parking lot.
Even though there was no alcohol served in the building, outside it was anything goes. Mohawked and jean-jacketed punk rockers, longhairs with leather coats, and skinheads sporting suspenders either hung out in packs near their cars or congregated around the entrance.
On a good night, a swirling mosh pit would form near the front of the stage, while other kids would hang from the rafters above. The stage was just a foot or two off the ground at the most, and it was easy to get close to the bands. There was no heat either, so sometimes a good turnout crowd had other advantages. Either way, on a cold night, the concrete floor was freezing. And let's not talk about the bathrooms.
All of these factors just added to the legend.
"Bands talked about The Outhouse long after they played here," says Norman. "I have seen bands play Sandstone, Memorial Hall, Liberty Hall ... if they played The Outhouse, they bring it up and talk about it. The vibe out there was incredible."
In preparation for the movie, Norman has been collecting vintage video footage and traveling all over the country to interview bands that played The Outhouse. This week, he'll interview Kevin Seconds from 7 Seconds, and gory shock-rockers Gwar soon after that. Next month, it's off to D.C. to catch up with Ian MacKaye from Fugazi, and then a week-long trip to Los Angeles and San Francisco will cover more ground and more bands in January.
"Any footage of live bands has to have a band member release the footage. And I don't see that as being a problem," Norman says. "When I went to Detroit to interview Tesco Vee, I was able to hand him a copy of his entire show at The Outhouse, He was thrilled and of course allowed us to use it in the film."
Much like the disparate music scenes it supported, The Outhouse as it had been eventually had to cease. The building now houses a BYOB strip club and the graffiti-sprayed walls that were home to some of the rawest music around are now home to regular helpings of Kid Rock and dancing of another kind.
There were many reasons The Outhouse closed. "The flooding just made it impossible to continue and the downtown Lawrence scene blew up," says Fortier. "The Bottleneck, Granada and Liberty Hall all have heat and well ... it was just time." When asked about the pervasiveness of alternative music in the '90s, Fortier says, "I don't think mainstream is the right word but … Nirvana becoming popular changed everything."
As for the movie, Norman is getting lots of support from all the people who attended shows, helped out, and spread the word about the venue back in the day. Only this time, it's not just a random flyer in a coffeeshop or on a lightpost — it's Web-based punk-rock flyer archives and a Facebook page.
"This movie has had many people get behind it to make it happen. We are not trying to leave anyone or anything out. If you feel strongly about one part of the Outhouse story you need to let us know about it," Norman says. "[Ultraman singer] Tim Jamison said in his interview about the Outhouse, 'The Outhouse is not the building, it is all the people.'"