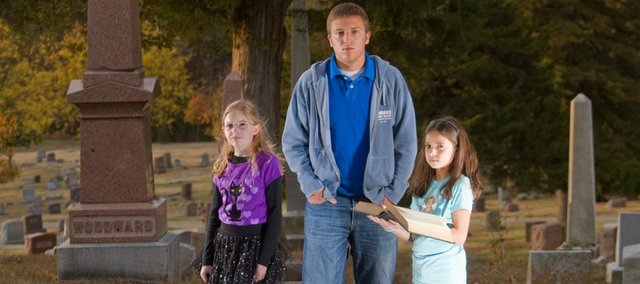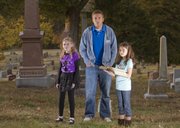 Exactly a month ago we asked students of all ages to craft a scary story in time for Halloween.
The stories could be about anything, but they had to begin with the sentence, "My eyes opened to a harsh, white light and I realized I wasn't in my room where I had fallen asleep." And they had to be 500 words or less. The resulting stories did not disappoint.
After we pored through the dream endings, the plot twists, the mysterious strangers and sometimes shocking violence, we emerged with these gems. Three stories from three different grades that stood out.
Congratulations to Mikayla Kaufman, Amelia Carttar and Nathan Herrman, and a safe and happy Halloween to all of our entrants. Keep writing and we'll see you next year.
"Ghost Story"
By Mikayla Kaufman, 10
Sunflower School
My eyes opened to a harsh, white light and I realized I wasn't in my room where I had fallen asleep. I was beside the highway, next to the old pumpkin patch that got shut down because the people in town had claimed it was haunted. In the pumpkin patch there was an old cider factory that smelled like rotten apples, and three big bins of corn. But in the center of it all there was a huge corn maze.
Suddenly heard a "creeeak!" Then there was a spine-chilling chatter that sounded like two bones clicking together. Then I saw it: a hand made of white, cream-colored bone! My first instinct was to run. I started for the highway, but there was a massive traffic jam. I whirled around in time to see the skeleton behind me. Where the skeleton's eyes should have been there were two empty sockets. They looked like two black holes just waiting to suck you in.
I ran into the corn maze. I ran until the chattering noise was gone. I kept on running, but slower this time. Suddenly I heard a clicking noise, and I ran. I was so busy running I didn't have time to look where I was going and then I ran into a dead end!
The last thing I ever saw was the skeleton's bony fingers wrapped around my neck. Then everything went black. When I woke up, I was in a misty graveyard at someone's funeral. I saw my mother crying over someone's grave. I walked over to see whose grave it was, but when I read the print, I almost screamed. The grave was my grave! Suddenly, I looked down at my hands. I could see right through them. Somebody screamed. It might have been me. Then suddenly I was sucked into my own grave. The one thing I saw before I was sucked in all the way was my mother's grim face.
"Devil's Food"
By Amelia Carttar, 11
St. John Catholic School
My eyes opened to a harsh, white light and I realized I wasn't in the room I had fallen asleep in. Glowing, transparent people with white wings and halos glided toward me. Their warm hands touched my face and stroked my rough hair. Jane, my best friend, had clearly arrived several minutes earlier and was already getting her nails done by the angels. We were in heaven. Why?
I tried hard to remember and finally caught hold of my unfortunate memory of last night.
Jane had a Halloween party and invited almost everyone in the school. I don't think she had ever even met half of the people that she had invited. I was cute as a cupcake, literally. Jane was an angel. After we had eaten blood and guts (spaghetti and red sauce), it was time for hide-and-go-seek tag in the dark. Two boys, one dressed as a pumpkin and one in a retro costume, were "it." Jane and I decided to hide in the graveyard near her house. After counting to 100 they went out to find us. I think that the pumpkin saw Jane's halo slide behind the cemetery gate. As he neared us he told us to be careful because if you stand on a grave the dead would grab you and pull you in with them. We clearly didn't believe the myth so I placed my hands on the cupcake wrapper on my hips and Jane rolled her eyes. He shrugged and dared us to do it.
"Sure," Jane spoke up.
Now I was starting to become scared. He handed us a plastic fork. "Put this in the ground next to the grave that you stood on," he started to run away and stopped, "If you even make it that far." Jane looked at me with a nervous look. That gave me some comfort to know that I wasn't the only scared one.
"On the count of three," Jane whispered in a shaky voice and grabbed my hand. "One, two," we chanted, "three!"
We took a step onto the grave of Wilbur Johnson. My heart pounded like a hammer in my chest. Butterflies invaded my stomach. Jane squeezed my hand so tight that it turned red.
Then, it happened.
Gravestones started to vibrate. A decayed hand crept out from under a gravestone. Running was all I could think of doing, but my legs wouldn't move. We were being pulled in by Wilbur Johnson. Jane let out a bone-chilling scream. Everything went black. I then heard the most beautiful sound I had ever heard.
As I looked down from heaven a saw the pumpkin just arriving in the morning to see what had happened to us. He picked up the plastic fork and scratched his head in disbelief. I saw what I think were Jane's and my empty costumes. All that was left were crumbs, not a cupcake, and a devil, not an angel.
"Trapped"
By Nathan Herrman, 17
Free State High School
My eyes opened to a harsh, white light and I realized I wasn't in my room where I had fallen asleep. The light was blinding, like I had just stepped out into the middle of a raging inferno. When my fragile eyes finally adjusted I saw an environment unlike anything I had ever seen, or heard of. I was in the middle of a room that had no windows, no doors and no vents for fresh air to filter through. Oddest of all was the color of the strange room. It was bleached white, like that of a laboratory, or a hospital operating room, but something about the color and composition of the room kept me on edge. I began to feel uneasy, with a sense of helplessness just sitting against the solitary wall hoping for someone to rescue me. Finally, I decided to look for a way out of the confined room. After all, if I had gotten in here I had to be able to get out. Or at least that's what I thought to myself.
I scratched over every inch, every last tile of the wall, trying to find some kind of door, or even a vent for me to claw my way out through but there was nothing. I tried to stay calm, but the hysteria rushed over me like I had just fallen into a freezing river. With no other options left I began to relentlessly scratch at the wall without cease until my hands began to bleed. With blood covering the bleach white walls I heard an eerie knock coming from the other side. Relieved I began to scream out at the top of my lungs, "Help me! Help me please! I'm trapped and I'm running out of air!"
No response.
The knocking turned to pounding as it became louder. My sense of relief turned to a sense of pure fear and panic. I tried to find something to defend myself. I went to the spot where I had scratched at the wall, hoping that I had chipped it in my hysteria. I searched all over, having trouble telling anything apart in the all-white room. Finally I found a piece of tile, stained red from my blood.
"It's better than nothing," I said to myself.

The pounding had now grown even louder, like drums of a firing squad coming to bring judgment to their victim. I now realized that the pounding growing louder wasn't just pounding. Someone, something was trying to get through to me. The bloodstained wall began to shake as chips of the once white wall began to break from it. The wall erupted sending chunks of concrete and bloody tiles hurdling through the air.
As the dust cleared I realized there was nothing there, nor had there ever been. The wall, which had been stained red with blood, never burst.