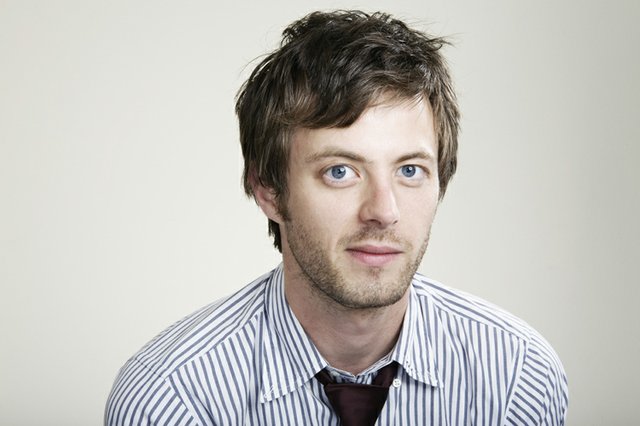 G.J. Echternkamp set out to make a music video of one of his favorite bands, Split Lip Rayfield. Instead, he ending up documenting the band's final tour and some of the more intimate moments with the late Kirk Rundstrom. The result is "Never Make It Home," a poignant and frank documentary. Chansi Long talked with Echternkamp about his experiences with the band, his original vision of the film and his next project.
Chansi Long: Why did you select Split Lip Rayfield as the focus of your film?
G.J. Echternkemp: It more or less happened by accident. My first intention was to make a music video for Split Lip as they toured the West Coast. I had become a fan of their music a few years earlier when a friend insisted that I listen to one of their CDs.
While filming the music video. Kirk (Rundstrom) asked me to come to Kansas and film his solo tour. At this time we became friends and when I later heard that Kirk was going on a what was being called his "Final Tour" I knew I had to be there. Not just as a filmmaker, but as a friend and a fan.
CL: How did you know the band?
GE: After listening to their CDs I simply just sent an email on their website stating my desire to make a Split Lip music video. They eventually agreed, and I didn't actually meet them until they played their first show in Los Angeles.
CL: What did you originally imagine the project would become?
GE: A music video, a press kit, maybe. It wasn't until Kirk decided to go on his final tour that I thought I might actually make a documentary. Even at that point my goal was more to preserve the shows themselves then make a feature film. I was kind of flying by the seat of my pants... I knew I had to be there, and I wasn't really thinking about the end result.
CL: Rundstrom was diagnosed with cancer after you'd already gathered footage. When and how did you learn about his illness? And how did you guys come to the decision to continue filming?
GE: I heard about Kirk's illness in an email. At that time everyone thought that Kirk was going to beat it, and it was only a matter of time before he was back on his feet again. When the doctors reevaluated his diagnosis as terminal it was devastating. Only a few months later Kirk made the decision to go off chemo and tour again. I called him and suggested filming the shows. He was all for it. I think it was clear that somebody should preserve these performances, and in the process maybe tell Kirk's story.
CL: Rundstrom's illness jumps into the forefront of the film, altering the original vision, but ultimately capturing something deeper and more profound. Could you speak a bit about this?
GE: Kirk changed quite a bit in the time that I knew him. The Kirk of the final tour may have lost some of his hell-raising energy, but he seemed much more at peace. I believe Kirk's diagnosis helped him to focus on the things that truly mattered in his life: his family and his music.
CL: How much traveling did you do while filming?
GE: A ton! I travelled all over the place. Wayne (Last Name) started calling me a hobo. I don't think I was smelling great.
CL: Can you tell me about the filming process? Did you stay with the band?
GE: I stayed with different band members, friends of the band, and so on.
My goal while filming was to portray what Kirk was going through, but at the same time stay out of his way and not make the tour harder in any way. I know the camera can make people self conscious at times, and I knew that Kirk was going on this tour to forget his pain and illness. The last thing I wanted was to get in the way or hassle anyone. So I tried to find a balance between documenting the tour and staying out of everyone's way.
CL: What was your time frame on filming? How long?
GE: I gathered tour footage off and on over the course of about two years. I edited together a rough cut, then I went back later for some more interviews, to better explain some things that didn't come across clearly in the edit.
CL: Did your relationships with the band become strained or more intimate?
GE: More intimate, for the most part. There were some strained moments, but in the end we all became friends and I'm very glad for that.
CL: What will viewers take away from this movie?
GE: My goal has always been to expose audiences to Kirk's incredible spirit and his music. Split Lip Rayfield is a band that I think the whole world should know about. I'm trying to get the word out there, one screening at a time.
CL: What is your next project?
GE: I'm directing a low-budget Roger Corman film. It's been a ton of fun and not a little bit of stress. But it's really exciting to be making my first narrative feature film.
More like this story on Lawrence.com