Thursday, September 1, 2011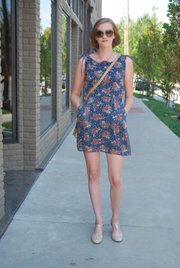 Name: Tonie Barnett
Age: 26
Sign: Virgo
Relationship status: In a super awesome relationship.

Hometown: Eudora
 
Time in Lawrence: 26 years? Lawrence has always felt like my extended home since I grew up so close.
Occupation: Full-time mom, full-time student, part-time office assistant.
What were you doing when scouted? Running some errands downtown before heading to work.
How would you describe your style? I would describe my style as fun and classy. I love geometric shaped dresses and '50s and '60s styles.
What are your current favorite fashion trends? I love funky heels with skinny jeans. For men, a casual blazer never dies!
What are your least favorite fashion trends? I'll never understand why the fanny-pack was ever created, nor will I understand why I'm beginning to see them again. But, I've been contemplating jumping on that bandwagon. I suppose it's a case of 'fashion confusion.'

What would you like to see more of in Lawrence? I really love Lawrence with all it's variety. Now that I know Java Break will serve me biscuits and gravy at 2 a.m., I'm set!
What would you like to see less of in Lawrence? Hate.
Do you have any piercings or tattoos? My ears are pierced, and I have one tattoo.
Do you have any fashion influences? My mom and of course '50s, '60s and '70s styles.
People say I look like… Someone once said I looked like Heather Graham.
Tell us a secret: My heart belongs to an almost three-year-old named Wes.