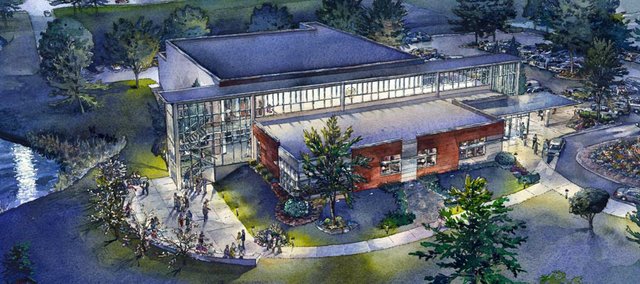 Thursday, September 1, 2011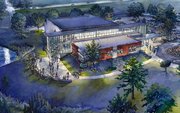 Theatre Lawrence presented 16 performances of "Annie" last year, but not everyone interested in watching could attend. There weren't enough seats.
Theatre Lawrence is located in a 65-year-old church building at 15th and New Hampshire Streets. Many patrons have to park on the street because there isn't enough parking. But if Theatre Lawrence leaders are able to reach a $6.2 million fund-raising goal for a new and bigger building by Sept. 30, the days of turning people away could be over.
People at Theatre Lawrence are now trying to secure the last $618,000 in a fund-raising campaign that will result in the construction of a 300-seat building to be located in the Bauer Farm development near Sixth Street and Wakarusa Drive.
At the campaign's launch in August, board members of the Ross and Marianna Beach Foundation donated $300,000 to the Theatre Lawrence project.
"We just know how important this is to Lawrence," says Carrie Edwards, a Beach Foundation board member. "We are happy to support the theatre and we hope that this will propel other people to help as well so we can make that building a reality."
The Beach Foundation is known for its dedication to the arts, and the Theatre Lawrence building project is aligned with the foundation's mission statement.
"That donation was a huge vote of confidence in our organization and a great shot in the arm for our campaign," says Mary Doveton, Theatre Lawrence executive director.
Janis Bunker, Theatre Lawrence co-president, says the Beach Foundation pledge was "really fabulous" and " it helped fuel our energy for the campaign."
Other significant donors have included Tensie Oldfather ($1 million), the Sunderland Family Foundation of Overland Park and Bobby and Eleanor Patton of Lawrence ($300,000).
A significant chunk of the money raised thus far consists of $1.5 million in out-of-state challenge grants. In order for that money to materialize, Theatre Lawrence must meet its fund-raising goal by Sept. 30. The project has $618,000 left to raise.
"If we want to bring this $1.5 million into Lawrence, we need to reach our goal," says Bunker. Otherwise the $1.5 million will be forfeited.
To secure pledges, Bunker and others are hitting the phones, writing letters and meeting with prospective donors. And they are encouraging community members to contribute in anyway they can.
Donors are not expected to write the check right away. They can pay donations over a five-year period. For instance, a person could pledge $100, then make $20 annual installments. As long as Theatre Lawrence gains enough pledges to reach its $6.2 goal, it will receive the $1.5 million in grants.
"We are at the point right now that every gift really counts," says Doveton.
The new building will contain 300 seats, nearly double that of the current building, and it will include a collection of classrooms for children's programs. With its youth education programs, Theatre Lawrence serves more than 1,000 children a year, but there is not enough space to serve everyone interested.
"It will be so exciting to serve more children and expand all of our programs," says Doveton.
Parking will also be improved.
"Compared to our current facility, (the new location) will have lavish parking," says Doveton.
Another perk of the new facility will be adequate storage space for theatre props. Now, costumes are scattered in three different places in Lawrence. The new facility will provide enough space to store all of the theatre's wardrobes.
If Theatre Lawrence reaches its goal, construction of the new facility could start in late winter. Construction is expected to take 12 to 15 months.
With the Sept. 30 deadline looming, leaders of Theatre Lawrence are confident they will meet their goal.
"We will meet the goal, but we will meet it with the help of lots and lots of people," says Doveton.