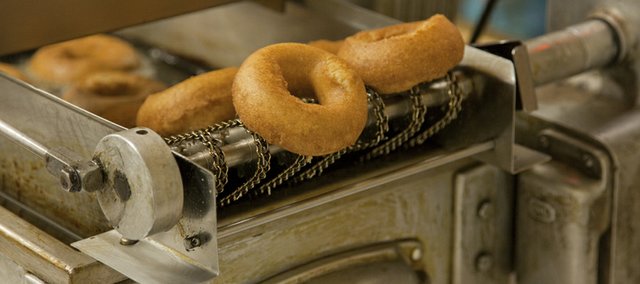 Tuesday, September 13, 2011
Ciderfest
When: 8 a.m. to 6 p.m. on Sept. 24 and Oct. 1, and 10 a.m. to 6 p.m. Sept. 25 and Oct. 2.
Where: Louisburg Cider Mill, 14730 K68 Highway
What: Ciderfest is a yearly event with live music, craft vendors, hay rides, a pumpkin patch, a "straw castle" and, of course, apple cider and cider doughnuts.
Where do the apples come from?
Louisburg Cider Mill doesn't actually grow its own apples for its cider and products like cider doughnuts and apple butter. So, where do the apples come from? Usually, Kansas and Missouri, says Beverly Barker, manager of the store on the mill's grounds. But this year, because of some nasty below-zero temps in February, the local apple crop is not great. Therefore, the apples are coming from all over the United States to Louisburg. Alabama, Georgia and California are the main suppliers right now, with Michigan joining later in the season.
In some circles, apple cider is as synonymous with autumn as downed leaves, pumpkins and crisp nights spent watching football.
And in some circles, you can't have the drink without having, well, more circles. Fluffy, spicy, sugary circles.
Apple cider doughnuts are a rite of fall — a spiced treat that practically screams cool weather and blankets.
And they're easily available in this part of Kansas. The Lawrence Farmers' Market on Saturdays at Eighth and New Hampshire is one spot to find them, thanks to the addition of Topeka's Rees Fruit Farm as a vendor. But the mecca of apple cider doughnuts in Northeast Kansas has to be Louisburg Cider Mill and Country Store in Louisburg.
Since the Louisburg Cider Mill first started pressing cider in 1977, the mill has made more than 8.4 million doughnuts.
That's 696,450 dozen. Or one doughnut for every man, woman and child in New York City.
Though, that doesn't count the hundreds of batches the mill has been churning out since the mercury took a relative nose-dive at the beginning of September. Labor Day is traditionally the start of a brisk two-month season for the mill, where up to 10 separate groups a day visit to learn about cider pressing and watch how the doughnuts are made.
And even though this is peak time for cider doughnut interest, it's not the only window when they're available. For locals who are in the know, cider doughnuts can be a daily treat says Beverly Barker, store manager.
"We make donuts every day unless we're closed for snow. We always try to have day-old donuts because we do have a lot of people who do want day-old donuts," says Barker, who adds they'll often run an extra batch, just to have as day-olds. "Sometimes it doesn't work, but we do try."
Each of those batches consist of nine pounds of flour, a quart of the house apple cider and copious amounts of the house apple pie spice mix. That's for 12 dozen doughnuts, or 144 of the identical 3 1/2-inch pieces of heaven.
Most days, enough doughnuts can be made during the school tours to keep a fresh supply going for both the store and the visiting children. During the tours, doughnut maker Guadalupe Jimenez dishes out batch after batch using a small machine placed behind glass. The set up is perfect because it keeps things clean (and kid-free) while still allowing the children to get a front-row seat to watch a few ingredients transform into the cinnamon- and sugar-coated confections.
Jimenez starts the process by using an industrial mixer to create a dough out of the nine pounds of flour and quart of apple cider mentioned earlier, along with spices, vegetable shortening and other ingredients. Once mixed, the batter is poured into a sort of hopper, where it dispenses just the right amount of dough into vegetable oil heated to 350 degrees. The oil cooks the doughnuts on one side before what Barker calls a "pancake flipper" turns them over and they float along through the vat of oil, cooking the opposite side and making room for new rings to be formed at the start of the doughnut line.
Eight of those 12 dozen are put onto huge trays that are then carried to a display case at the front of the store, or brought out along with napkins and cups of cider for kids on the tour. During exceptionally busy times, like the upcoming Ciderfest, the doughnut making gets serious. Workers fire up a larger machine in the back that churns out 100 doughnuts every 20 minutes.
"We will use that through Ciderfest because we go through thousands and thousands of doughnuts," Barker says.
Ciderfest, explains longtime worker Karen Lambeth, is the what many visitors consider the kick off to the cider season, despite it being a year-round business these days.
"It happens once a year and it's always the last weekend of September and the first weekend in October. And it's just a big craft festival," Lambeth says, meaning Sept. 24 and 25 and Oct. 1 and 2nd this year. "It's kind of the opening of our season, I think people think."
For those not living close enough to get fresh cider doughnuts at any old time, but who might visit during Ciderfest or another day in the fall, Barker notes everything needed to make the doughnuts is available right there in the store. That includes a more kid-and-diet friendly doughnut pan that eliminates the hot oil step. Barker says she's not sure how many calories that'll cut off from the real thing, and she doesn't want to know. Because even though the mill's process is automated, there's always room for a tasty error or two.
"If they're not round, sometimes they get taken out and we put them on the side," she says, smiling. "That way we get some of them."