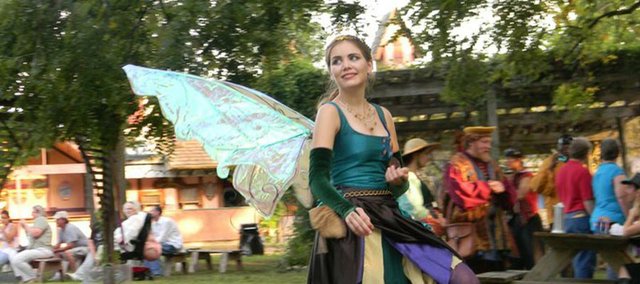 Wednesday, September 14, 2011
During the week, you are bound to find fourth-year KU Architectural Engineering student Erika O'Shea buckled down studying at Learned Hall. On the weekends, however, she is transported to the 16th Century, where she cavorts with all Seelie fairies and holds dominion over the plants, trees and animals of the village Canterbury.
As Lady Titania, Queen of the Fae, O'Shea is one of hundreds of performers who bring to life a myriad of beloved characters at The Kansas City Renaissance Festival each weekend from Labor Day through October 16.
The RenFest has been giving the good people of Midwest the Renaissance England experience for more than three decades — this year celebrating its 35th Anniversary — and is still going strong, opening its village gates to 180,000 visitors each fall.
Growing up in Topeka, O'Shea was one of those visitors, spending field trips and family holidays at the Renaissance Festival. What she remembers most vividly is being transfixed at age 9 or 10 by Robin Hood and his Merry Men battling the evil Sheriff of Canterbury on a narrow plank over the Robin Hood Swill Pond.
Shouldn't that be the Sherriff of Nottingham, you may ask? Well, that would be true if it were sticking strictly to one legend, but the RenFest is like an amalgam of all 16th Century stories wrapped up in one. There's a little bit of Chaucer's famous "Canterbury Tales," some "Robin Hood" of course and pieces of Shakespeare's "A Midsummer Night's Dream" thrown in there for good measure.
Enter: O'Shea and the Queen Titania.
"My Lord, King Oberon has taken my changeling child and in retaliation, I enchanted his satryr Puck," says O'Shea. "My favored attendants and I are vacationing (read: hiding out) in Canterbury while my Lord and I get over our fight. I have brought with me Cobweb, Moth, Peaseblossom and Mustardseed as my companions and assistants. Puck is under my control and being watched over by Lokesenna, aka Loki, who was sent by Oberon to keep an eye on things."
O'Shea has her character down. She has to. Since accepting the role in June after auditions, there's been Fairy Rehearsals every Friday night through the summer in preparation for the festival. On Labor Day weekend, RenFest opened and the Queen began her first stretch of 11-hour days — nine of which are spent in character.
A typical day for Titania includes three Fae Maypole dance shows, multiple fairy blessings to children at her Court in the Wildwood, the Grand Procession Parade, games and stories in the Enchanted Realm, the Last Huzzah dance and fairy reveal and a bit of gypsy revel outside the gates. Besides making sure her costume is clean and accoutrements all gathered, O'Shea prepares by resting her mind and hydrating her body.
"Being that the fair is located in Kansas (I mean...Canterbury), the weather is quite unpredictable," she says. "Forgetting to bring cold weather gear on a snowy day — yes, it's happened — or not drinking enough fluids before a scorcher can be unpleasant to say the least. Our job is to create a story, an image; a real living, breathing village. If I am not at the top of my game, I can't do that well."
Jim Stamberger, otherwise known as The Maestro, is the Renaissance Festival's entertainment director. He says that the goal of the festival is to get their audiences to leave their troubles at the door and escape into their village "imaginarium." As the festival's tagline says, "Where else can you feast like royalty, dance like gypsies, ride an elephant, quaff an ale with colorful villagers, shop among 165 skilled artisans and watch noble knights joust for honor all in the same day?"
Above all, Stamberger is looking for "charming, outgoing folks" to fill out his cast. The Queen of the Fae in particular, he says, must "be striking with a lovely smile and a love for children. And our Queen this year is all of that."
She always knew she wanted to be involved in the festival somehow, so last year O'Shea worked as a Henna artist at one of the Renaissance Festival's shops. It seemed like a good place to start, but it didn't take her long to realize that what she truly wanted to do was be in the actual cast. The challenge this year was figuring out how to stay in character all day long, while interacting with other cast members and patrons.
O'Shea says there are designated break areas you can go to if you must break character, but staying in the mind of the Queen Fairy for nine hours a day isn't as difficult as you might think. "Once you slip into the mind of your person (or Fae creature, as it were) it comes somewhat naturally," she says. "It is fairly wearing on the mind to keep switching from your own personality to another back and forth, so I tend to try to keep it going."
That's the key for all the dedicated performers at RenFest each year. For 35 years, the cast has created the ultimate 16th Century escape in the form of a village that surrounds and envelops you. It's as much fun for the actors as it is for the visitors. To hear O'Shea talk, there is true magic in the air.
"Unlike a movie, or even stage performance, you can actually walk through the scene. You can smell the autumn wind blowing through the trees. You can see the sun shining off of armored knights. You can hear the singing and dancing that lurks around every corner," she says. "Characters that you thought you would never interact with directly talk to you about their lives. Everything feels real."
More like this story on Lawrence.com