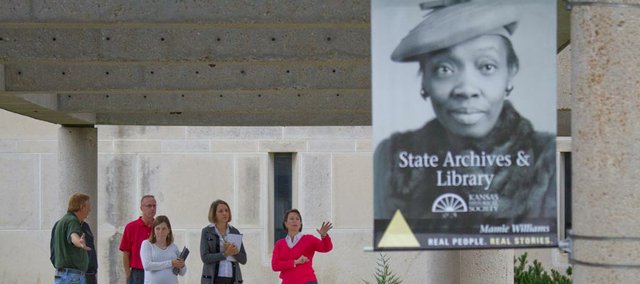 Sunday, September 18, 2011
Past Event
Saturday, September 24, 2011, 8:45 a.m. to 3 p.m.
Kansas State Historical Society, 6425 SW 6th Ave., Topeka, KS
All ages
The state's first lady, Mary Brownback, was reading a book when she came up with the idea for the Kansas Book Festival, an annual event that will open Saturday at the Kansas Historical Society in Topeka.
"I was reading Laura Bush's autobiography and learning about all her efforts to promote literacy, and I decided if Texas could do it, then Kansas could, too," Brownback says. "I called her myself, and she was all for it. She was very nice. She said we could copy her festival if we wanted to."
It's important to have an event in Kansas that promotes literacy and encourages a life-long love of reading, Brownback says. "We've let electronic media take over our lives. We need to get back to reading," she says.
"If you can't read, it's awfully hard to get a job," she adds. "And you can't develop to your full potential."
The festival is a welcome addition to the Kansas literary community.
"It's promoting reading, which is a great thing to do," says Stephen Johnson, a Lawrence author who will be one of the more than 30 writers who will be presenting at the festival. "It makes people smart and gets them thinking.
"Books are having a hard time with the economy and with budget cuts for schools and libraries," he adds. "So it's important to remind everybody about books."
All of the authors featured at the festival are either from Kansas or have a strong Kansas connection. Among those featured will be David Eisenhower, who has a new book coming out about his grandfather, the former president with the same last name, and 14-year-old Kennedy Dold, whose book was published as part of a new writing initiative launched by the KU Bookstores.
"I think people will be pleasantly surprised by the variety," Brownback says.
Roy Bird, president of the Kansas Library Association, says the all-Kansas slate is a good thing.

"Anything that can get the attention of Kansans on books by Kansans is laudable," he says. "We tend to think of books as being published by somebody back East. We don't think about Kansas. But it's incredible, the vast array of books we have. The Kansas Book Festival is a great way to promote Kansas authors."
Stephens agrees. "There's not a lot of opportunities for writers to get exposure," he says. "It's nice to be asked and to have the opportunity to present my work to an audience that hasn't seen it. And it's fun to meet colleagues. It can be a lonely field."
The festival also will honor Kansas authors with a presentation of 2011 Kansas Notable Book Awards, which are given out every year to 15 authors of fiction, children's books, nonfiction and poetry.
"It was very serendipitous," Bird says. "We usually have our awards ceremony in September. We had been doing it in the Statehouse, but it's under a lot of construction right now, so we weren't sure where we would find a place to have it until the first lady came to us and invited us. We said we'd be glad to help, and we need a place for our awards ceremony."
Brownback will hand out the awards.
The first lady established the festival as a nonprofit organization, with the goal of it becoming a self-sufficient organization within a few years. This will also enable the organization to give out grants to school and public libraries around the state, she says.
More like this story on Lawrence.com