Thursday, September 22, 2011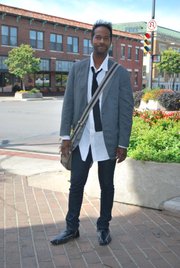 Name: Darren Ricardo
Age: 48
Sign: Aquarius
Occupation: I'm a student and I work with Youth at Risk.
Relationship status: Married
Hometown: St. Paul, Minn.
Time in Lawrence: 2 years
What were you doing when you were scouted? Walking around downtown with my wife.
How would you describe your style? Very open and alternative. I learned to be more free through my travels.
What are your current favorite fashion trends? I like '60s/'70s hippie styles and '80s styles. I also like to mix in European and international styles.
What are your least favorite fashion trends? I don't like plain looks, and I've never liked hip-hop looks much.
What would you like to see more of in Lawrence? I'd like to see more menswear stores — places like Express and Banana Republic.
What would you like to see less of in Lawrence? Less athletic wear, basketball shorts and hats.
Do you have any fashion influences? English rock groups, musicians from groups like Duran Duran and styles I've seen while traveling abroad.
Do you have any piercings or tattoos? No.
People say I look like… No one in particular, although people always ask me where I'm from.
Tell us a secret: I enjoy reading Out Magazine — it's a gay magazine, and it has the best fashion coverage.
More like this story on Lawrence.com