Thursday, September 22, 2011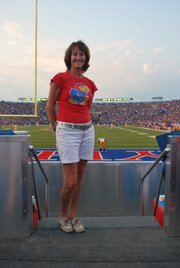 Name: Diane Patton
Age: 51
Sign: Scorpio
Occupation: Where do I start? Wife, mom, travel agent, cook, butler, gardener, personal shopper, interior designer, accountant…
Relationship status: Happily married
Hometown: Topeka
Time in Lawrence: I live in Wichita, but I stay in Lawrence for all of the football games.
What were you doing when you were scouted? Watching the Hawks beat McNeese in Football! Awesome!
How would you describe your style? My style is whatever is comfortable. I frequently opt for black colors for class and simplicity — but my outfits never look like they belong on a 20 year old.
What are your current favorite fashion trends? I like most styles, as long as they don't resemble 1980s fashion trends!
What are your least favorite fashion trends? Anything I would have worn in the '70s — except my Levi's 501s.
What would you like to see more of in Lawrence? I'd like to see more affordable, clean rentals for college students.
What would you like to see less of in Lawrence? I honestly like Lawrence and the atmosphere generated by the students and residents living in a college town.
Do you have any fashion influences? I like Audrey Hepburn-inspired styles, so I try to pick up classic pieces when I can find them.
Do you have any piercings or tattoos? No tattoos, but I do have pierced ears.
People say I look like… Darn! No one says I look like anyone else.
Tell us a secret: I pierced my ears in the sixth grade — by myself.