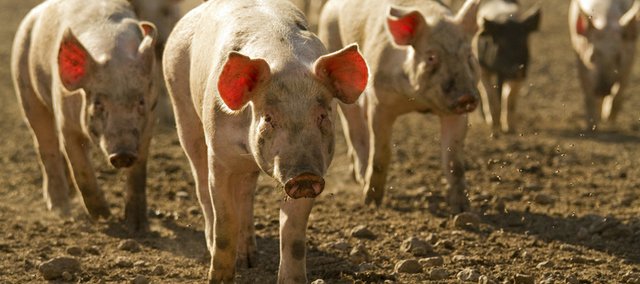 Tuesday, September 27, 2011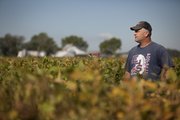 Kaw Valley Farm Tour 2011
When: Oct. 1 and Oct. 2
Where: 24 farms in and around Douglas County
What: A self-guided tour of various types of farming operations. The tour runs from 10 a.m. to 6 p.m. both days, and there are separate tickets for special breakfasts both days. Tickets are $10 per carload for the main tour and are available at www.kawvalleyfarmtour.org, The Community Mercantile, 901 S. Iowa, Lawrence Visitors Information Center, 402 North 2nd St., K-State Research and Extension—Douglas County, 2110 Harper St.
For more information: www.kawvalleyfarmtour.org.
Diversity is the name of the game this year at the Kaw Valley Farm Tour.
And in this case, that means the addition of some local name brands, a conventional farm and a place where sod is king.
All in all there are 24 farms on the seventh annual tour, which runs Oct. 1 to 2 throughout the region. For $10 per carload, visitors can not only visit 20 stops from last previous years, but also four brand new additions: Iwig Family Dairy (milk products), Knapp Family Farms (pork), Mark Neis Farm (row crops) and Pine Family Landscape Center (turf).
New coordinator Shannan Seely says she hopes the additions will round out a tour that already includes an alpaca farm, beekeepers, wineries, fruit and vegetable farms (both conventional and organic), ornamental producers and a series of educational gardens. She says the mix of old and new tour stops really highlights how much the industry cares about education.
"There is exceptional diversity on this year's tour, for example, Neis Farm, a traditional farm growing corn, soybeans and cattle, (and) Iwig Family Dairy Farm," says Seely, who grew up on a 40-acre farm in Tonganoxie. "The farmers know how valuable it is to share the story of where local food comes from, and that's why they return to do it again."
Here's a look at this year's first-time tour stops:
Iwig Family Dairy
A name familiar with grocery shoppers in Lawrence, Iwig has been producing milk for more than 100 years. Since 2004, the dairy has had its own production operation, allowing it to provide milk, ice cream, butter and soon yogurt to stores around the state.
Owner Tim Iwig says that Lawrence is the dairy's largest costumer base and he hopes to talk to anyone interested in helping an Iwig retail store operation come to town.
"Lawrence is my hottest market, we have the most customers per capita in Lawrence, so why not put a store in Lawrence and get the retail dollar, and sell my products in Lawrence myself?" says Iwig, who opened a store in Topeka last year. He says the only thing holding the dairy back is the sale of a few more shares. "In the grocery stores, we're hampered — we only sell our milk in most of the stores, so we don't get to sell our ice cream or butter or anything else we make."
The full line of Iwig products will be for sale on the farm, as well as some other local and regional goods. Visitors will get to see cows, calves and possibly some milk bottling while on the farm.
"It's basically wide open. They can look at the cows, pet the calves, we have five Australian shepherd dogs. I mean, it's a farm," Iwig says. "They can see some bottling if we are running the plant and usually on Saturday we are running something. We won't be running any milk Sunday."
Knapp Family Farms
Like Iwig, Knapp Family Farms took a giant step into retail sales recently — in the pork and beef producer's case, three years ago.
"We raise our hogs the way people want to see hogs to be raised. And we always have," says Gaylen Knapp, whose family began raising pigs in 1954 and does not keep them confined to pens. "We raise and we grind and mix our own feeds. We grow our own corn. These are all things people were interested in and it's a local product. ... We jumped through all the balls and hoops and got our meat license."
Knapp says he hopes to teach visitors all about what conventional meat and crop production is like.
"I do intend to educate people on pork production as well as beef production. We also raise conventional crops, corn, soybeans and we put up a lot of hay," Knapp says. "It'll be more educational than entertaining, if you will."
Mark Neis Farm
Mark Neis grew up on his family's Eudora farm and has worked hard to keep up the family business.
"It's been passed on for generations and generations," Neis says. "I'm 46 years old, I started driving a tractor in third grade, but the actual farming started when I got to be 18."
Currently, that business is in conventional row crops — corn and soybeans — which he keeps on 4,000 acres. Though he produces what are known as commodity crops, Neis hopes to teach visitors that if the price at the grocery store goes up, it's not because he's taking home extra money.
"There's so many people who don't know how farming is," Neis says. "It's tough for everybody in America and I just want to let them know that we have a lot of expenses. When bread goes up, when produce goes up it's not always meaning it's putting money in my pocket. You've got a lot of middle people. I just want to explain to them what it's all about from start to finish."
Pine Family Landscape Center
Turf has to grow somewhere.
And in Lawrence, it is probably produced at this landscape supply center. Brian Pine says he thought the center could inform visitors about the origins of their landscaping pieces.
"It is a little bit different, yes. It's unique for this community, so we just want to kind of show people what we do," Pine says. "We'd like to show people a little bit about the turf grass business and how it's harvested and how you grow it. Also, we're in the landscape supply business and so we intend to educate people a little bit about landscaping, show maybe different soil mixtures we have and processes we use to make those soil mixtures."
The center will be demonstrating turf harvest, as well as answering any questions tour guests might have about landscaping production. There will also be mums available for purchase.
Pine says the center has wanted to be on the tour for years but has had scheduling conflicts in the past. He's pleased to have finally had things work.
"We look forward to seeing everybody," he says, "And, looking at the weather forecast, it looks like it'll be a beautiful weekend to have it."
— Staff writer Sarah Henning can be reached at 832-7187.
2011 Kaw Valley Farm Tour — Participating farms
Ad Astra Alpacas
Bob and Claudia Hey
168 E 1700 Road, Baldwin City
785-594-6767
Description: Visitors can observe alpacas and learn about what work goes into the farm's products — socks, gloves, hats, scarves and sweaters.
Blossom Trail Bee Ranch
Richard A. Bean
669 E 2100 Road, Baldwin City
785-615-1548
Description: See how honeybees work, learn about honey extraction and beekeeping at this farm that produces honey, onions, garlic, leeks, apples, blackberries and free-range eggs.
BlueJacket Crossing Vineyard and Winery
Pep Selvan
1969 N 1250 Road, Eudora
785-542-1764
Description: Get a behind-the-scenes look at a working vineyard and farm winery, see the wine-making process, and visit a tasting room.
Crum's Heirlooms
Deb and Jim Crum
16211 Stillwell Road, Bonner Springs
913-422-1630
Description: Crum's Heirlooms specializes in sustainable and organic agriculture practices. The farm — set on a couple terraced acres — grows a variety of heirloom tomatoes, eggplant, peppers, greens, herbs and root vegetables. Also available are catsup, bees and taco sauce.
Davenport Orchards, Vineyard and Winery
Greg Shipe and Charlee Glinka
1394 E 1900 Road, Eudora
785-542-2278
Description: The farm grows 21 different varieties of grapes on 17 acres and produces more than 30 wines. In the orchard are apples, pears and peaches.
The Henrys' Plant Farm
Roy and Marcia Henry
248 N 1700 Road, Lecompton
785-887-6344
Description: Farming for more than 40 years, the Henrys have a greenhouse operation — complete with fall mums — farm animals and cut flowers. Display gardens, a large water garden and a hay ride are available for visitors' additional entertainment.
Holy-Field Vineyard and Winery
Michelle Meyer, Les Meyer
18807 158th St., Basehor
913-724-9463
Description: Holy-Field Vineyard and Winery is the oldest winery in the state and is headed by a father-daughter team.
Iwig Family Dairy
Tim and Laurel Iwig
3320 SE Tecumseh Road, Tecumseh
785-224-0195
Description: Since 1910, the Iwig family has been raising cows. In 2004, the farm added its dairy production operation, providing bottled milk to grocery stores throughout Kansas. Visitors on Saturday might get to view some bottling, while visitors coming anytime can see baby calves and buy milk or ice cream on site.
K-State Research & Extension Center — Olathe
Cary Rivard
35230 W 135th St., Olathe
913-856-2335
www.hfrr.ksu.edu/p.aspx?tabid=585
Description: The center is a facility dedicated to applied research and teaching for the betterment of the horticulture industry.
Knapp Family Farms
Gaylen and Malinda Knapp
15978 Evans Road, Bonner Springs
913-724-2001
Description: Producing pork since 1954, Knapp Family Farms raises pigs in an open, humane environment. Visitors can check out the pigs, large and small, and go for a hay ride on the farm, which also grows corn and soybeans and raises cattle.
Lamborn Pumpkin Patch
Joseph Lamborn
25761 151st St., Leavenworth
913-727-5666
Description: Lamborn is a combination 135-year-old family farm — producing meats and hay — and pumpkin patch.
Landeria Farm
Kathy Landers
11395 Gardner Road, Olathe
785-393-6693
Description: Landeria is a Grade-A goat dairy and microcreamery specializing in the production of farmstead cave-aged goat cheese.
LLI Tree Farm
Glen Westervelt/Frank Male
Mike McLoud, farm manager
1185 N 1250 Road, Lawrence
785-423-5861
Description: LLI is a retail and wholesale nursery specializing in trees — ornamental, shade and evergreen. For the kids, there will be pumpkin "chunkin'" and painting.
Moon on the Meadow
Jill Elmers
1515 E 11th St., Lawrence
785-749-1197
Description: Moon on the Meadow is a certified organic farm that recently purchased an additional 34 acres, totaling about 40 acres just 11 blocks from downtown Lawrence. There will be flour milling demonstrations, bread cooking demonstrations, a tour of the hop and produce fields and pizza slices will be made from local ingredients and cooked in a wood-fired outdoor oven.
Mark Neis Farm
Mark Neis
10458 222nd St., Eudora
785-423-1902
Description: A conventional row crop and cattle operation, Neis Farm is a generations' old family business. Visitors will be able to see modern and vintage farm machinery, including planters, tractors, sprayers, a combine and tillage equipment.
Okanis Garden at Prairie Moon Waldorf School
1853 E 1600 Road, Lawrence
785-841-8800
Description: A market garden located on school grounds, Okanis adds to the school's curriculm while producing tomatoes, leeks, peppers, greens, potatoes, squash and more.
Pendleton's Country Market
John and Karen Pendleton
1446 E 1850 Road, Lawrence
785-843-1409
Description: Pendleton's is a diversified family farm growing vegetables, bedding plants, cut flowers and commodity crops. Visitors will gain free admittance to the Butterfly Bio-Villa. Other activities include arts and crafts for the kids, hayrides and a gourd sling-shot.
Pine Family Landscape Center
Brian and Kathy Pine; Roger and Sue Pine
1783 East 1500 Road, Lawrence
785-843-6949
Description: Previously working with just traditional and specialty crops, the Pines now focus on full-service landscape supply. Visitors can see turf harvesting demonstrations and take part in activities like rock painting.
Rees Fruit Farm
Rex and Shannon Rees
2476 K-4 Highway, Topeka
785-246-3257
Description: Rees offers a large variety of homegrown and locally grown fruit, harvesting over 60 products from spring to fall.
Screamin' Oaks Farm
Roxane McCoy
18171 198th St., Tonganoxie
913-845-2775
Description: Screamin' Oaks — named for the peacocks roaming the farm — features various farm animals, poultry and reptiles. There will be several demonstrations, taste tests, crafts and games for visitors.
Sleepy Jean's Confections
Jean Younger
972 E 750 Road, Lawrence
785-330-3662
www.sleepyjeansconfections.com
Description: A former dairy operation, this 100-year-old farm is now home to a kitchen specializing in chocolate and other confections. Visitors will be to take in a chocolate-making demonstration as well as sample chocolate straight out of the grinder.
Vesecky Family Farms
John, Sharon, William, and Joanna Vesecky
1814 N 600 Road, Baldwin City
785-594-2493
Description: Vesecky Family Farms is situated in picturesque Vinland Valley and produces pasture-raised poultry, strawberries, blueberries and beef.
Wakarusa Valley
Mark Lumpe
965 E. 1000 Road, Lawrence
785-749-4241
Description: A certified organic farm since 1989, Wakarusa Valley produces 8,000 pounds of mushrooms, salad mix and other veggies each year on its six acres.
West Middle School Garden
2700 Harvard Road, Lawrence
west.usd497.org/acti_gardenproject.php
Description: Established in 2010, this 5,000-square-foot garden is one of three school gardens involved in the Growing Food, Growing Health Project. The plants are tended by five student gardeners and produce is sold at the Thursday Lawrence Farmers Market to raise funds to keep the project sustainable. In late spring and fall, the garden supplies produce to the school cafeteria.