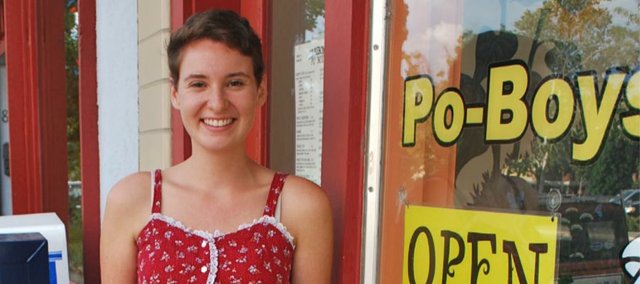 Thursday, September 29, 2011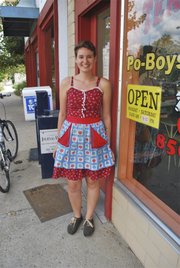 Name: Kelley Rushing
Age: 23
Sign: Sagittarius
Relationship status: In a relationship
Hometown: Shawnee
Time in Lawrence: Six years
Occupation: Baker and farm apprentice
What were you doing when scouted? Baking goodies at Terrebonne Po-Boys.
How would you describe your style? Cute 'n' comfy.
What are your current favorite fashion trends? Aprons and suspenders.
What are your least favorite fashion trends? Really long finger nails!
What would you like to see more of in Lawrence? Vegan, gluten-free restaurants and gluten-free beer at bars. Oh, and recycling bins.
What would you like to see less of in Lawrence? Chain restaurants and litter.
Do you have any piercings or tattoos? Yes.
Do you have any fashion influences? Clothing from past decades, especially the '60s and '70s.
People say I look like: My mom.
Tell us a secret: My new favorite pastime is rocking out to Spice Girls. What can I say, they spice up my life!
More like this story on Lawrence.com