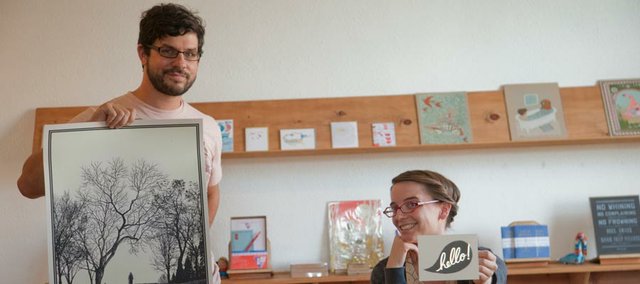 Thursday, September 29, 2011
Past Event
Friday, September 30, 2011, 6 p.m. to 10 p.m.
Wonder Fair: Art Gallery, Shoppe and Studio, 803 1/2 Massachusetts St., Lawrence
All ages / Free
When Eric Dobbins opened the Wonder Fair art gallery and shop in 2008, he was trying to fill a niche in the Lawrence arts scene. And for the next three years, that's exactly what he did. Since it opened, Wonder Fair has been a prime place for people to find work from up-and-coming local artists, as well as few-of-a-kind, handmade goods.
But when Dobbins and co-owners Kelly John Clark, Jason Barr and Lee Piechocki took a step back last spring to assess their situation, they found that they were no longer able to give Wonder Fair the love and attention they felt it deserved.
"Other things were just pulling us in different directions," Dobbins says.
So this Friday, Dobbins will (literally) be passing the torch of ownership to long-time Wonder Fair volunteer Meredith Moore and her partner Paul DeGeorge. The duo bring a wide range of experiences with them — Moore has spent the past 10 years working in museum print rooms and is pursuing a doctorate in art history, DeGeorge is a member of the nationally touring Harry Potter-themed band Harry and the Potters. They will also enlist local printmaker Clinton Ricketts to help with curating monthly gallery shows.
Moore and DeGeorge say they plan to keep the whimsical Wonder Fair vibe intact, though there will be some changes. For starters, they're completely replacing the inventory in Wonder Fair's shop area, though Moore says they are sticking to the idea of providing people with a place to buy "handmade, lovingly crafted or ingeniously designed" goods.
"I would like it if people bought things from our shop that they would want to pass on to their children," Moore says.
The two also simply want to do more activities in the Wonder Fair space. Beyond monthly art exhibitions, they would like to put on more workshops, lectures and music events to keep the community coming in between openings.
"We want to grow it into a place people visit more than once a month," DeGeorge says. "We don't want it to just be a Final Friday destination.
And Moore has one slightly loftier goal: she wants to help Lawrence become a center for printmaking in the United States. Moore says Lawrence is already fairly well known in the printmaking community, but she'd like to see it rise in prominence. She says she'll be able to contribute to this through Wonder Fair by hosting printmaker gatherings. And there's already a printmaker-centric event in the works: a print invitational that will gather works from multiple artists in a juried exhibition.
Moore and DeGeorge will kick off their Wonder Fair reign with a concert event in the gallery space tonight at 8 p.m. featuring Kansas City pop act the ACBs, Portland, Ore., duo Kisikia and sad Seattlites Mega Bog. DeGeorge says he is going to make an effort at each of Wonder Fair's music events to provide an additional element of fun. In this case, there will be an ice cream social coinciding with the live music.
Using the Wonder Fair space for live music is something DeGeorge says he'd like to do more than the previous owners did. He thinks that a do-it-yourself music space is something that is sorely lacking in Lawrence, noting that his band has played in some unconventional music venues in their time.
"I've made a living doing that, touring around the country and benefitting from those places," DeGeorge says. "I'd like to be able to provide that for other people."
The new Wonder Fair owners will host their first art exhibition from 6 to 10 p.m. on Friday. "You + Me + You," will feature the artwork of printmaker Yoonmi Nam and sculptor Eric Conrad. Moore says that Conrad's works, which feature bodies toppling and tangling into one another, tend to be a bit creepy while Nam's prints are quietly haunting. Overall, the exhibition may have a strange ambience.
"You feel like you've come upon a situation that has gone awry, and at any moment you could be found our and made to blame for it," Moore says.
During this event, at 6:30 p.m., Wonder Fair will hold the torch-passing ceremony, in which Moore and DeGeorge will trade a check for a key to the gallery.
Though no longer involved with Wonder Fair, the four previous members will continue to be active in the area arts scene. Lee Piechocki will continue to produce work out of Kansas City, Jason Barr will be busy with his blog and A.D.D. podcasts, and Dobbins and Kelly John Clark are starting a new publishing company, Field Trip Publishing. With their new company, Dobbins and Clark will collaborate with Kansas City-area artists to create limited runs of products based on their artwork.
So even though Dobbins' time at Wonder Fair is over, he'll still be around, and he'll be busy.
"I am and will continue to be a happy contributor to the area art scene," Dobbins says.