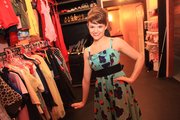 Wearing a teal dress and a pair of heels circa 1950, Emmalee Schaumburg eases into a chair in the lobby of her photography studio in North Lawrence. The sound of a woman's voice croons over a crackly clarinet from a stereo tucked in back.
Schaumburg's dark hair is tied back, and her lipstick is bright pink, all vestiges of the era she seeks to revive through her photography.
Schaumburg is a pin-up photographer for Bombshell Pinup Productions, 613 N. Second Street. She takes pictures of regular women, usually between the ages of 30 and 50, making the photos resemble the sort that made Marilyn Monroe famous.
Schaumburg quickly launches into the story of how this scene came to be — how she, a modern woman of 26, got into pin-up photography, an art that experienced its heyday in the 1940s and '50s, and has nearly been lost in the midst of more sexual imagery.
"Ever since high school I knew that I wanted to have my studio and do photography as a business and not just a hobby," Schaumburg says. She recalls being captivated by "Migrant Mother," the photo of a Depression-era woman looking off as her two children burrow their heads into her shoulders, as early as junior high.
Schaumburg fell in love with photography in a darkroom. Watching the colors and shapes bleed across the film, turning a white strip into a lively image; the whole process was alluring. She made photography a professional focus while still in high school, taking senior pictures for her friends.
She would begin to perfect her craft by taking pictures of her nephews and the children she baby-sat, snapping photos of them on swing sets out on a 10-acre farm. She'd also take pictures of flowers at Overland Park arboretum, but rugged farm scenes are her favorite, and people her main focal point. After high school, she attended Johnson County Community College, majoring in business entrepreneurship with plans to start her own studio.
When Schaumburg moved to Lawrence from Louisburg seven years ago, she asked photographer John Gladman if he needed an intern. He said no.
So she tried establish a business on her own. She took senior pictures, family portraits and began to specialize in newborn photography. She even took a few pin-ups but got discouraged when she stumbled upon Bombshell, a local portrait business that specialized in pin-up photography.
"I saw the name and the logo and the cover effect, and I thought, 'oh my goodness, I can't compete with this,'" she said.
Then, last year, Gladman asked Schaumburg if she would take over the Lawrence Bombshell location. He had looked at her work and was pleased. Gladman, the creative director of the pin-up studio, and Carol Ann Zuk, the owner, needed someone to license the business to so they could start a Bombshell studio in Las Vegas.
Zuk says they considered a lot of photographers before picking Schaumburg.
"We were looking for someone with the right energy," Zuk says. "We needed someone who would be fully committed … someone who would be competent. I'm ecstatic that we chose her. She's really good artistic-wise, which we need."
At Bombshell, much of Schaumburg's work is done hunkered over a computer: She digitally enhances each image, adding hand-painted effects with painstaking detail.
But the hard part — capturing the right moment — is done in the studio during a one-hour photo session with each client.
"The biggest challenge is making them feel at ease," Schaumburg says. "I like to joke around with them and make it playful and fun so that they're comfortable.
"The girls always look great, and you would think they would feel fine in front of the camera because they've got their hair done and their make up done, and they should feel really pretty, but they don't always feel that way. I try to encourage them," she says.
Schaumburg cherishes the era of the pin-up.
"I always dress up in vintage clothing when meeting with clients and even when not meeting with clients," she says. "Whether it's my black pencil skirt, high-waisted pants or my newest favorite teal dress, I'm always looking the part and loving the clothes from the '50s." 
More like this story on Lawrence.com