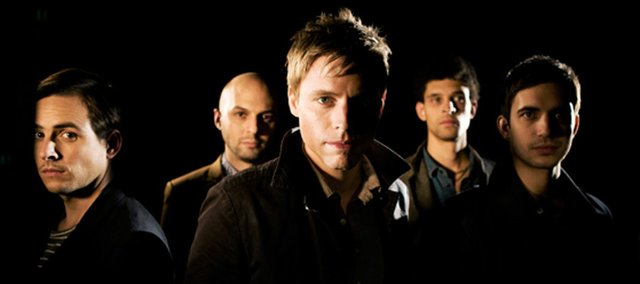 Originally published April 3, 2012 at midnight, updated April 2, 2012 at 5:43 p.m.
White Rabbits is a kind of Spoon spin-off band. That their percussion-driven pop-rock is similar is no coincidence — one of Spoon's members produced their second record, "It's Frightening," way back in 2007 when they were just "wet behind the ears" and fresh from a move to Brooklyn from Columbia, Mo.
Their biggest single, "Percussion Gun," has been featured on TV and in the 2010 FIFA World Cup video game. Their latest record, "Milk Famous," came out last month on TBD Records and they've toured with Spoon as well as the Walkmen and Interpol.
From Phoenix, guitarist Alex Even talked to Lawrence.com about rivalry and relationships.
Past Event
Tuesday, April 3, 2012, 10 p.m.
Jackpot Music Hall, 943 Mass., Lawrence
18+ / $12
Alex Garrison: Tell us a little about how you got started. I understand you're from a certain neighboring state ...
Alex Even: We met each other at university, in Columbia. We all moved to New York shortly after — everybody was graduating. That was 2005. And we've just been putting out records and touring since.
AG: So that was at Mizzou, correct?
AE: Yeah, a few of us knew each other in St. Louis, but the others, yeah.
AG: How would you describe your sound, to those who may not be familiar? And how do you work as a band?
AE: We have a lot of drummers in the band. Stephen (Patterson), who plays piano and sings, is trained as a jazz drummer and then we have two other drummers in the band, so there's an emphasis on rhythmic aspects in what we do — a lot of polyrhythms and loud drums. As for how we work, it varies from song to song. The first record was a lot of us in a room basically staring at each other until something came out. For the last two, it's been more smaller group; working on demos and then coming together to finish off ideas.
AG: What's the band's relationship with Spoon?
AE: Britt Daniel of Spoon produced our first record. On this record, we worked with Mike McCarthy, who has worked on Spoon records in the past. He was really sort of a perfectly strange man with a lot of interests — that sort of attracted us to him. It was a really instructive experience working with him.
AG: So it's kind of a mentor relationship?
AE: Yeah. They took us out on tour when we were first starting out as a band and very wet behind the ears. Britt especially was really willing and eager to play music with us and be creative with us, absolutely a good experience. And he's just a great dude.
AG: So you're from Columbia and you're about to play to a lot of really pumped-up Jayhawks. Do you put any merit to the Kansas/Missouri rivalry?
AE: Well, our current bass player, Russ (Bragaw) went to school at KU and he grew up in Olathe. We just played Jimmy Kimmel and (Russ) made a point to wear a KU shirt. It was hotly debated in the band but eventually we allowed it.
AG: Anything else you think we should know before the show?
AE: No. I like a sense of mystery.
More like this story on Lawrence.com