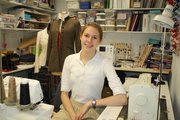 You can see the excitement in Ryal Mitchell's face as she talks about the equestrian-inspired outfit she designed for the Make It With Wool Contest.
"What I really enjoyed about designing and making the outfit was the fact that I could make it my own, and it didn't have to be exactly like the pattern. I could add my own details and little accents, like the contrast fabric on the cuffs and collar — those details weren't in the pattern," she says. "Sewing a garment is a lot like a puzzle — it's rewarding to be able to put all those pieces together and be happy with the outcome."
The contest judges were apparently excited about the outfit, too, because in January, Ryal won the title of First Place Junior 2012 Wool Ambassador for her design.
Her outfit included black-lined, slim-cut slacks made out of wool barathea, which is a fabric made out of a combination of wool, silk and cotton; a vest made out of tomato-colored crepe, which is so named because of the gauzy texture and the crisp appearance of the fabric; a jacket body made out of tweed herringbone; and collar and cuffs made from a heathered flannel.
In addition to winning the title, Ryal, who is 15, won a $1,000 scholarship from Pendleton Woolen Mills and a $500 scholarship from American Sheep Industry Women.
The nationwide contest was sponsored by the American Sheep Industry Association, which is a national organization representing the interests of more than 82,000 sheep producers. The contest was open to preteens through adults. Each contestant had to construct an outfit with fabrics made with at least 60 percent wool fibers.
Ryal competed in the district competition in Wamego, then advanced to the Kansas state competition, which was held at Kansas State University. The junior and senior winners from the state competitions then went on to the national competition, which was held this year in Scottsdale, Ariz. Ryal says the national contest, held Jan. 26-29, was an intense four days of getting settled in, modeling, and then waiting impatiently to hear the announcement of the winners.
Ryal has been interested in garment construction since she was 5, when she first began sewing by hand. When she was 7, she began using a sewing machine. Her favorite garments to make are dresses, and she is in wonderful practice from being part of 4-H and constructing and modeling garments for 4-H projects.
She became interested in sewing with wool specifically when she observed how versatile of a fabric it was; it can be used in many outfits that can be worn in warm or cooler weather. The fabric is also very forgiving, and one can easily make repairs or hide mistakes. Also, she says, outfits made with wool or wool-blend fabrics are simply beautiful and well-suited to any occasion, from dressy to casual.
Ryal says that for her next project, she's going to tackle making various kinds of bags.
"I think the main reason that I love sewing so much is that it is a great way to express myself because there are so many variables — fabrics, patterns, details," she says. "I can always create something new each time I sit down at the sewing machine. It's so much fun, too, walking around in something that I've made, especially when people ask where I bought my garment."