Originally published April 6, 2012 at 11:47 a.m., updated April 6, 2012 at 1:59 p.m.
The life of an artist is more than brooding over how to make a piece just right. It also involves raising money to create projects or travel to exhibitions.
And that's what has Lawrence artist Darin White stressing out these days.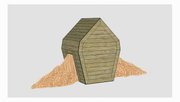 White, a sculptor who dabbles in other media, is waging an online fundraising campaign to help curate an exhibit in New York City later this month. And time is running out for White to reach his $5,000 goal on Kickstarter, the online fundraising portal that giveth and taketh away.
"Kickstarter is all or nothing," White says. "I'm thankful for the opportunity (to work with Kickstarter)… otherwise, where do you go and find that kind of money for a project like this without looking for grants?"
If White doesn't raise the $5,000 for his exhibit "Overflow," which aims to raise questions about what we do with the things we have, he gets none of the $3,426 that's already been pledged, and the money is returned to the donors. The fundraising drive ends tomorrow at 5:02 p.m.
So far, 95 have pledged support. For their efforts, White is rewarding them with small tokens of appreciation, ranging from adding their names to the project's website to giving them a personalized seed packet from the exhibit and more.
White's exhibition will be his solo debut in New York, at the Brooklyn gallery Soapbox. When he gets to New York, White says he's going to find and repurpose wooden pallets, building a small barn within the gallery. Then he'll spread 300 to 500 pounds of corn so that it fills the barn, overflowing into the gallery.
"The question I'm asking is 'What do we do with what we're given?'" he says. "That's a very broad question. I'm hoping to have people look into the different things in our lives …our resources, our time, our talent, our gifts…"
And our food.
"I think it's poignant in the fact that we have all sorts of different things going with corn right now" from the way its byproducts are used to the way some corn is genetically modified," he says.
"I don't think it's my job as an artist to answer the question, but to raise the question," he says.
White isn't the only Lawrence resident seeking help through Kickstarter. Local bluegrass band Deadman Flats (who we wrote about in February) are seeking help producing its new record and getting a tour van. Local video game developer Joshua Peterson has eight days left to raise $3,000 to fund tweaks to and a book about the role-playing game "Deus Dreams."