Quick, describe the state of the Lawrence music scene.
From the local-band-packed Middle of the Map fest in Kansas City, Mo., Lawrence musicians Marty Hillard and C.J. Calhoun laugh that they've just spent a good thirty minutes trying to decide. "I don't think we came to any conclusions," Calhoun says.
Still, it's something they're thinking about often. As half of four-piece Cowboy Indian Bear, they're a working band, having been on tour throughout most of the Midwest and are currently "about one recording session away" from finishing their second album with Kansas City label The Record Machine.
After a reunion set by fellow locals The Billions at the Record Bar, they sat down with Lawrence.com to hash out their thoughts on a packed touring schedule's unintended consequences for up-and-coming acts, the difficulties of self-promotion and more.
C.J. Calhoun: I think there are some really good bands in Lawrence but I think there are less, in quantity. I wish there were more. It just seems like there aren't as many as there used to be. I know when we try to think of playing in Lawrence and who we'd play with, it seems like it's getting harder and harder to switch it up and not just be playing with the same Lawrence bill every time. But the bands are still really good.
Marty Hillard: Admittedly, there's a lot of great musicians and bands that are under the radar at this point, whether they're veteran musicians or younger bands just kind of getting their feet wet. There's a lot of stuff we're just not privy to, mostly because how busy we've been as a band for the last couple of years, touring and being out of town. That's something we're trying to get accustomed to as a band and also as a part of the Lawrence community. It's something that we feel that there's something left to be desired. I feel personally that there's a lot of great music that goes under-promoted for a lot of different reasons, whether it's the fault of the bands not having enough confidence to broadcast that or venues not having the budget to properly reinforce what's happening in the clubs or local publications as well. Either not having access to the information or what.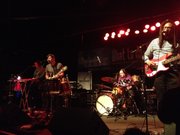 Alex Garrison: Do you feel a little out of the loop?
CC: I feel like I've spent the last couple months since we've been in town more to reconnect with the Lawrence music scene because we played so many shows last year and I'm sure other bands did, too. To come home and have to work enough to pay your bills and see your girlfriend and your family and stuff, it's just hard to be like, 'Oh, I just spent two weeks in a bar but now I'm gonna go spend some more time in a bar here and see what's going on here.' I'm trying to find a way to balance, to work and to know what's going on with other bands.
MH: It's the downside to being an active band and touring. The further you try to make your community bigger, the further you broaden out, it's like a Petri dish, or maybe like constellations – the closer you get to them, the further it seems like you are. As you're reaching out for all these different points, that puts you further away from another distant point.
AG: How hard is it to get started as a band in Lawrence, and is hard it to progress into a band 'big enough' to 'make it out' of Lawrence?
MH: In some ways yes and in some ways no, just like a lot of other places. A special thing about Lawrence, and we talk a lot about this with people who aren't from Lawrence, is that there's a lot of historical reference, especially in the last 15 years, with bands like the Get Up Kids, with bands like the Anniversary, the Appleseed Cast, Mates of State, bands that have toured internationally and gone on to do really great things and had some prominence. These are things that people correlate to our city, which is ultimately a wonderful thing. But yet, there's a disparity between how people imagine Lawrence and its reality because of all those factors even just 10 years ago and what it is now.
CC: The good thing is, Lawrence has a good perception nationally about what it is we do here. And we've got so many venues for such a small town – that's really beneficial for bands trying to get shows and build up a fanbase.
MH: Totally. There's advantages; the infrastructure is there.
CC: KJHK is great for bands.
MH: Totally. They make huge investments in local music.
CC: Jacki Becker with Eleven Productions is great, too. They try their hardest. It's hard because they bring great shows all the time – they bring really wonderful national acts and maybe not even a decade ago but five years ago, it was pretty standard that there would be a local opener for those kind of shows but that just doesn't seem to happen anymore, just because the way package tours are formulated. That's not just Lawrence, I think that's felt nationally, that local acts everywhere are hurt by not being able to get in front of audiences that big. I know Up to Eleven tries to get local support for headlining bands, though.
MH: Even for headlining bands, maybe it's something that, living out here in the Midwest we don't have a gauge on, but maybe there's a reason that bands that are touring across the nation bring these bands that nobody knows. Maybe there's a benefit to that we just don't know, but from our perspective, it definitely hurts the local acts. It makes more sense to me to have strong local acts, just to get even a few more people through the door for this other band that draws a more general crowd. It's the best of both worlds. I don't understand why it's not done more.
CC: From some different articles that I've read about it, it seems to stem from the lack of – the dip in record sales in the last few years has essentially caused an over-crowded touring market.
MH: Everyone tours a lot more now.
AG: So there's almost a scarcity of shows? I could see that.
CC: Yeah, so let's say there's a booking agent who books twenty bands. It used to be that seven to 10 maybe would be on tour at the same time but now all of his bands are on tour, all year long.
MH: Everybody wants dates.
CC: You put those bands together and that's the tour right there, as opposed to maybe one band or two bands that go out and the Up to Elevens of other cities find good locals to open, all the bands touring from one company are touring together, edging them out. There's so many national bands touring, it just doesn't work like that anymore.
MH: It makes sense. Everything's different now, it's not just Lawrence.
AG: Yeah, I feel like I've seen that trend, but I'm not living it like you are, so it's interesting to hear from you.
CC: It doesn't make anything impossible for us, just challenging. I know for a long time, we were holding out for hopefully getting on bills on these bigger shows but once we sort of realized it wasn't working like that –
MH: We just toured, too.
CC: Yeah! 'Alright, we'll just start touring, too.'
MH: I'll tell you one thing that's been a real blessing is that we've had to learn how to headline shows, which probably wouldn't have happened nearly as fast had we not had our own headlining shows out on the road, which, honestly, you develop a different kind of fortitude for that, you have to put a lot of foresight into that. You just have watch your ass a bit more; I dunno a good way to say it except that it just makes everybody just step up and step into that headlining role to the point where we're now comfortable doing that when we're asked, which is really good. That would have taken a lot longer to happen if this had been five or six years ago, for sure.