Have a dozen or more hard-boiled eggs in the fridge now that Easter is over? Megan and Sarah have some suggestions to use them up.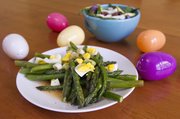 Delicious
I am a nut for holidays. As a kid, I would start bugging my mom to get out the Halloween decorations shortly after school started. I was the queen of the advent calendar, and the greenest kid in the room on St. Patrick's Day.
So it comes as no surprise to anyone that I sort of love dying Easter eggs. I generally don't go crazy or do anything fancy. I like the old school writing of names on the eggs with crayons and the vinegar with dye tablets. I like the smell of the vinegar dye, and the cups full of bright colors, and the mess of it all.
Needless to say, we dye eggs every year, and a lot of them. I've already done one round, and we'll do another bunch the day before Easter. That's a lot of hard-boiled eggs.
Still, it's not really a problem for us because we are an egg-eating family. My husband likes to have some hard-boiled eggs stashed in the refrigerator at all times for a quick on-the-road breakfast in the mornings. I like them around for snacks (two points on Weight Watchers, and filling!), for salads and for all manner of quick applications.
So I don't mind that my egg dying fetish results in dozens of colorful eggs lounging in my refrigerator. I relish it. Egg salad! Pickled eggs! You name it, I love it. And I especially love this idea of making a dressing out of hard-boiled eggs. The yolks make a great emulsion and it tastes just right over spring vegetables.
This is a super easy side dish, or, if you are like me, you'll make it a meal. It's got the requisite veggies and protein — so why not? You can serve it on a baguette, or you could roll out some puff pastry and cook the asparagus atop it like a tart, but I usually like the simplicity of just the eggs and asparagus.
It's quick, it's no-fuss, and it's delicious. It even looks a little fancy.
Roasted Asparagus with Hard-Boiled Egg Vinaigrette
1 bundle asparagus
1 tablespoon olive oil
A pinch of kosher salt
Cracked black pepper
Drizzle the olive oil over the asparagus and give it a toss with the salt and pepper. Cook in a preheated 400 degree oven for 20 minutes.
For the vinaigrette:
2 hard-boiled eggs
3 tablespoons red wine vinegar
1 tablespoon Dijon mustard
1 teaspoon basil
1 tablespoon sugar or honey
2 tablespoons olive oil
Salt and pepper
Peel one of the eggs and give it a rough chop. Set aside.
Cut the second egg in half, mashing the egg yolk with a fork and adding it to the dressing ingredients. Set the other white aside for snacking later.
Give the dressing and yolk a good whisk to incorporate, and then drizzle it over the asparagus. Top with the other chopped egg.
This is so simple and delicious, and it just looks like spring. It's so not fussy, but it sure does bring a lot of flavor, and darn it, in spite of myself, nutrition, to the table.
Enjoy your hard-boiled eggs this spring — they're so versatile and fun. Be sure to get farm fresh ones whenever you can. The difference is astounding.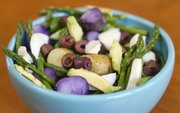 Nutritious
If honesty is the best policy, I'll tell you right off the bat that I do not eat eggs. They're just not for me.
However, my husband and son do, and their favorite way to eat them happens to be the way they're probably in your fridge right now: hard-boiled, straight from dying and Easter egg hunting.
Now, it's possible your family's cache of hard-boiled pastel eggs went straight into an egg salad or deviled egg tray. You might not have an egg in the fridge at all. But if you do (or you don't and you didn't over-egg it Sunday), may I suggest making them the basis for a chopped salad?
Egg whites, as you probably know from those "Incredible, edible egg" PSAs, are high in protein, low in fat and really good for you. They also happen to be great in salad.
So I've decided to pair my Easter eggs with other spring favorites: fingerling potatoes and asparagus (the fact that Megan and I both paired asparagus with eggs is a total accident, but we must be on to something, right?).
Add some olives, crisp romaine and your favorite dressing and you've got yourself a salad with loads of veggies, protein and taste.
Early Spring Chopped Salad
1 to 1-1/2 pounds mixed fingerling potatoes, chopped into 3/4-inch pieces (do not peel)
2 small heads romaine or one large head, chopped
3/4 pound asparagus, bottoms trimmed (weight before trimming)
6 hard-boiled eggs, sliced, yolks removed
1/2 cup pitted kalamata olives (or more), whole or chopped in half
1 avocado, pitted and sliced
Your favorite dressing, to taste (I used the Simply Dijon-licious Vinaigrette from last month)
Steam chopped potatoes in a steamer basket for 20 to 25 minutes, until cooked through. Be careful not to overcook. Let them drain in a colander and return the pot and steamer basket to the stove.
Steam asparagus until cooked but not limp, about 4 to 5 minutes for thin spears. As you let them cool, assemble your salad.
Put romaine, potatoes, sliced eggs and olives in a large bowl and toss gently. Top with cooled asparagus and avocado slices. Dress each salad individually.
Makes 4 to 8 side salads or 2 to 4 dinner-sized salads.