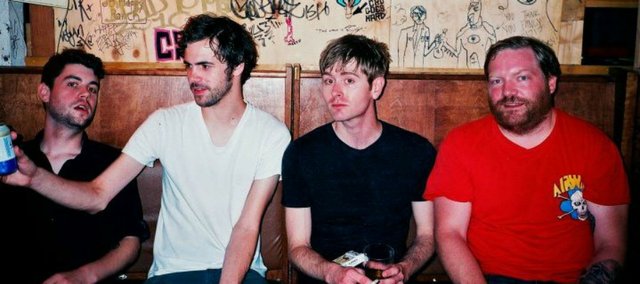 Local garage-punk act Mouthbreathers is working on a full-length to be out this fall, hopefully on California label In the Red.
Ahead of their KJHK-backed show at the Jackpot tonight, vocalist Kyle Gowdy told Lawrence.com about their abrasive but catchy sound.
Alex Garrison: Mouthbreathers has members that used to be in other bands. How did you get together to make this one?
Kyle Gowdy: The band came together from a solo project I had been working on. At the time, I was using a drum machine but I really wanted it to be a fully fleshed out band. I had played bass with Brad (Shanks) in the very short-lived band "Tracer Face" and had done some recording for Bandit Teeth. Everyone knew each other from playing shows and being out and about in the same scene. It worked out really well. Even after the first practice, I felt like we all got what we were going for.
AG: What have you recorded? I'm familiar with your single, "Anxiety," but do you have a full-length together?
KG: We have recorded two sessions worth of songs at The Harveyville Project in Harveyville. The first set of six songs was released on tape and two of those tracks made it onto the 7-inch that was released in October. The second session of nine songs is being released as a full-length LP that is expected to come out sometime this fall. We are getting ready to do a few more recordings for various other releases that are tentatively in the works.
Past Event
Friday, April 13, 2012, 10 p.m.
Jackpot Music Hall, 943 Mass., Lawrence
Not available
AG: There aren't a whole ton of straight punk bands playing in Lawrence. What keeps you going with that aesthetic?
KG: It was always my intent for this band to be loud and abrasive yet catchy, and to have more focus on song writing and melody. I was bred in the punk and hardcore scene and have been in punk bands for ten years now. There is so much to work with within the genre.
AG: Who are some of your favorite bands/inspirations/etc.?
KG: I just wanted Mouthbreathers to sound like we could have been on an SST comp. Some of the bands I've drawn heavy influence from for this band are Husker Du, Bauhaus, The Gun Club, The Wipers and Mission of Burma. We try to write these songs with nods to our favorite bands without wearing the influence on our sleeves. I don't want to be easily compared to anyone.
AG: How'd you get involved with KJHK show?
KG: KJHK contacted us about playing the show a few months ago and it sounded like a really good idea to get a mixed bill together. Every time we have played something like this it has been great and people who haven't seen us will hopefully be coming out. We are definitely looking forward it.
AG: Why should we come out to see you?
KG: We actually practiced this week.
AG: Anything else we should know?
KG: If you haven't checked out the Replay Records compilation, "Cheap Beer," you are missing out. Fifteen local bands on one slab of wax and none of it sucks!
More like this story on Lawrence.com