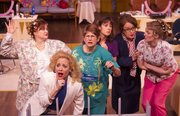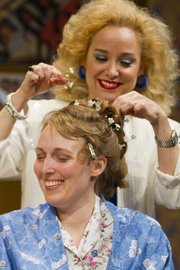 'Steel Magnolias'
Where: Theatre Lawrence, 1501 N.H.
When: April 19, 20, 21, 26, 27, 28 at 7:30 p.m.; April 15, 22, 29 at 2:30 p.m.
Cost: Child 14 and under: $13.99; senior/student: $18.99 ($19.99 on Friday and Saturday); adults: $19.99 ($20.99 on Friday and Saturday).
Theatre Lawrence's "Steel Magnolias" is an all-woman show of gossiping and giggling. There's a lot of pink, a hefty amount of beauty talk, and the action on stage is best described as the teasing, puffing and massaging of hair. But there's also depth to this play, styled and sprayed with wit.
Truvy Jones owns a beauty salon. It's a small-town hangout, one of those long-lost environments that we loved in the '80s and '90s, not dissimilar from the bar on "Cheers." There is a plot, though its role is secondary. The young women get married and have babies; the older women endure their husbands; the salon copes with death. But more center stage than these is the environment of the salon and the nature and nuance of care: care, that human impulse that springs from time spent with someone else whether they are your type of person or not.
This atmosphere demands much from its cast. Piet Knetsch directs the play well and makes good use of the actresses' abilities, ensuring that each character has, or seems to have, a rich relationship with all of the others. Jill Jess, Carole Ries, Erin Paden and Samantha Raines carry hefty roles respectably. Linda Hope injects swagger and bravado into her character, Clairee, and grabs laughs anytime she opens her mouth. "If you don't have anything nice to say about anybody... come sit by me," she says defiantly. But there is also a conflict in each of these women. Clairee's aged husband died not too long ago. "I miss the whirlwind of being a man's wife," she says, embodying the pride and yet vulnerability of aging WWII-era wives.
Kirsten Tretbar's character, Truvy, binds the group together: she is the comforter, the ameliorator; she runs the salon. Truvy can be appropriately vapid or accusatory when a girlfriend needs an ally in gossip. And yet she has a simplistic, endearing wisdom attained from years running a beauty salon: "We enjoy being nice to each other," she says, inserting a thoughtful pause. "There's not much else to do in this town!"
Just as Truvy represents the group's hub, Tretbar's effusive portrayal of her gives the play the confidence and skill that it needs to roll along, to be funny, to have nuance. Truvy has her own walk, her own way of teasing hair. She suffers delight-induced, full-body spasms when her friends walk into the salon. She shuffles over, hugs them in a hurry, comforts them with precise, flowing, delicate hands. You wish you could trot in yourself, spout your troubles and listen to her coo.
There are moments when the play does not work as well. An important scene, in which the indomitable M'Lynn Eatenton finally cracks, does not completely communicate the gravity that the script wishes to tell. Poignancy is harder to come by in the show, partly because it's a comedy but also because the cast does not seem quite at home with it.
The play champions endurance and compassion, and the characters have varying degrees of both. But, more than being strong, it's about shucking hubris and letting the pain and insecurity be shared, processed, mulled over. The play seeks to communicate what can grow from communal difficulty, how that difficulty binds us and forces the inner beauty out. Truvy laughs and her mascara starts to run. "Laughter through tears is my favorite emotion," she says.