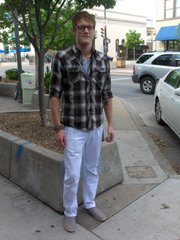 Name: Tony Held
Age: 26
Relationship status: Single
Hometown: Kansas City, Kan.
Occupation: I'm a corporate merchandiser for the Buckle.
Dream job: I would like to get into a buyer's position at the Buckle.
What were you doing when scouted? I'm working in the Lawrence Buckle location.
How would you describe your style? I try to be pretty open-minded and fashion forward. I'm up for trying any trend, but I also realize that the fit of any garment to a person is important.
Current favorite fashion trends: For guys I like the skinny or straight-cut jeans, and I like that people are cuffing them. It lends more of a casual style to the look. I also like tank tops in a henley style, with a wide neck.
Fashion trends you hate? It bugs me when I see guys in jeans that don't fit them or are too big for them.
Fashion influences? I'm influenced by the designers at the Buckle, and also various current trends I see in movies.
Do you have any piercings or tattoos? I have three tattoos, and I think tattoos can be a part of fashion, too, so I wanted them to be in visible places. My tattoo on my right forearm was influenced by my music.

More like this story on Lawrence.com