The seventh annual Focus Film Festival will feature the work of high schoolers from across northeast Kansas. A public screening of all 80 films submitted will take place at 2 p.m. Saturday in room 125 of Lawrence High School, 1901 La.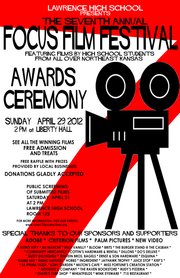 The winning films in a range of categories — from drama to sci-fi to documentary as well as technical achievement categories — will be shown at 2 p.m. April 29 at Liberty Hall, 644 Mass. Local filmmakers Jon Niccum, Patrick Rea and Marc Havener will judge the films, which range from 30 seconds to 15 minutes long, and Debra Granik, director of the film "Winter's Bone," will judge the drama category.
The winners announced at Liberty Hall will receive a range of prizes, including film editing software from Adobe for the best-in-show winner and DVD collections from Criterion and others, said Jeff Kuhr, Lawrence High School film teacher. The event is being organized by LHS seniors Bailey Richards, Lauren Flemming and C.J. Roush.
A number of local businesses have contributed prizes for a raffle at the award ceremony as well as snacks for movie-watchers. The event is free, though they will take donations, Kuhr said.
More like this story on Lawrence.com