Dog biscuit ingredients
Dog treat baker Raven Rajani says dog biscuits should be:
High-protein
High in omega-3 fatty acids
Good source of fiber
Some of her favorite ingredients:
Free-range meats
Potato flour and sweet potato flour (substitutes for grains)
Fresh herbs
Fresh fruits and vegetables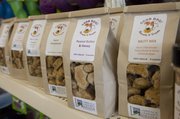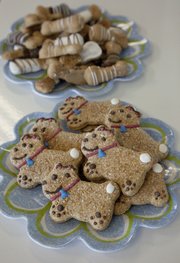 Good news for Lawrence canines: You will soon have your own bakery and boutique on Massachusetts Street. Lucky Paws Bakery and Barktique will open at the end of the month at 729 ½ Mass.
Lucky Paws owner Raven Rajani has been baking her handcrafted, healthy dog treats and selling them at the Lawrence Farmer's Market and local stores on and off for about 14 years. She has six dogs herself to outfit and feed, so she is confident that her concept will appeal to other dog owners.
"I know dogs, and I know dog people," she said. "For a long time I have wanted to open a bakery and funky boutique. I'm hoping to start small and see where it goes."
Rajani is not the only local dog biscuit purveyor. Good Dog! Biscuits and Treats is an enterprise of the Lawrence Community Shelter that employs homeless people to bake, package and help distribute the biscuits to local outlets, like Pawsh Wash, a store, grooming and self-wash facility in west Lawrence.
"People really like to support a project that helps our community in more ways than one," said Amber Nickel, Pawsh Wash owner. "Good Dog! has a good product with fun flavors, and they do a great job of running their business."
Cathy King, a Lawrence veterinarian who owns Kaw Valley Natural Pet Care, started selling homemade dog treats in her office about a year and a half ago. She recently took her recipes to an Olathe company to produce the treats, called Zenful Pleasures, which will be sold at Sunflower Natural Pet Supplies.
Rajani has purchased other local treats for her dogs during times she wasn't baking biscuits herself, and she says that the trend toward natural food for people has coincided with a trend for natural canine food.
"Every single ingredient I use is human grade that I either grow myself or get from local farms, and the biscuits are upwards of 90 percent organic," she said. "I make fun shapes with fun titles, but I find a lot of value in the health and quality of nutrition."
King's treats are a jerky-style, meat-based treat also with all-natural ingredients and an emphasis on canine health.
"The old adage 'food is medicine' is really true," King said. "The Chinese philosophy of food therapy looks at which foods strengthen and balance the body in that season, which allows you to optimize health."
Nickel hears from many dog owners who try to avoid food and treats with unknown or questionable ingredients. Homemade dog biscuits also seem to be a viable local business opportunity. She says Pawsh Wash has been approached by local dog biscuit bakers since the day the store opened.
"There has also been an increase in the support of local ingredients," Nickel said. "People know the benefits of keeping their dollars in our local economy, and it is a matter of quality, as well."
Lucky Paws will carry a variety of dog biscuits for a range of tastes and dietary requirements. Some of Rajani's treat flavors include: salmon and sweet potato, chicken and whole wheat, and a power ball with chia seeds and peanut butter. Rajani also will create seasonal treats and will offer custom treat baking. She says the boutique will strive to emphasize work by local artists and will participate in Final Fridays.
King's Zenful Pleasures treats come in four types, one for each season. The ingredients for each season are based on traditional Chinese food therapy, which complements her holistic veterinary practice.
The spring treat, for example, promotes an even flow of energy and helps with the liver and gall bladder. Spring ingredients include lamb, beef, liver, chicken gizzards, sweet potatoes, potatoes, rosemary and vitamin E.
Rajani is looking forward to being a downtown merchant and meeting dog owners from Lawrence and beyond.
"I really find a lot of joy hearing people's stories about their pets. This town has a fantastic vibe," she said.
Nickel said she was happy that Rajani was opening the bakery and boutique.
"As an entrepreneur, it's always exciting to see somebody take the initiative and follow their dreams and go for it," she said. "There are a lot of dogs in town, and there are a lot of owners that love their dogs."
Lucky Paws will have a sneak peek for Final Friday this week, opening at 2 p.m. through the evening. The store will be open the rest of the weekend, as well, and will have its grand opening Friday, May 4.