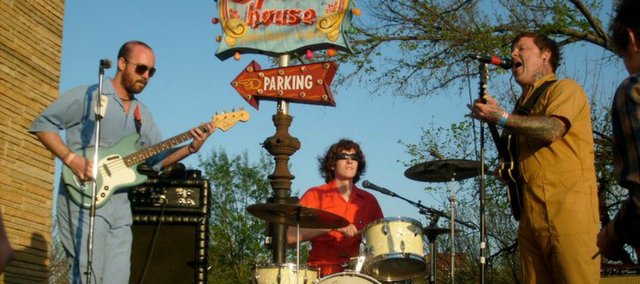 In business, they say it's who you know that counts. Turns out that can also be the case in rock and roll.
Ron Miller and Brad Shanks knew each other from playing in bands in and around Lawrence, and that familiarity helped pave the way for a new 7-inch record by Miller's band Up The Academy, released on Lawrence's own Replay Records, co-operated by Shanks.
The Lawrence-based garage punk threesome had recorded several tracks at the Harveyville Project, the former public school in Harveyville, and were looking to get them out one way or another.
"I had already recorded some stuff and I wanted to put something out and was considering footing the bill and doing it myself, and he (Shanks) said 'why don't we put it out as our first individual release.' It's nice, it helps the band save a little money. I really like it," Miller said. "I'm really happy with the way it came out. All the way down to the packaging, it's all local."
The release is the second for Replay Records, following "Cheap Beer," a compilation of Lawrence and Kansas City bands, featuring both Up the Academy and Shanks' band Mouthbreathers, released in late 2011. It was the first though, of all new, original material. Shanks said after putting out the first comp he and business partner Nick Carroll decided to try releasing new material by a local band. Listen to the cuts here.
"Once we knew we could do a 7-inch, Up the Academy seemed like the perfect band to do it with," Shanks said. "They were a good band, first of all, and already had some recordings ready."
Miller and Up the Academy bassist Adam Hess recorded the record's two tracks – the rollicking, raw garage rocker "Gimme Gimme" and B-side instrumental "Pretty Bird" – at the former school, now an artist's retreat in the small town of Harveyville, before it was ravaged by a tornado this spring. One of the partners in the Harveyville Project venture, guitarist and vocalist Miller has also recorded there with Kid Congo and the Pink Monkeybirds, a band for which he plays drums. The school survived the storm mostly intact.
"We came out OK. We had some damage," Miller said. "There are two buildings on the property, and the smaller building, the elementary school, had some roof damage, and then a fence that is sort of in between the buildings was damaged, but no broken glass, no serious stuff. So we were definitely spared. But there were many people about 60 to 80 feet from us who weren't spared. We were very fortunate in that way."
Having survived the storm and the recording and releasing process, Up The Academy – Miller, Hess and drummer Ricky Barkosky - hopes to hit the road this summer for two small tours through Chicago, Minnesota and Wisconsin and a southern jaunt through Louisville, Ky.; Austin; and a few other sub-Mason-Dixon Line dates.
Both parties agreed the collaboration is one that should happen again.
"I think that sometimes can be a tough experience," Miller said of recording and releasing records. "It was pretty hands off. Since it was just a couple songs there wasn't too much frustration. It was 'OK, we're gonna put this record out.' It was like three easy steps. It was a great experience. I'd like to see more bands put stuff out with them. I'd really love it to be on a consistent schedule putting out records, but of course you have to make your money back to do that. It would be nice to see them become a juggernaut locally, so to speak."
Shanks said Replay Records hopes to put out three more releases this year, most likely also 7-inch with local act Rooftop Vigilantes, Chicago outfit Mannequin Men and a to-be-announced band. They're also considering releasing music from local acts on cassette, which can be done cheaper and with smaller pressings, and possibly another compilation.
A truly local, DIY effort, the recording was not only recorded and released between Harveyville and Lawrence, it also features cover art by Miller and was "handprinted in LFK by Leslie Kay" on a downtown Lawrence staple: Pabst Blue Ribbon boxes from the Replay Lounge.