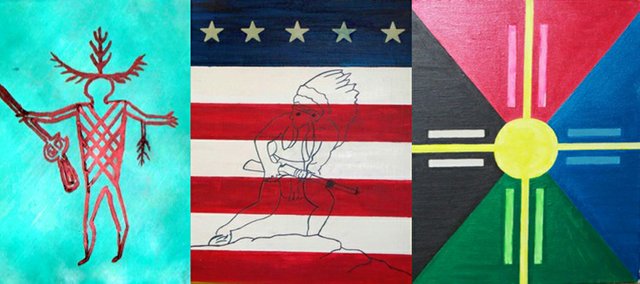 Artwork from Lawrence's budding artists will be in full bloom Friday night at this month's Final Fridays.
The Arts Center will exhibit works from students in the public schools; the library is hosting artists from Bishop Seabury; and Aimee's Cafe (1025 Mass.) will feature a show called "Celebrating Childhood," all created by young artists under five.
Student work will also be featured at the Lawrence Art Party (718 N.H.). Among the dozens of artists on display at the Hobbs Taylor Gallery are several from Van Go! Mobile Arts and KU Hillel. In addition, KU students from Matt Burke's sculpture class are on exhibit. "It is a really important part of the learning process," says Burke. "I have pretty much turned it over to them. They have to set up the work, make the labels, and then attend the opening."
"It is a very different experience to have peers versus the general public look at your art--or not look at it," says Burke. "Even if (the students) choose not to go into art as a profession they will always interface with the public.
Not all of the talent on display Friday is from Lawrence, however. Wonder Fair (803 Mass.) is presenting the debut solo exhibition from Kansas City Art Institute senior, Teal Wilson. Wilson's show, "A Year of the Horse: Born Into a Family of Rabbits," is a tribute to family who raised her with patience, acceptance, and "bemused looks on their faces."
"Both of my parents were born in 1951, and my sister was born in 1987, so they are all rabbits," says Teal referring to the animals in Chinese zodiac symbols. "But I was born in the year of the Horse." An extreme extrovert born into a family of introverts.
"My arrival to the family was like a tsunami," Wilson writes. "I was a rage rocket, hot pocket, bomb drop it."
Wilson works in a range of various media from wood blocks to embroidery. "I have been very choosy in deciding what to put in the exhibit," she says. "It is a challenge to translate ideas into different medium. I think it will all work well together."
The young artists exhibiting work Friday are not the only ones to benefit from this month's event, however. Friday night is also the release party for "Favela da Rocinha, Brazil," a new book by photographer Gary Smith and KU junior Sarah Stern. The book documents life in the largest slum in Rio de Janeiro and the government's efforts to clear up the space in preparation for the city's hosting of the World Cup in 2014 and the Olympics Games in 2016. A slide show will run throughout the evening, and authors will be on hand at Hobbs Taylor Gallery beginning at 5:30 to sign their book. All of the profits from the book will go back to Brazil to support free art classes for the underserved youth in the favela.
Another artist at Friday's event is using his work to benefit children by passing on their heritage. "I create art for my grandson," says artist and Art Party regular Tom Weso, a tradition that he is carrying on from his grandfather. "My grandfather 'Moon' was one of the last medicine men of his tribe in Wisconsin," says Weso, a member of the Menominee tribe.
"I don't do 'Indian Art'," says Meso. "I don't do bison or the traditional landscapes." Instead, he calls his paintings, which are done in acrylics, "magical realism." Moons are, perhaps not surprisingly, a reoccurring image in his bold works.
More like this story on Lawrence.com