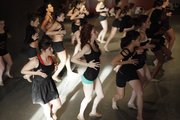 Dance Carnival
When: Thursday, 7 p.m., Friday, 7 p.m., Saturday, 2 p.m.
Where: Lawrence Arts Center, 940 N.H.
Cost: Tickets: $8 in advance, $10 at the door
On sale at Lawrence Arts Center box office
Cathy Patterson has heard people's reservations about dance performances: "They're boring" and "the music isn't fun."
But Patterson, director of the Art In Motion Dance Company, says the routines she's choreographed for the group's upcoming Dance Carnival are upbeat and energetic.
"We bring art and up-to-date edginess together," says Patterson, whose 28-member company sweated through a rehearsal Sunday at Point B Dance Studio, 3115 W. Sixth St. The fourth iteration of the Dance Carnival takes place Thursday, Friday and Saturday the Lawrence Arts Center, and includes a wide variety of jazz, hip-hop and contemporary music.
With glittery numbers by pop stars Ke$ha, Lady Gaga and Britney Spears, an ode to the Eagles' "Hotel California," and a routine inspired by India's Bollywood scene, Patterson expects to give skeptics a reason to appreciate modern dance.
At rehearsal last Sunday afternoon, Point B Dance studio felt like a sauna.
Temperatures rose as company members stretched, swayed and strutted to pop hits and modern jazz numbers.
Dressed in a maroon sweatshirt, baggy black sweatpants and black adidas sneakers, Patterson directs the dancers as they rehearse in front of a mirrored wall in the modestly sized studio. At first, they slowly practice individual segments. Then, Patterson turns the music on, and the company bursts into life. True to her words, the routine is energetic. The dance is full of fast bursts and graceful moves as the dancers keep perfect time with the beat.
Tara Truitt, a senior at Kansas University from Springhill, joined the company three years ago. She danced in high school and didn't want to stop in college. It's a big commitment, she says, but she likes dancing as much as she can.
Shon Mack is a member of the company and a teacher at the studio. Even though he works five days a week in Topeka, he is at the studio every Sunday morning.
"It's all fun, but we're ready to work," he says. "We feed off each other's energy."