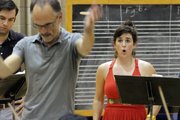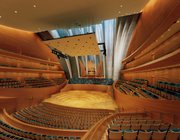 Annalize Sussman remembers the first time she saw the Kauffman Center for the Performing Arts.
"I thought it was magical," the Kansas University master's student says. "The building from the exterior has such beautiful architecture. It complements the landscape really well, sitting on that big hill."
That was just the beginning. She went inside: "You can really hear a pin drop. It's surreal."
Sussman, an opera performance major, has performed twice at Kansas City's seven-month-old gem, both with the chorus to accompany tenor Placido Domingo's gala opening show and with Kansas City Lyric Opera's production of Puccini's "Turandot."
She will have another opportunity Saturday, when KU opera students and the KU Symphony Orchestra perform their 2012 Opera Gala. The Kansas City performance is one of two of the show, with will feature excerpts from operas such as "Carmen," "Falstaff" and "Madama Butterfly."
All tickets for the Kansas City performance, which were free, are spoken for. Tickets for a performance Thursday at the Lied Center, are still available at the center's box office.
Opera Gala Concert
When: 7:30 p.m. Thursday
Where: Lied Center
Tickets: $7 for the public and $5 for students, available by calling the Lied Center Box Office at 864-2787
Additional performance at 7 p.m. Saturday at the Kauffman Center for the Performing Arts in Kansas City, Mo. Tickets to that show were free, but no tickets remain.
Kansas City focus
The performance at the Kauffman Center, which is home to the Kansas City Ballet, the Kansas City Symphony and Lyric Opera of Kansas City, is part of an effort for the School of Music to have a greater presence in Kansas City, says Dean Robert Walzel.
The school already has a Holiday Vespers performance at Johnson County Community College in Overland Park, and many faculty members already perform with Kansas City arts organizations.
"We feel strongly we want to have a higher-profile presence in Kansas City," Walzel says. "We're able to take our music to other venues. It's harder to take things like chemistry labs to other places. In that way, we see ourselves as ambassadors for the university."
The KU Wind Ensemble performed at the Kauffman Center in November, making it the first KU organization to have a show there. That performance, just as Saturday's will be, was paid for by a gift from Kansas City attorney James Zakoura, a KU alumnus. Walzel says each performance at the Kauffman Center costs KU between $10,000 and $15,000.
"The Lied Center is a beautiful space and a wonderful place to perform in," Walzel says. "But to go and perform in the same place where a professional symphony performs, and architecturally, a building that's quite exquisite, makes the Kauffman Center a unique place. It's a great opportunity to perform in a different space.
"With all the buzz that's been created about the center in Kansas City, and the acoustical excellence there, it's a chance for the kids to go swim in the same pond as the big fish."
Student experience
That opportunity is not lost on Sussman, who says the Kauffman Center is the greatest hall she's performed in during her musical career.
"We're all so excited, and we realize what an opportunity it is to put on a concert on the same stage as world-class musicians," she says.
Doug Perry, a master's student who leads the orchestra's percussion section, agrees. He was part of the Wind Ensemble's event in November, and he appreciated both the ambience and acoustics the Kauffman Center provides.
"Architecturally, it was pretty incredible — it's like walking into a different planet," he says. "As far as the acoustics, it was a shocking experience. As a percussionist, in the back of the ensemble, the comments from your director are usually along the lines of, 'Play harder. Use harder sticks.'
"There, we did not have that experience at all. The way the hall is built, you could hear the percussionists loud and clear. And it's also kind of an eerie phenomenon to hear your own sound ring from where you're standing."
Kauffman perspective
That sort of reaction was exactly what officials with the Kauffman Center were expecting when they built their two performing spaces: the 1,600-seat Helzberg Hall, home to Saturday's performance, and the 1,800-seat Muriel Kauffman Theatre.
Both are ranked in the top 10 of several national acoustical rankings, and the center has drawn more than 330,000 visitors since its opening in September.
"It simply enhances what you do, the nuances of student performances," says Jane Chu, president and CEO of the Kauffman Center, about the KU students' experience there. "Students at that level are trained about nuances and details. They know the differences. Students who perform in these halls notice the work they did is not for no reason."
Chu, herself a classically trained musician, says hosting KU performances fits in well with the mission of the Kauffman Center, which also has funds available for K-12 students available to attend performances.
She is hoping to develop additional, formal agreements with the KU School of Music. But for now, the goal has been to perfect her own performance spaces with acoustical tweaks. In terms of acoustical performances without amplification, she says, "we would not have done a thing different." The organization is still adjusting amplified performances.
"This is like raising a 7-month-old," she says. "You don't just walk away."
Though the center is in its infancy, KU performers such as Sussman are still excited about the opportunity.
"With that energy and ambience," she says, "I've never performed anywhere like the Kauffman Center. It makes me excited about the places I'd like to perform in my career."