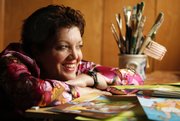 Amy Moreno grew up in a book family.
She and her twin sister loved to roam the library and lug home piles of children's books. It wasn't the stories that enticed them, but the pictures.
"Some of the most amazing art is in books," said Moreno. "You don't even have to go to a museum. You can appreciate all kinds (of art) just by looking at a children's book."
It seems only fitting that Moreno is now a children's illustrator and artist. She has done work for the United States Department of Agriculture, Wee Ones Magazine, PSX Design and Good Cause Greetings.
The pull to the craft started at an at an early age.
As children, Moreno and her sister showed a natural proficiency in art. Their mother enrolled them in oil painting classes when they were 12, and their interest only strengthened in high school.
"Whenever I created art in high school, it always kind of had an illustrative quality," said Moreno.
Afterward Moreno enrolled at Butera School of Art, a small school in Boston. She studied under Rob Howard, an acclaimed illustrator. When she graduated, she was named top artist in her class.
The Internet enabled Moreno to market her work on a wider level. She began to draft emails targeting bed and breakfasts. Moreno made pen and ink renderings of bed and breakfasts, and inns. She would display her work at farmers' markets in Charlottesville, Va.
"It was a really good way to create artwork and get paid for it from a business," she said. "That was how I really got started."
She also plucked addresses from businesses' websites and sent queries through the mail.
She got a lot of business that way, but she wanted to focus on illustrating for children. So she joined the Society of Children's Book Writers and Illustrators.
"It is probably the main thing you should do if you want to write for children," she said.
She began to attend conferences, meet agents and bid on big projects. That's how she landed a large job from the Department of Agriculture. She submitted samples, and a price quote stating how much she would charge. When she won the job, she was ecstatic.
"It was an amazing project to work on," she said. "I was so grateful."
The project was called "Grow it, Plant it, Like it." It was an educational book about gardening and eating healthful foods.
For it, Moreno had to draw hundreds of pictures of foods, children, puzzles and games. It took her a year to finish.
When Moreno begins work on a children's book, she reads the story a few times, imagining it in her head. Then she crafts the visual narrative and creates a book dummy. Often she gets inventive.
"For children, it's fun because you can add things in that aren't in the text," she said. "You can add animals in … you can put little pictures on the wall that were from your own house. You can take things from your memory or you grandmother's house or your parents house — anything."
Moreno's work room is filled with writing supplies: a flat drawing table, two easels and a light table. There is an oak filing cabinet, a laptop and plethora of paintbrushes. And there are three large cases filled with books, many of which she refers to as she's working on a project.
"It is difficult not to accumulate too many books and papers during research, even in the day of the Internet," she said.
To enhance her work, she studies the things she draws: violins, violinists, antique dolls, Navy seals, printing presses, eaglets, hockey skaters, Roman soldiers and butterflies. Her book shelves are a museum memorializing her professional path.
And even now, she loves roaming through the library to collect piles of children's books.
"One of the first things I ever do whenever I move to a new area is find the local library and get a card. … I was hooked on the library at a young age at story time and remember sitting at our Connecticut library on the black squares of the floor in the large black and white tiled floor," she said.
"I enjoy illustrating for children because it is a way to expose them to art from a young age, in an environment with loved ones reading to them."