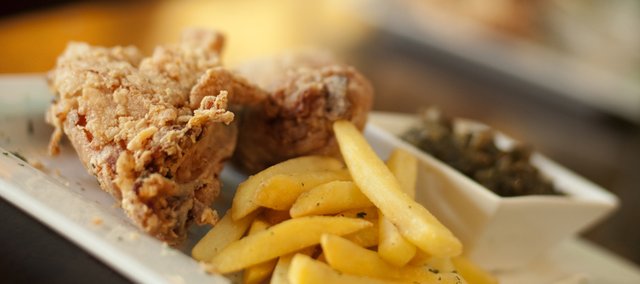 Since being diagnosed with celiac disease more than three years ago, Lawrence resident Liz Stuewe's dining-out options have started looking up.
She can now order everything from gluten-free pasta to cake, plus tasty gluten-free takes on other normally off-limits foods.
"It's so weird to be able to go out and get fried chicken," Stuewe said.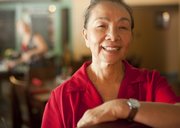 Whether diners' reasons stem from medical necessity or fad diets, gluten-free eating has exploded in recent years. In response, Lawrence restaurants increasingly are taking steps to make dining out gluten-free hassle-free.
Stuewe, who uses the Twitter handle @gfreelawrence, says her experiences at local establishments have been really positive.
"For the most part, restaurants are really excited to work with you and talk to you about it," she said.
Increasing demand, supply
A stark contrast from a decade ago, millions of Americans now eschew foods containing gluten, a protein found in wheat and some other grains, and they're expected to spend an estimated $7 billion this year on foods labeled gluten-free, the Associated Press reports.
It's common for Italian restaurants to offer gluten-free pasta as a substitute, and most pizza restaurants now sell gluten-free crust.
Minsky's Pizza, 934 Mass., takes that a step further by offering a separate gluten-free menu and cooking gluten-free pizza in separate pans from wheat-crust orders, Stuewe said. Besides pizza, she said, Minsky's menu also features "delicious" gluten-free cake.
At Mariscos, 4821 W. Sixth St., diners can get a gluten-free menu — and even a gluten-free bread basket — upon request.
General manager Ash Kazmi, who's been at the restaurant two years, said he's seen gluten-free meal requests increase from one or two per week to multiple times daily.
"Now, it's very commonplace," he said.
Document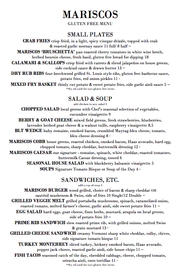 Mariscos' two-page gluten-free menu features a number of the restaurant's popular dishes with pasta or bread replaced by gluten-free varieties. It also features dishes from the regular menu that are gluten-free anyway, such as steak with sauteed vegetables on the side.
Even though some items would be gluten-free by default, such as salad, having them on an specific gluten-free menu helps confirm there's no unlisted croutons or hidden gluten ingredients, such as thickener in the salad dressing.
After a "drastic uptick" in requests for gluten-free meals, Bigg's Barbecue, 2429 Iowa, rolled out its "gluten-sensitive" menu a few months ago, owner Doug Holiday said.
In addition to offering sandwiches on gluten-free buns, the menu helps clear up whether the burgers have breadcrumb filler (they don't) or whether there's flour in the sauces (there isn't).
The menu helps both customers and servers, Holiday said. He said he has several friends with gluten sensitivity and that at many places, "It's a guessing game of what you can eat or what you can't."
Oh Boy! Chicken, 1006 Mass., specializes in gluten-free fried chicken, catfish and chicken-fried steak. Gluten-free side items are marked with "GF" on the menu, and for an upcharge, customers can substitute gluten-free pasta in macaroni and cheese.
Owner Nancy Nguyen, who opened the restaurant a year and a half ago, estimated that about half her Oh Boy! Chicken customers have problems with gluten and the other half just enjoy the chicken.
"People love it," Nguyen said.
Challenges remain
That's not to say everything labeled or described by a server as gluten-free is 100 percent safe for the most sensitive patrons.
It's estimated that more than half of the consumers buying gluten-free products don't have clear-cut adverse reactions to gluten, according to the Associated Press. These customers buy gluten-free because they think it will help them lose weight, they seem to feel better or they mistakenly believe they are sensitive to gluten.
But for people with celiac disease, even a trace of gluten can make them sick.
Stuewe said some restaurants are better than others about training servers and ensuring their gluten-free dishes aren't "cross-contaminated" during preparation.
Stuewe said it hasn't been easy but that she's learned to be assertive when she eats out.
For example, she said, she may have to press waitstaff for solid answers about a particular dish and how it's prepared, and even turn down a salad if the kitchen is unable to prepare it in a separate bowl from salads prepared with croutons.
For restaurants, providing gluten-free items is not cheap, and it's not necessarily profitable.
Gluten-free pasta, flour or bread can cost many times more than their traditional wheat counterparts. While diners usually pay more for those options, it's not always enough for a restaurant to profit on the product.
Holiday, for example, said he charges only what he pays for gluten-free buns.
Still, he said, there are other benefits to catering to gluten-free diners.
"It's more of an added bonus to us because we can feed these people with the special dietary needs when we hadn't in the past," Holiday said. "Hopefully they'll come back a little more frequently, or tell friends."
Kazmi said Mariscos has gained a loyal following of regulars who know their dietary restrictions will be accommodated. And, he said, most arrive with one or more customers who order from the regular menu.
"You can still have a good meal," he said, "but also they can enjoy their meal as well."