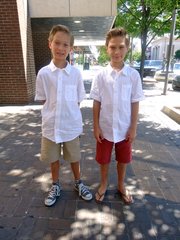 Name: Grant and Judah Plummer
Age: 9
Relationship status: Both are single
Hometown: Omaha, Neb.
Time in Lawrence: Just today
Occupation: Students
Dream job: Grant: Working at a restaurant; Judah: Orthodontist
What were you doing when scouted? Walking, going to the Yarn Barn
Describe your style: Grant: Khaki shorts, LA Rushers T-shirt; Judah: Long shorts and short-sleeved shirts
Fashion trends you love: Grant: Dark and bright colors; Judah: Bright colors
Fashion trends you hate: Grant: Sweaters and turtlenecks; Judah: Long-sleeved shirts
What would you like to see more of in Lawrence? Grant: Army toys; Judah: Metal swords
Less of? Grant: Nothing; Judah: Shopping stores. I hate shopping.
Tattoos or piercings? None
Who do people say you look like? Judah: People tell me I look like Grant.
Tell us a secret… Grant: I wanted to kidnap my cousin once; Judah: My secrets are too private.