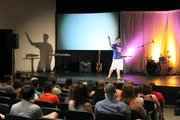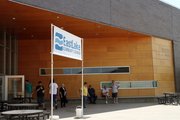 Bob Szrot grew up in the Catholic Church, believing Mass was held on consecrated ground.
Now he sometimes worships with the smell of hotel swimming pool chlorine wafting from the hallways; sometimes in a space typically populated by 13-year-olds; and sometimes in a 100-year-old concert venue.
He's a member of EastLake Community Church, a young-but-booming non-denominational congregation (a "church for the rest of us," as lead pastor Matt Cox calls it) that has spent this year as a nomadic church, with no permanent home.
"Sometimes I have to remind myself where we're going to be," Szrot says. "I get the question every so often, 'Are we going to get a real building?' But the people are the church, not the building itself."
EastLake began weekly services at South Junior High School in January 2010. Services were in the auditorium, gathering space was in the entryway and children's activities were in classrooms.
But by the end of 2011, the church had outgrown its allotted space, and the school district informed leaders that the fire marshal could no longer allow the current configuration, says Cox, the church's founder.
So EastLake started holding services at the Lawrence Holiday Inn Convention Center. But the center's busy schedule often bumps the church back to what is now South Middle School, only without access to all the classroom space. And mix into that occasional "worship nights" at Liberty Hall or Abe & Jake's Landing, and you have the true essence of a church without a home.
"The benefit is I'm a huge believer that the church is not the building, it's the people," Cox says.
But, admittedly, there are drawbacks:
• EastLake must be proactive on its website and social media about its plans for the following weekend, ensuring members and prospective guests know where to show up.
• Each week, volunteers meet three hours before the start of the first service at 9:30 a.m. to unload a 45-foot trailer and set up the stage, audio/visual equipment, coffee table, information table and other necessities for service. They stay for another half-hour after the 11 a.m. service to tear down and pack up the trailer.
• Any gatherings during the week must be held in members' homes. Cox supports having many of those small-group meetings in homes whether there is a full-time church building or not, but there are some administrative meetings that might be better held in a church space.
Nomadic churches
The church-with-no-building philosophy isn't unique, especially for nondenominational congregations in Lawrence. Velocity Church meets at the Lawrence Arts Center weekly. Relevate Church meets weekly at Holcomb Recreation Center. Vintage Church meets weekly at Liberty Memorial Central Middle School. And Greenhouse Culture has been gathering at Maceli's, but it recently signed a lease to use the former Masonic Temple in downtown Lawrence.
But EastLake is unique in that it has been moving week to week, depending on availability. Cox says he has explored almost every building in Lawrence, including vacant retail space, banquet spaces, recreation centers and more. He's yet to find one that would fit services, which he says draw 500 people weekly.
"Ideally, some would hand us a $5 million check," he says, laughing. But short of the possibility of new construction, Cox and his leadership team are looking for any space that would give them a consistent home — even if it is temporary. He's seen the church's growth plateau with the location uncertainty.
"We see that as a bottleneck to our growth," he says. "We've seen our momentum slow the last six months, though our summer is pretty good."
Cox hopes EastLake can be "a church for people who don't like church."
He says the church includes people from a range of theological perspectives — a few volunteers are even agnostics and atheists — and that service is a key aspect of its mission, with volunteer projects slated throughout the community. Cox says the church also holds a variety of non-church-related meetings, including trivia nights and a kickball team, for a different type of "on-ramp," as he calls it, into Christianity.
During a recent sermon about what the Bible says about watching what you say, Cox wore a Kansas University T-shirt and khaki shorts. He showed a clip from the TV show "Up All Night." He made a poop joke.
Before the sermon, the church's band played four Christian rock songs, and a volunteer said a short opening prayer thanking God both for those gathered for the service and for the start of the Kansas City Chiefs training camp.
Mallory Laing says the environment suits her spiritual needs. When she and her then-boyfriend started attending EastLake, she worried about getting judged about living together without being married. She quickly learned that EastLake members didn't care.
"I felt OK to write down our address," she says. "People weren't going to judge us."
Though she admits having conversations with friends about where next Sunday's meeting will be, Laing says the location dilemma has been a challenge the church has, so far, overcome.
Still, she's ready for a permanent home.
"We're ready," she says, "for God to show us where we're going to be."